Brattleboro, VT.—Of all the people buzzing at the start of the Strolling of the Heifers parade on a recent Saturday morning—the clowns, the teen stilt-walker, the theater kids in witch's garb—the 73-year-old grandpa in khakis and Adidas sneakers did not seem like the most probable candidate for a selfie.
But even tweens more used to fawning over Ariana Grande can barrel toward Sen. Bernie Sanders to beg for a picture.
"Can we get a selfie?" members of a marching band, holding trumpets and saxophones, squealed.
"I think we can!" the Vermont senator replied.
"Oh my God. You guys. Mr. Sanders, Mr. Sanders…"
A dozen marchers clenched their smartphones. Mr. Sanders grinned. He was running for president and having a pretty good time with it.
Yet Mr. Sanders, with his slight stoop and cloud of white hair flaring off his ruddy scalp, sometimes suffers on the stump. Later that day in a rec hall across the border in Keene, N.H., packed with about 700 people, some wearing homemade T-shirts Magic Markered with "Bernie 2016," he lamented the plight of a young teacher he had just met. "Obviously in our society we desperately need teachers," Mr. Sanders said to his audience. "And her crime for wanting to get a master's degree was that she is now $200,000 in debt and paying interest rates between 6 and 9 percent. … All of this stuff is crazy stuff." If the country does not reform its environmental policies, he said a grim fate awaits: "more drought, more famine, more rising sea levels, more floods, more ocean acidification, more extreme weather disturbances, more disease and more human suffering."
This is not morning in America but mourning in America—and the crowd loved it.
Toward the end of the rally, the Brooklyn-born liberal icon leaned into the microphone and quieted his distinctive voice, which sounds like Larry David playing George Steinbrenner on Seinfeld. "Let me tell you a secret," said Mr. Sanders, who hopes his audience helps him pull off what would be the biggest upset in modern political history.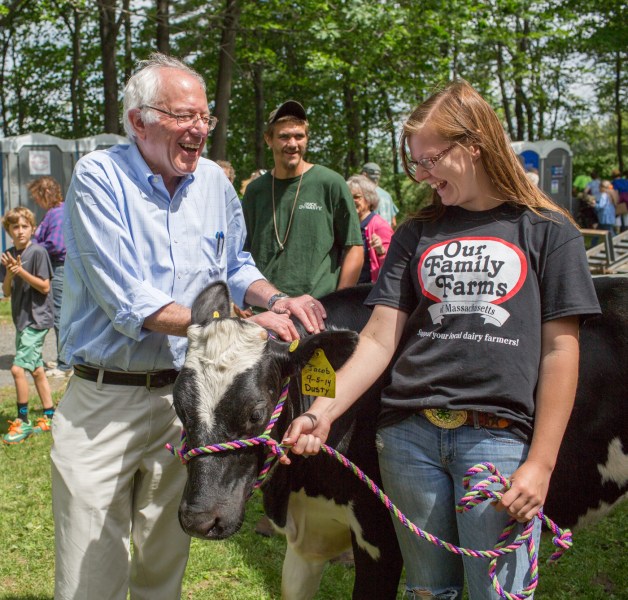 Even Mr. Sanders' supporters concede that his odds of toppling front-runner Hillary Clinton in the Democratic primary, let alone winning in November 2016, are long. But with a progressive favorite, Sen. Elizabeth Warren, declining to run, a void on the left opened and Mr. Sanders filled it. Taken piece-by-piece, his campaign platform—a higher minimum wage, more vacation days, mandated sick pay, free public colleges—polls well enough to sand some of the radical edge off him, or at least pack more town halls in Iowa and New Hampshire. The magic behind the early Sanders surge is not so mysterious: what he says, invariably, is popular with the Democratic base at a time when many feel fatigued by promises of hope and change.
SEE ALSO: Bernie Sanders Can Win the Iowa Caucus
Mr. Sanders, an independent who caucuses with Democrats, violates most laws of American politics. He proudly calls himself a socialist, a label vilified by Republicans and avoided by most Democrats. He is not outwardly charming; he rarely glad-hands and his speeches are often mirthless. Like a modern day Jonathan Edwards, who found Eugene V. Debs rather than Jesus Christ, he thunders about the dying middle class and oligarchies eroding democracy. Cross him, like one camera-holding man who yapped at him in Keene to take a position on the Edward Snowden affair, and earn a stern rebuke. Why wouldn't he answer the man's question? "Because you're rude, and you're shouting out things and I don't really like that," Mr. Sanders groused.
Despite a thorny approach to retail campaigning, Mr. Sanders' quest for the White House is on an upswing. Last week, a Wisconsin Democratic Party straw poll showed Mr. Sanders trailing Ms. Clinton only 49 to 41 percent among delegates. On Observer.com, Brent Budowsky wrote, "There is a very real prospect that Mr. Bernie Sanders wins an outright victory in the Iowa caucus." Donations are flooding in; he raised $1.5 million in the 24-hour period after he announced his candidacy in early May. He has since raised cash from more than 100,000 individual donors.
"When I was a kid growing up, I think my instincts always were for the underdog." – Bernie Sanders
Berniemania already seems to be nudging Ms. Clinton to the left: she has toughened her tone toward Wall Street, called for criminal justice reform and avoided taking a stance on a controversial free-trade agreement many liberals abhor.
A strong second-place finish by Mr. Sanders in either early primary state will mean momentum, which will mean money. "His kind of candidacy can live off the land for quite a while," said Joe Trippi, who ran Howard Dean's campaign in 2004. "With Bernie, there's always a core liberal wing, there's grassroots activists to give him enough money for the next plane ticket." It's also not clear how much grassroots love there is for the former first lady, either—a recent CNN poll showed half of voters view her unfavorably, while 46 percent have a favorable view.
The challenge will come when the primary graduates to mega-states like New York and California—and revolutionary zeal meets sobering reality. Team Sanders admits winning beyond Iowa and New Hampshire will prove a significant hurdle.
"We have to compete everywhere for delegates. We can't cede ground to Hillary Clinton," said Tad Devine, a top Sanders adviser who counseled Al Gore in 2000 and John Kerry four years later.
Some veterans of tough elections are taking notice. "To me, the story so far is not how far ahead Secretary Clinton is, but the fact being perhaps that even though she is the best known political figure in America, there are still 40 percent or more Democrats polled who are looking for another candidate," said former Sen. Gary Hart, a Colorado Democrat who ran for president in the 1984 and 1988—and is now supporting Martin O'Malley, the ex-Maryland governor. "That's the story."
That candidate may not be Bernard Sanders of 1525 East 26th Street, Brooklyn. But he is promising a revolution, and if the raucous rallies are any indication, the beginning, at least, will be televised.
Before Mr. Sanders was a presidential contender, senator, congressman and mayor, he was really only known for one thing: running fast.
"He was one of the best half-milers in the city. He was always at the front of the pack," said Walter Block, a high school classmate who went on to become a leading libertarian economist.
Born on September 8, 1941, Mr. Sanders grew up in Flatbush. His father was a struggling paint salesman.
At James Madison High School, the tall, trim Mr. Sanders was a good, though ordinary, student. He wrote for the student newspaper, the Highway Reporter, but friends don't recall him having political inclinations—just a general leftward tilt, common among the many working-class Jews who lived in the neighborhood.
"We were apolitical with a dash of lefty pinko," Mr. Block said. "It was sort of in the air."
Unlike another James Madison alumnus, Sen. Charles Schumer, who would graduate about a decade later, Mr. Sanders wasn't an elite enough student to go to college out of town. Like many classmates, he went to nearby Brooklyn College, where tuition was free. But he was miserable.
Mr. Sanders did not get along with his father and felt stifled in Brooklyn, Steve Slavin, a classmate in high school and college, recalled. He griped about professors and read what he wanted to, rather than what was required. During his freshman year, his mother died at the age of 46.
"Before final exams, that semester, he came back from the library with eight or 10 books that had nothing to do with his courses," Mr. Slavin recounted. "I said, 'What are you doing? We have finals.' He said, 'But these books look really good.' "
One book that caught his eye was a history of 19th century Illinois Gov. John Peter Altgeld, a leader of the Democratic Party's progressive wing. Altgeld in 1899 sounds like Mr. Sanders more than 100 years later: "We have the anomalous spectacle of abundant food products, on the one hand, and hungry men without bread, on the other; abundant fabrics, on the one hand, and industrious, frugal men going half-clad, on the other." After a year of tragedy and ennui, Mr. Sanders transferred to the University of Chicago, a hotbed of activism.
"When I was a kid growing up, I think my instincts always were for the underdog. I didn't like big kids pushing around little kids," Mr. Sanders told the Observer in a brief interview in Keene. "I think I got my politics mostly at the University of Chicago, not only in classrooms but probably more off campus where I was involved in the civil rights movement and peace movement."
It's safe to say that Mr. Sanders has never wavered, over the last half century, in his withering critiques of capitalism, poor race relations or the influence of money on democracy. While some leftists of that era, including Mr. Schumer and Ms. Clinton, shuffled to the center (and back), Mr. Sanders, who was elected to the Senate in 2006, held firm.
This is part of his appeal.
"When a real Democrat and fake Democrat run for office, the real Democrat will win every time. Hillary is Republican-lite," said Alan Eldredge, a 62-year-old Sanders fan from Northfield, Mass., who attended the Keene event. "Socialist no longer has the stigma that it used to. Only people over 60 have any feeling of evil about it."
In the 1970s, Mr. Sanders was a perennial fringe candidate on the Liberty Union Party line, though his political career was going nowhere until he ditched the minor party and ran as an independent for mayor of Burlington in 1981. He won by 10 votes, but grew popular. In 1990, he won Vermont's at-large House seat on his second try.
Though known for his gruffness—he's unafraid to shout down constituents in public if he disagrees with them—one former Sanders aide revealed a soft side of his former boss. The biggest misconception is that "he doesn't really have a sense of humor," said Anthony Pollina, a Vermont state senator who advised Mr. Sanders for six years in the 1990s.
"My kids were young at the time," recalled Mr. Pollina, "and they would spend time in the office, so we would all be working on policy stuff and they'd be coloring on the floor or that kind of a thing. And Bernie … has always been tolerant of kids and family." (Mr. Sanders is married with one child and three step children and seven grandchildren). "Bernie's not a small-talk kind of guy," continued Mr. Pollina. "But when you get to know him, he's a lot of fun."
Mr. Pollina described a congressman willing to trek to the most rural corners of the state to chat at the kitchen table with a struggling constituent. He remembers Mr. Sanders visiting dairy farmer Bob Judd near the Canadian border. "On the way back, we sat in the car together and Bernie just talked a long time about what Bob Judd had been through in his life and how important it was for people like Bob to get their fair share … He would look out the window and just talk about how we were going through God's country." Mr. Pollina paused. "And I think that that connection that he had to those people and to that land must have helped define him."
For a long time, Mr. Sanders' unbridled liberalism was out of vogue. The Clintons, slashing the welfare rolls and deregulating Wall Street, ruled the booming 1990s. The Soviet Union collapsed; some socialists had lost a lodestar, though Mr. Sanders firmly insisted it was the democratic socialism of the Scandinavian countries, and not the authoritarianism of Russia, that he extolled.
A Sanders supporter in Keene underscored this point, gently chastising a reporter for asking whether an avowed socialist could win over voters nationwide.
"He's a democratic socialist, like another celebrated Jewish socialist—Jesus," he said.
Mr. Sanders' campaign platform is manna from heaven for the American left. His 12-point platform includes growing the trade union movement, creating worker-owned cooperatives and opposing free-trade agreements.
Some of his proposals, like making all public colleges free, may have unintended consequences.
"You put a lot of stress on the public system, to say you're going to take away the tuition base. You can't ensure government funding to make up for it," said Sharyn O'Halloran, an economist at Columbia University's School of Public Affairs. "If I'm sitting here trying to allocate scare resources to benefit society, the economy, I have to allocate them in the most efficient way … if I give a rich kid a free education, I haven't improved social welfare."
Still, with The College Board reporting college tuition far outpacing inflation and the average cost of a private four-year college exceeding $31,000 per year, the promise of free tuition may entice parents and younger voters.
"He's a democratic socialist, like another celebrated Jewish socialist—Jesus."-One Sanders supporter
In a CNBC interview in May, Mr. Sanders called for turning back the American tax code 60 years, when the top marginal tax rate was 92 percent (today, it's about 40 percent), which raised plenty of eyebrows in business and academic circles.
"Why would I go in and expand a business when I have to pay away 90 percent in taxes?" asked Mark Clark, an associate professor at American University's Kogod School of Business. International trade, the decline of organized labor and a host of other issue have changed America dramatically since the 1950s, he said. "It's a different world."
Mr. Sanders had a different answer to why the rich should pay more: "Because they love this country and they want to see future generations do well," he said, hustling to his Ford Fusion.
The zeitgeist has boomeranged to Mr. Sanders. The 2008 economic collapse brought the issue of income inequality to the forefront, enabling Democrats and even some Republicans to rail against the excesses of Wall Street without being accused of class warfare. Ms. Warren's ascendance, coupled with a 2015 Associated Press-Gfk poll reporting that 68 percent of respondents said wealthy households pay too little in federal taxes, shows that Mr. Sanders won his popularity in a rather remarkable way, at least by the standards of modern politics: by not changing at all.
What type of presidential candidate Mr. Sanders ultimately turns out to be is still an open question. Archetypes include former Republican Congressman Ron Paul, who drew campus crowds for his uncompromising libertarianism but won few delegates. There is Howard Dean who became a liberal hero after challenging John Kerry on an anti-war platform in 2004. And there is even Mr. Hart, who nearly dethroned Walter Mondale in 1984 before succumbing to scandal three years later.
The challenge for Mr. Sanders will be twofold: competing on the ground with the Clinton machine while trying to prove that a 73-year-old lefty—he would be the oldest president ever elected—can defeat top-tier Republicans, including 44-year-old Florida Sen. Marco Rubio and 47-year-old Wisconsin Gov. Scott Walker. He would also be America's first Jewish president; NPR host Diane Rehm recently "offended" Mr. Sanders, who briefly lived on a kibbutz, when she repeated the falsehood that he had dual U.S.-Israeli citizenship.
"One of his problems is not just getting traction against Hillary but overcoming a lot of people's basic assumption that he's unelectable in a general election," said Mr. Trippi. "The problem still is: Are there enough Iowa Democrats prepared to risk losing the presidency, even if they like his positions?"
Mr. Sanders is not simply an activist politician though. Back when he chaired the Senate Committee on Veterans' Affairs, he helped pass a $16 billion bill to overhaul the Department of Veteran Affairs, which was co-sponsored in the House by Republican Congressman Harold Rogers.
There are thorns on Mr. Sanders' liberal rose, too. On gun control, he is well to the right of Ms. Clinton and most Democrats. Vermont's guns laws, as he himself pointed out, are virtually nonexistent. As a congressman, he voted against the Brady Act and another law which shielded gun manufacturers from lawsuits when their firearms are used illegally.
"Guns in cities like Los Angeles or New York or Detroit are not the same thing as they are in Vermont or New Hampshire," Mr. Sanders told reporters in June. "What we need is a balanced gun policy, which makes sure … guns do not get into the hands of people who should not have them."
That stance could appeal to firearms fans in the Midwest and South. A 2014 Pew poll found that 52 percent of Americans support gun rights compared with 46 percent who back gun control. But if Mr. Sanders gains enough traction for the Clinton camp to take him more seriously, it's easy to imagine that liberals will be reminded, on TV and elsewhere, of his tolerance of firearms.
But don't expect Mr. Sanders to return fire. "The day he would have to get into a negative exchange with Hillary Clinton is the day the campaign is over," Mr. Devine, his campaign strategist, pointed out.
Clintonworld, so far, remains confident. She won New Hampshire in 2008, after all. The machine plows ahead—but they welcome the "conversation" he brings to the race.
"I think he'll energize issues and help the Democratic nominee and I expect that will be Hillary," Hilary Rosen, a Democratic consultant and Clinton backer, said.
Still, after a one-term African-American senator with a funny name rose from nowhere to whip Hillary Clinton, the Sanders faithful are suddenly asking, And why not Bernie? What seems more far-fetched: Barack Hussein Obama, around 2007, becoming leader of the Free World or a socialist Jew (a member of Congress for 24 years and former mayor, to boot) becoming president in 2016? (Never mind Mr. Obama was telegenic and three decades younger.)
And what was that secret, anyway?
"Let me tell you," Mr. Sanders said, bending down into his lectern in Keene. "We're going to win New Hampshire."
This story appeared in the June 24 print edition of The New York Observer.