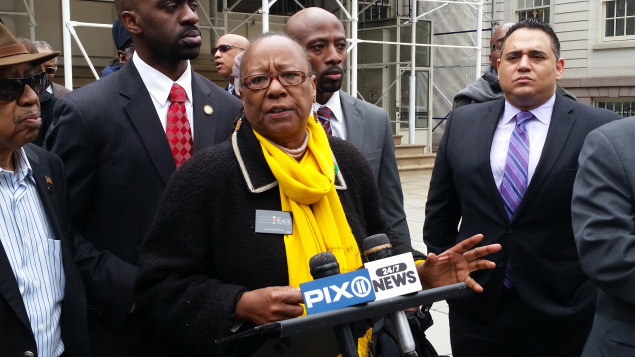 Bertha Lewis, a prominent liberal activist and ally-turned-occasional critic of Mayor Bill de Blasio, will lead a series of town halls in each of the boroughs to organize and assist women and minority-owned businesses in securing a greater share of city contracts—far greater than their current share of four percent of the city's almost $18 billion budget.
The forums will feature many elected officials, including Bronx Borough President Ruben Diaz Jr., Brooklyn Borough President Eric Adams, Manhattan Borough President Gale Brewer, Queens Borough President Melinda Katz and members of the Council's Women's Caucus, which is pushing "Fair Share Amendments" that would obligate the city to give more work to so-called M/WBEs.
Ms. Lewis—founder of the Black Institute, a charter member of the left-leaning Working Families Party and former chief executive officer of the defunct community group Acorn—released a 61-page report earlier this year criticizing the low rate at which M/WBEs have received contracts under the current administration. The report called for the proportion of work granted to female and minority enterprises to increase to 35 percent, and for the city to follow the state's lead in appointing a diversity officer to ensure equitable distribution of opportunities.
"The most progressive City Council, the most progressive mayor are not going to get it done—when are you gonna get it done? And so, we cannot allow this to continue," Ms. Lewis said at a rally outside City Hall in April. "Because you want someone to succeed, there needs to be organized folks out here saying, 'Hey friend, this is what you need to be focusing on.'"
The series will allow minority and women entrepreneurs to meet, coordinate and share their experiences, as well as organize to create political pressure behind the Fair Share Amendments. The first town hall kicks off at Harlem's Adam Clayton Powell Jr. State Office Building on June 3, and will conclude on June 18 with a meeting at Bronx Borough Hall.