Liquor was not the biggest ego-booster last Saturday at Bushwick's Kings County Saloon. Sure, drinks were flowing, the standard bar fare supplanted by a festive, milky-colored cocktail called the Penis Colada. But beyond the looser inhibitions synonymous with any day-drinking session, a greater impetus for self love was on display.
Five modest men participated in "The Smallest Penis In Brooklyn Pageant," confident in their skin and content with their shortcomings. Inside Kings County's new, larger location on Knickerbocker Avenue, a largely female crowd attended the three-hour event, with breaks between pageant segments so that guests could take frequent trips to the bar counter. Two prior contestants returned, while three newcomers equally immersed themselves in the pageantry to compete for the $500 cash prize. The afternoon felt like part bachelorette party, part social experiment.
"I lost last year by the smallest margin," Taylor, competing under the name Puzzlemaster, told the Observer. "But I think after last year it just helped me with my body image. A big confidence boost."
---

'I think if you have a quality that everyone frowns upon and you celebrate it, own it, you will earn respect,' said Krystyna Hutchinson.

---
The confidence of Puzzlemaster and the other competitors was certainly visible, rendered all the more palpable by the fervor of the crowd. One group of ladies showed up to Kings County two hours before doors opened, dead set on getting a good view of the pageantry in the bar's packed back room.
"Will there be controversial judging?" asked Selena, 32, waiting anxiously by the front door. "We're popping our small penis cherry, but I guess if you have a small penis, this is the way to handle it."
The five judges, all female comedians or sex writers save for one man in a Chewbacca costume, were not shy in speaking to the pageant's true significance. "Size has something to do with it, but it's also tenacity, fervor, excitement," said judge Krystyna Hutchinson, host of the anti slut-shaming podcast Guys We Fucked. "You could have a tiny dick and be a craftsman with your finger or your tongue. It doesn't matter."
Ms. Hutchinson felt that the contest transcends novelty because it teaches people a value lesson. "I think if you have a quality that everyone frowns upon and you celebrate it, own it, you will earn respect," she said.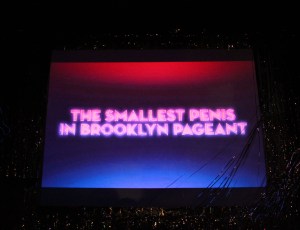 During the three sections of the competition, however, respect was at times hard to come by. The style portion involved contestants striking poses in black underwear, with translucent viewing windows on the crotch. The swimwear portion, dubbed 'cocksplash,' solicited members of the audience to shoot water at contestants from tiny squirt guns.
But it was the talent portion of the evening that was most revelatory. Contestant Chino Loco did a striptease out of a Star Wars stormtrooper costume, comically struggling at times to remove pieces of armor. Rip Van Dinkle, by far the oldest contestant, read a poem about how proud he was to be a baby boomer before flashing the audience.
When newcomer The Gentleman read a poem he wrote, the MC, a drag queen named Chicken Bitches deadpanned, "See? You can do something with that literature degree."
Puzzlemaster won first place, well deserved for a man who returned a second year and rose to the occasion. As for what he would do with the money?
"I'm gonna give it to my kid," he said. "I've got a kid on the way."
It was an oddly poignant note to end the pageant on, and the audience, it seemed, was genuinely attracted to the confidence exuded by the afternoon's competitors.
"I never orgasm anyway because I have intimacy problems, so it doesn't matter to me," said audience member Caitlin, who claimed a spot in the front row. "It matters more what TV shows they like."