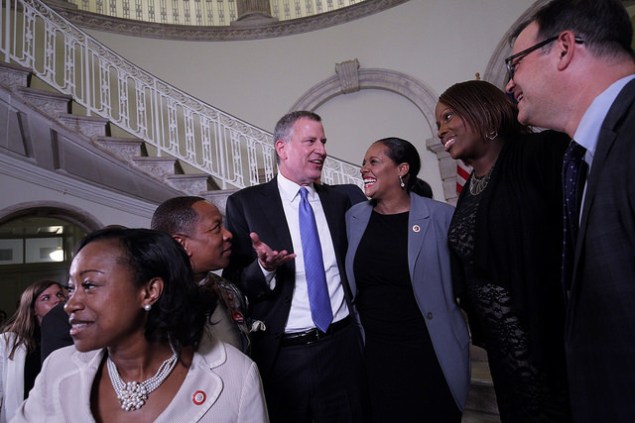 In May of last year, Mayor Bill de Blasio was blunt.
"I do think it's time to end member items. I think that's the smart path going forward," the mayor, a Democrat, told reporters. He added that he respected the City Council's desire to keep them.
"But I think this may just be one of the areas of respective disagreement," he said.
Since then, Mr. de Blasio has done nothing to abolish so-called member items–and appears to have lost any desire to take up the fight in the future, sources say. The quiet decision to back away from a pitched battle with the City Council represents another win for the body, and may also be evidence that Mr. de Blasio's quest to end member items was little more than a talking point.
Mr. de Blasio's office did not return a request for comment.
In the city's $78.5 billion budget for the 2016 fiscal year, just under $50 million was allotted for discretionary funding. The cash includes a $16 million pot of money that goes to Council Speaker Melissa Mark-Viverito, with the rest of the money being split up roughly evenly among the members of the City Council. It can then be dispensed at the individual council member's discretion to various nonprofits, charities and pet projects.
These member items, though representing a very small slice of the hefty budget, have drawn scrutiny from good government groups, reporters and some elected officials. The system, critics say, can breed corruption by giving politicians the ability to reward allies with taxpayer money and patronage. Used in the worst way, member items can be a vehicle to buy votes.
Seven years ago, under former Council Speaker Christine Quinn, the City Council was embroiled in scandal after it was alleged that millions of dollars were channeled through fictitious groups to barely functioning organizations that seemed to exist to enrich relatives or supporters of council members. In actuality, the money that was allocated to these sham groups was used as a reserve fund and distributed to legitimate organizations later in the fiscal year—and Ms. Quinn was not accused of wrongdoing.
Council members argue discretionary funding allows them to channel resources into community organizations that need them most. Rather than hope the executive budget takes care of these groups, council members can have a direct impact on the neighborhoods they represent. In Albany, legislators lost their ability to distribute member items several years ago.
When Mr. de Blasio was a Brooklyn city councilman under Ms. Quinn, he never opposed member items. But when he was elected mayor in 2013, he vowed to end the practice, setting up what was expected to be a bloody showdown with many of his liberal allies in the Council.
Instead, the showdown never materialized.
"[It] was never under consideration," said Councilman Rory Lancman, a Queens Democrat. "It's impossible."
"There is no serious effort at all to get rid of member items. There was never one," a council member who requested anonymity added.
When asked if he had heard anything from City Hall in 2015 about ending member items, Manhattan Councilman Corey Johnson had a one word answer: "Nada."
Mr. de Blasio may be done trying to fight this battle with the Council, sources say. The reforms to member items put in place last year—a more equal distribution of funding based on poverty levels of the 51 districts—appeared to placate the mayor. Previously, the speaker had sole discretion to award member items as he or she saw fit, and members close to the speaker often brought home the most cash.
The City Council would ultimately have to vote on abolishing member items, an unlikely event in the near future.
"The mayor said last year he was comfortable with the controls we put in place," a Council source said.