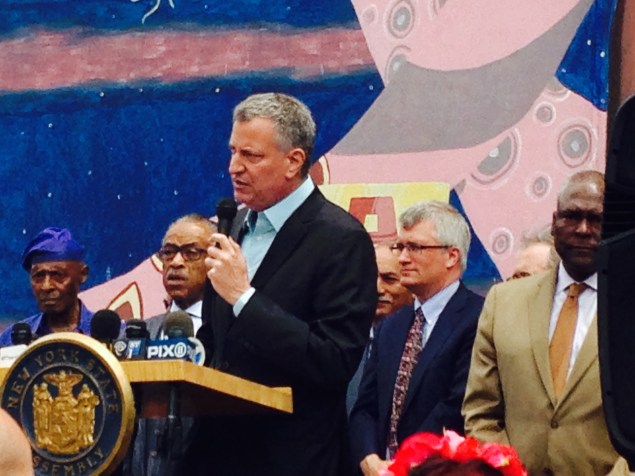 Mayor Bill de Blasio joined Rev. Al Sharpton and a host of other Democratic politicians at demonstration calling for the State Legislature and Gov. Andrew Cuomo to sign off on a package of proposals to maintain and strengthen the city's rent laws.
The event, held outside the Adam Clayton Powell Jr. State Office Building in Harlem and emceed by Assembly Housing Chair Keith Wright, drew a modest crowd of a few dozen people. Mr. de Blasio warned that only days remain before the end of the legislative session—and before New York City's rent stabilization and rent control laws expire, which could leave roughly one million regulated apartments open to becoming market rate.
"Let's be clear what's happening: in the next two weeks in Albany, a decision that will affect well over 2 million New Yorkers who live in over a million apartments. This is the magnitude of what we face," he said, warning of a potentially dire outcome. "If they do the wrong thing, they will damn thousands and thousands of New Yorkers to be displaced and not have an affordable place to live."
Mr. de Blasio stressed that he would not be satisfied with a simple extension of the existing regulations, but called for preventing landlords from removing vacant apartments from the rent control program and from increasing the rent 20 percent on stabilized apartments once they become unoccupied. He also demanded new regulations making charges for major capital improvements a temporary, rather than permanent, add-on to a tenant's rent.
The mayor argued that perpetuating the current statutes would only lead to more and more units being priced out of rent stabilization.
"There are people in Albany in a very satisfied manner saying, 'well, why don't we just continue it the way it is, even though we've lost hundreds of thousands of units in the last two decades?' " Mr. de Blasio said.
Strengthening the rent laws is tough sell in Albany. The Democrat-dominated Assembly has endorsed the proposals Mr. de Blasio outlined, but they must gain the support of the real estate-friendly Republican State Senate and Gov. Andrew Cuomo.
The mayor emphasized that the fate of rent stabilization rests with Mr. Cuomo and the State Senate.
"The governor and the Senate now have to act. It's on them now. And it's simple. If they act, they protect housing for over 2 million people. They protect affordability. They protect our economy. They protect our future. They keep this city the greatest city in the world," he said.
Mr. Sharpton, who was traveling with the mayor, echoed his message while arguing that New York was falling behind other states in liberal reforms.
"This issue is a civil rights issue. We are talking about income inequality all over this country. It would be a travesty if the city Los Angeles can pass $15-an-hour minimum wage, and the City of New York leaves the tenants swinging in the wind with the cuts to rent stabilization," Mr. Sharpton said. "The governor and the State Senate must rise up."
In response to queries from the Observer, Mr. Cuomo's office forwarded remarks he made about the subject in Nassau County today. There, the governor appeared to endorse the Assembly's proposals for rent regulation, calling for an end to vacancy decontrol, ending permanent charges for major capital improvements and raising the price at which an apartment is able to leave rent stabilization from the current threshold of $2,500.
"We're losing too many affordable housing units by the current rent regulation," Mr. Cuomo said, estimating the loss to be roughly 10,000 annually. "Now, it's a very technical program, but I believe that we can make modifications that reduce the number of units that we lose from the system."
"I'm fighting not just to renew the rent laws but to improve and expand them," he continued.