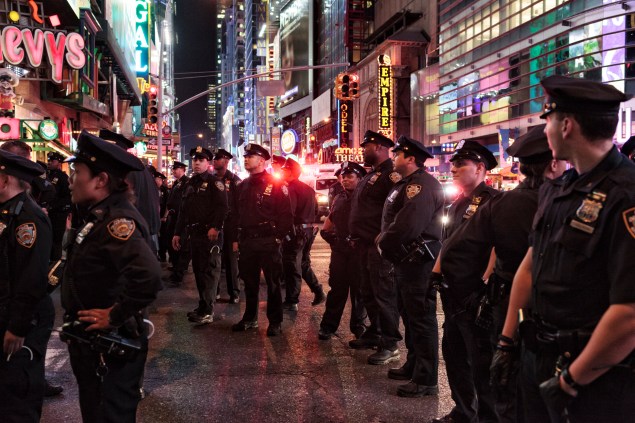 Mayor Bill de Blasio said today that funneling cash to the reform of the city's jails, education system and homeless shelters is more important than adding a thousand new police officers.
Mr. de Blasio, speaking in a radio interview with WNYC's Brian Lehrer, moved beyond his usual talking point that the new cops would be too much of a fiscal burden to also argue that the money could be spent elsewhere.
"The first thing we have to think about is, can we get the job done right with the resources we have? If 2014 is any indication, the obvious answer is yes," Mr. de Blasio said.
"This police force is doing the job and doing it well with more tools, more technology, more training than even a year ago and I think they're going to get better and better," he continued. "If you say, 'Well, what about the question of our resources and our needs,' I remind you, Brian, that we got a school system that needs real work, that has profound problems that are not resolved. We have the problems at Rikers Island that are not resolved. We have a homeless problem that has unfortunately grown to unacceptable proportions in recent years."
The mayor, a Democrat, has been tussling with his fellow liberals in the City Council over whether the NYPD should add a thousand cops to the 35,437-strong force. Advocates for the headcount boost, including Council Speaker Melissa Mark-Viverito and Mr. de Blasio's police commissioner, Bill Bratton, say the new officers are necessary to improve police-community relations by having more police interact with neighborhood residents rather than respond to 911 calls. Almost every Democrat in the City Council has called for new officers.
Backing up Mr. de Blasio for different reasons are progressive grassroots organizations, some whom have been unafraid to criticize the mayor in other contexts. They say adding police, especially in minority neighborhoods, will only increase tensions unless more reforms are made to the NYPD quickly.
The new officers would add about $90 million a year to the city budget, a relatively small burden for a budget that will top $70 billion in the next fiscal year. But the resources, as the mayor claimed, could go to arguably deeper and more intractable problems elsewhere. Violence has plagued Rikers Island for decades with no clear end in sight. Graduation rates for city high schools, while improving, are far from ideal. And the affordable housing crisis, coupled with the reportedly deplorable conditions of some homeless shelters, is driving more people into the street.
"There are so many other challenges and I have to look out for the long-term fiscal health of this city because I've said many times, we're in relatively good times and they're not gonna last much longer," Mr. de Blasio said.