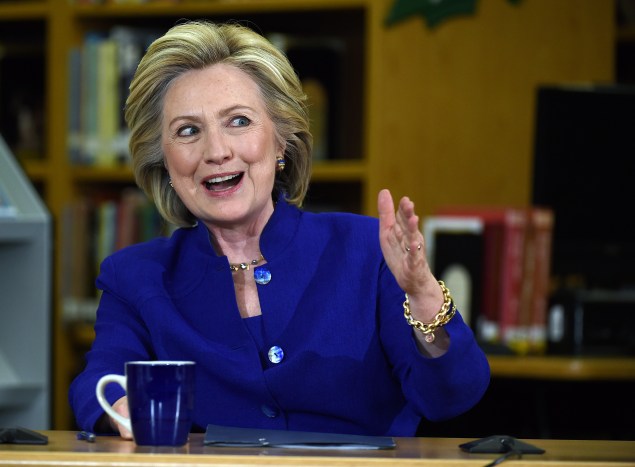 Mayor Bill de Blasio said today he would not be attending Hillary Clinton's Roosevelt Island campaign kickoff this Saturday because he still needs to hear her address the issue of income inequality.
"What I am waiting to hear about is the fight against income inequality, how we raise wages and benefits, how we create the kind of progressive taxation system we need," Mr. de Blasio told reporters at an unrelated event in the Bronx. "It's June. The election is next year. There's plenty of time."
He did add he was "impressed" by Ms. Clinton's comments regarded immigration and criminal justice reform.
Mr. de Blasio, a fellow Democrat, managed Ms. Clinton's successful 2000 campaign for the U.S. senate. He also served in her husband Bill Clinton's U.S. Department of Housing and Urban Development in the 1990s. Both Clintons attended Mr. de Blasio's inauguration in 2014.
But even though Ms. Clinton is the overwhelmingly front-runner for the Democratic nomination for president in 2016, Mr. de Blasio has refused to endorse her. He said on the day she announced her campaign in April that he wanted to see her fully embrace progressive issues before he threw his weight behind her.
While Ms. Clinton's campaign was nonplussed, many of her allies were furious. Congressman Sean Patrick Maloney, a veteran of the Clinton administration, said Mr. de Blasio should have his "head examined." Gov. Andrew Cuomo and Sen. Charles Schumer, fellow Democrats, endorsed Ms. Clinton the day she announced she was running.
Not backing Ms. Clinton right away comes with many risks. In addition to the oddity of a Democratic mayor of New York City not attending the campaign kickoff for a Democratic senator who represented New York State, there is the possibility of the mayor poisoning his relationship with the White House if Ms. Clinton is victorious.
There is upside too. Mr. de Blasio, seeking to build a national profile, has endeared himself to some progressive grassroots activists who are skeptical of Ms. Clinton. Whether Ms. Clinton herself actually resents his choice is also not clear.
When asked by the Observer whether he liked what he heard from one of Ms. Clinton's rivals, Vermont Sen. Bernie Sanders, Mr. de Blasio beamed.
"I've always liked what I've heard from Bernie Sanders. I think Bernie Sanders is a great senator and a great voice for a fair society and a fair economy," he said.