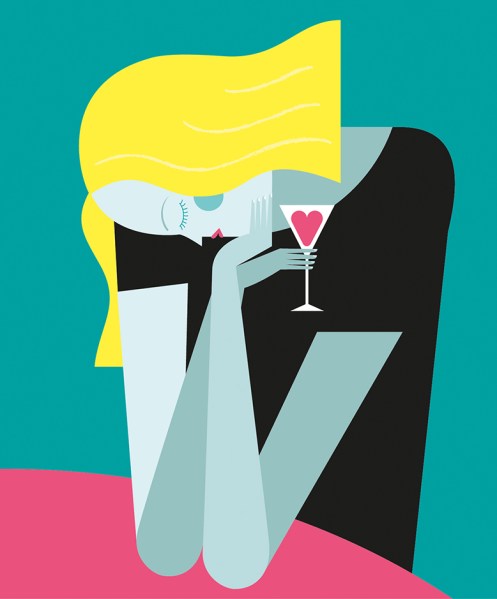 The night before my birthday, I give my ex-boyfriend Jerry a BJ. It isn't a coincidence. I had a hunch I would run into him at our mutual friend's dinner at Kappo Masa. I pretend not to see him when he arrives, (late, of course) and immerse myself in conversation about the travails of first-class domestic air travel. Jerry, grinning, saunters over and rests his arm on the table.
I have so much to tell him, important things like, "Fuck you."
"Finished?" he says with a smirk.
"No," I say, "you chased me so hard."
"I chased you sufficiently," he says.
I doubt circumstances have changed much since I last saw him, but the desire's been building and I resign myself to do something about it. Jerry throws back a bourbon. I gulp my Manhattan.  
We speed downtown in his Mercedes. He wants to know what he's working with: A hotel? His place? I tell him to drop me at mine since sleeping with him will only set me back. But I plan on sucking face.
He parks under an amber streetlight on Sixth Ave. 
"Do you think about me?" I climb up on top of him. 
His hands slide over my body. "I think about being with you." But he means right now. He's taking a break from dating anyway. I tell him his eyes aren't as soulful as I remember. He says it's probably because his walls are up. I tell him he's chaos and he agrees.
And yet I lay back in the passenger seat. He hikes my black Reformation dress up around my neck. The streets are empty.
"Can you tell I've been working out?" I ask.
"Yes," he mumbles, sucking my breasts with half-closed eyes. 
A cackling man gapes, pumping his fists and jumps up and down like he's never seen a woman's body. I duck. Jerry flips him off and steps on the gas. We end up outside his loft on Reade Street and he pushes me up against his car. Some guy in short-shorts comes up to us and asks if we have coke. Jerry says, "no coke here." And I think, "just crack." I won't go upstairs, but compromise by giving him a hand-job in his mailroom. He groans, You're so good to your man. And I say, "You're not my man." It's 4 a.m., my birthday and it's taking awhile, so I slide down the wall and blow Jerry under the florescent lights. 
'Freud's out of style,' my mother assures me.
'It's my fucking birthday!' I shout.
I set myself up for a birthday meltdown.
It's the start of Memorial Day weekend and many of my friends are out East, so I'm celebrating with my parents. My father makes steak and my mother buys a pear tart from Ceci-Cela. I'm so exhausted and hungover I can't keep it together. Someone says something offensive and I storm off like a teenager.
My parents barge into my room.
"Out of bed," my father demands. "You're not a baby."
"You're an adult," my mother seethes. "My therapist thinks we should charge you rent."
My father sits on my bed, "We're concerned we're enabling you."
"It's like Waiting for Godot with you," my mother says, excited by her metaphor. "Next thing you know five years will have gone by."
"I love having you here," my father tears up, "but want to see you move on with your life."
"We're not that cool," my mother says, leaning against my desk like one of the popular girls in high school. "And you date the shittiest guys." 
I sob because she's rude and she's right.
"You're precious," my father consoles.
"You're special," my mother adds.
"We think you should see a therapist," my father says.
Finally I find words, "Like that Freudian psychoanalyst I saw when I was 15 who diagnosed me with penis envy?"
"Freud's out of style," my mother assures me.
"It's my fucking birthday!" I shout.
"We just want you to be happy," she says.
"Want your pear tart?"
I blow out my candle, make wishes and confirm my plans to visit Ellie in Amagansatt the next morning.
In the a.m., while taking the 6 train up to
Grand Central to catch the Hampton Jitney, a homeless man shuffles through the car.
"The only thing my father ever taught me is I'm a piece of shit. I don't shower or brush my teeth," he announces.
I lower my head. The subway goers step aside perturbed.
"I just need enough change so I can sleep on the floor of Port Authority tonight," he shakes his cup, "because I'm a loser."
I want to reach into my bag to give him a dollar but wince when he nears me.
"No one even looks at me," he continues, "because I'm a piece of shit." 
We turn away from him like he tells us to. But I recognize his insidious voice and I'm rattled.
Once above ground, I get a text from Jerry inviting me to a charity event the following week that John Legend's performing at.
I want to see Jerry and it would be fun to see John Legend perform his love song "All of Me" but I politely decline. I thank him for thinking of me, but tell him I don't want to be intimate without a relationship.
There's so much I can't outright control, but I was lucky enough to have a choice. Both choices made me sad, but the thought of standing by Jerry's side as his Sometime Girl made me sadder. It was a firm act of self-love, a gift, and a way to say, "No, I'm not a piece of shit. I am special."