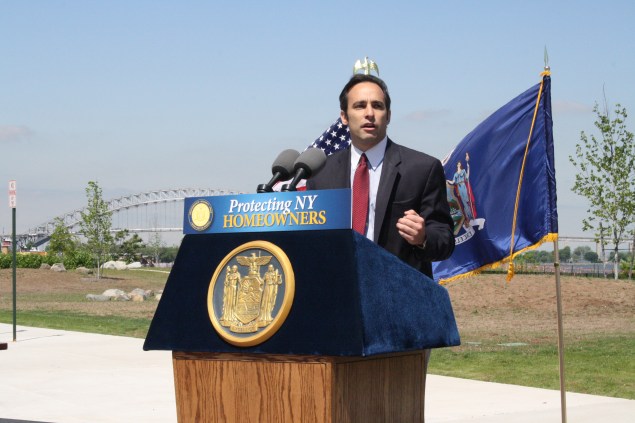 These upcoming City Council races won't be so special.
A couple of soon-to-be-vacant districts in Staten Island and Queens will not host nonpartisan special elections as many expected because the two councilman don't plan to resign by June 11.
Instead, a general election will be held in November and a primary, depending on when the two councilmen officially resign, will be scheduled for September.
"There will be no Council special based on the two vacancies," said Michael Ryan, the executive director of the New York City Board of Elections. "It'll be folded into the primary and the general."
Mr. Ryan added that if Staten Island Councilman Vincent Ignizio, who said he will resign sometime this summer to take a position in the nonprofit sector, steps down after July 2nd, the local county organizations will nominate candidates without an open primary.
"If the vacancy occurs before July 2nd, there will be a normal petitioning process," Mr. Ryan said.
Mr. Ryan was speaking to reporters at City Hall after testifying at a City Council budget hearing. The revelation came as a surprise to some political observers, who expected nonpartisan special elections to fill the seats vacated by Mr. Ignizio and Queens Councilman Mark Weprin.
The announcement is a blow to Republicans and independents who may have wanted to compete in an open race for Mr. Weprin's overwhelmingly Democratic but relatively conservative district. The top contenders to replace Mr. Weprin, however, are all Democrats and they will likely compete in a September Democratic primary. (Mr. Weprin had originally planned to resign in May to take a position with the Cuomo administration but delayed his resignation date.)
Mr. Ignizio's South Shore district is Republican-dominated and a close ally of his, Assemblyman Joseph Borelli, plans to campaign to replace him. Mr. Ignizio, a Staten Island Republican Party loyalist, could have an incentive to delay his resignation long enough to hand Mr. Borelli the Republican nomination without a primary fight–and all but ensure Mr. Borelli's victory against nominal Democratic opposition.