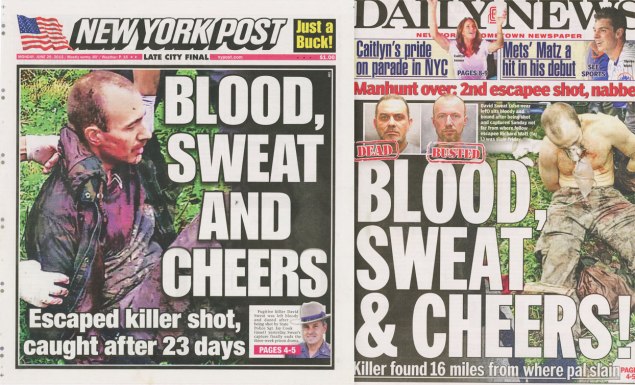 Well, this is awkward!
In a rare coincidence, today's New York Post and New York Daily News used the same joke on their front pages. Both tabloids employed the pun "Blood, Sweat and Cheers" to describe the shooting and capture of upstate prison escapee Richard Sweat—the only difference was that the Daily News used the '&' sign, while the Post spelled out the word.
While it is uncommon for the rival papers to have the same wood, they have used identical headlines before, most recently on sports stories—in January, when Todd Bowles was hired as the new head coach of the New York Jets, both the Post and the Daily News splashed the phrase "Super Bowles" on their sports pages.
Let's enjoy our status as a two tabloid town—for as long as it lasts.