There's something soothing about staying in the lines.  Coloring books for adults are topping the bestseller lists as more and more grown-ups turn to the therapeutic properties of colored pencils and intricate outlines.
"It's like the new meditation," Broad City's Abbi Jacobson told the Observer. "You are concentrating but you are coloring in the lines, so you are also able to clear your mind."
Ms. Jacobson recently came out with two additions to the burgeoning market, Color This Book: New York City and Color This Book: San Francisco. "I like the idea of creating a coloring book that's also a guide book," she said. "I drew a lot of my favorite places."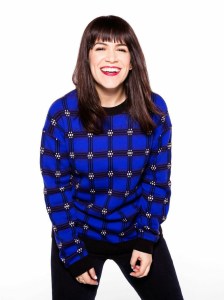 The New York book, which Ms. Jacobson is talking about with comedian and Broad City co-star Susie Essman in a sold-out event at The Strand on Tuesday evening, includes drawings of the High Line, Grand Central Station and Upright Citizens Brigade, the improv theatre where Ms. Jacobson met Broad City co-creator Ilana Glazer. The cover features an illustration of a bearded hipster replete with man bag caught in the closing doors of a subway car.
Like her TV namesake, Ms. Jacobson went to art school (at the Maryland Institute College of Art). When she moved to New York after graduating in 2006, her work began to reflect the confines of the city.
"I only had my desk [to work on] so I started doing more pen and marker drawings," she explained. Like her character, Ms. Jacobson launched a fledgling greeting card company and peddled her cards to various stores around the city.
Ms. Jacobson started drawing the landscapes that would become her books while working on the pilot for her series.
"I drew these in 2013 and now coloring books are having this new wave," Ms. Jacobson said. "I always pitch them as adult coloring books because they are pretty detailed. You kind of need a sharp point to color them in."
It was well-timed considering the new trend in book publishing.
Coloring books for adults represent a rare area of book publishing where the demand can't keep up with the supply. Little, Brown debuted four new coloring books this month alone. And British illustrator Johanna Basford's Secret Garden has more than 1.5 million copies in print and has been published in 14 languages, according to Publisher's Weekly. Ms. Basford's next book, which is scheduled for an October release, will have an initial print run of 400,000, a number that puts it in the big leagues.
With titles like Color Me Calm and Color Me Stress-Free, the trend is being marketed as an alternative form of psychotherapy, an old-school, New Age coping method for our digital age.
"Coloring is found to be soothing because of its repetitive nature," Marygrace Berberian, a professor at NYU's graduate art therapy department said. "And coloring in preformed images gives people a sense of security and containment. It's good for relieving stress and anxiety."
As the flap copy for Adult Coloring Book: Stress Relieving Patterns advises: "Remind yourself that coloring is like dancing, or being alive. It doesn't have a point; it is the point."
And that's a sentiment that will go over well with Broad City fans. 
Watch Abbi Jacobson color in the city:
[protected-iframe id="bf66b1d4f52a78eb5d22d5ef5e135674-35584880-39856794″ info="https://www.youtube.com/embed/1oHv5BifO2c" width="635″ height="315″ frameborder="0″ allowfullscreen=""]