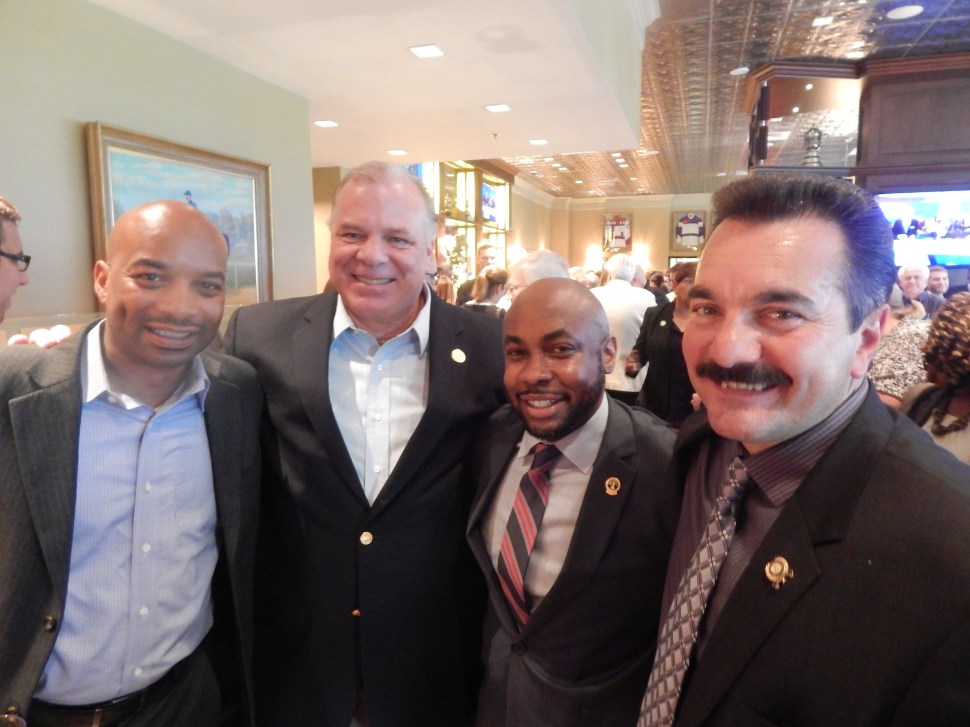 TRENTON – Some thoughts from the backrooms.
Senate President Steve Sweeney (D-3) and state Senator Ronald L. Rice quietly went into party mode over the Democracy Act bill, a work in progress meant to enfranchise minorities but which Rice said left minority legislators out of the bill-making process.
Essentially Rice said the bill disenfranchised the would-be franchisees.
Tabled yesterday in committee, the bill appears to have found new life with a Rice provision – the elimination of same-day or instant voting – axed.
Sweeney doesn't have his hands full with just Rice.
He's also trying to make work that always combustible working relationship with Speaker Vincent Prieto (D-32).
Prieto apparently still has doubts about the paid sick leave overhaul bill championed by Assembly Majority Leader Lou Greenwald (D-6).
Sweeney wants the bill on the governor's desk and Greenwald wants it out of the assembly. But Prieto's digging in his heels.
These nuggets are ultimately isolated islands of infighting an unrelated to the FY2016 Budget, which is done, according to a Trenton source.
Then there's the casino question.
South Jersey sources laugh off the issue as – and we reported this some time ago – deader than disco. They have some objective ammunition within arm's reach. Just this morning, a Fairleigh Dickinson University Poll revealed the public's disenchantment with the expansion of gaming outside Atlantic City, giving Sweeney another arrow in his quiver not fashioned in the furnaces of Assembly Majority Office minder Mike Muller.
Sweeney does not want a North Gaming ballot question interfering with this year's South Jersey legislative races.
"Everyone knows Steve doesn't want this," said a North Jersey source. "Vinny's been very courageous about this but he's not going to commit political suicide over this either. They're looking at the votes. It's a short window. They have until August 30th to lay it on the governor's desk. I still think there are forces but yeah, it's tough, no question."
If Prieto tries to advance the question out of the assembly, Sweeney on the senate side would just as soon crush the bill like a bird in both ex-ironworker's hands. And while sources continue to flutter about Prieto's willingness to continue to talk about driving northern gaming now, another source points out that Gov. Chris Christie would not mangle South Jersey relations by lining up the Assembly Republican caucus behind it now, on the verge as he is of escaping this basically no-drama budget cycle for the pure ether of a presidential launch next week.
More later…