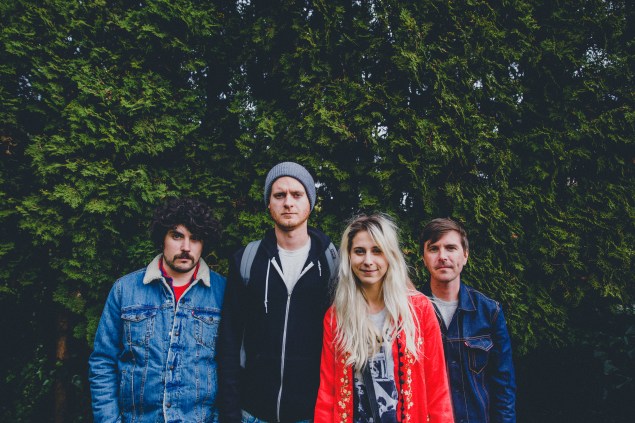 It's an easy mistake: After hearing Bully's mix power pop and grunge, you might think the band is from Brooklyn or Philly. Rather, the four-piece—comprised of Alicia Bognanno, Stewart Copeland, Clayton Parker and Reece Lazarus—is from the budding DIY scene in Nashville. Mixing all-too-honest lyrics, sweet vocals and pop melodies is Bognanno's bread and butter. She's not just Bully's vocalist, though—Bognanno's the band's songwriter, guitarist, engineer, producer, and, oh yeah, visionary. Bully's music isn't meant to sound crisp and clean—it's messy, and so are the things that Bognanno sings about. On "Trying," Bognanno sings, "I question everything, my focus, my figure, my sexuality," unapologetically revealing her insecurities—a glimpse at the meaning behind her debut LP Feels Like (due June 23).
Although Bognanno had dabbled in writing lyrics and crafting melodies while growing up, it wasn't until she took an audio engineering class at an alternative school that she realized she wanted to learn guitar and have a more holistic approach to music. She earned a four-year degree from a Bachelor of Science program at Middle Tennessee State University, took an internship at Steve Albini's Electrical Audio in Chicago, ended up working in Tennessee at a local studio called Battle Tapes and formed Bully with a trio of friends. Now, the band is about to release their debut LP and will play alongside Alvvays, Best Coast and Built To Spill onstage at 50 Kent for Williamsburg's Northside Festival Saturday, June 13.
The Observer recently chatted with Bognanno about her revealing songwriting, her time spent as an audio engineer and if she's her generation's Liz Phair.
[youtube https://www.youtube.com/watch?v=URkGeJmNwy8&w=560&h=315]
You've been noted as being very honest in your lyrics. What makes you more honest than perhaps other artists?
Well, I think it's the easiest way for me to say what I mean when I'm trying to sing in a song and get the message across. That's pretty much why I do it: so I don't have to hide behind my lyrics because that's easy for me to do. When I'm sitting down and working on lyrics, it's a lot easier for me to just be honest about what I'm really trying to say and what it's really about. It's easier to be more honest than write more abstract and blur the picture.
You've sung about questioning your sexuality and getting your period among other things. What's the most honest thing you've written? Have you ever surprised yourself with your own honesty?
I'm not sure what the most honest thing I've ever written is. When I listened back to "I Remember," there was a time or two where I was like, "Well, that's really putting myself out there." It's part of the song, and I also never say anything that I don't want to say. I think the honesty that comes across in that record is me developing as a songwriter.
You said you really put yourself out there on "I Remember." What's that track about?
That track is about being really close with somebody and different things that you experience together, and different phases that you go through in life, but still with that person.
Have you ever felt like you should censor yourself after writing something so honest?
No, not really.
Bully's music isn't meant sound crisp and clean—it's messy, and so are the things they sing about.
What topics do you cover in your songs?
They're just about personal experiences for the most part. They're all so different.
Which artists have you been influenced by the most?
I like Paul Westerberg and Silkworm. That's all I can think of off the top of my head.
What's your writing process like? Do you have a journal you write in? Your music sounds very diaristic.
I just try and keep a bunch of notes around all the time and if I have an idea I write it down, but mostly when I'm home I'll try and carve out time each day to write it down. Sometimes I'll learn a cover or something, but I just try to keep writing, playing and seeing where [the music] takes me.
How did you come up with Feels Like as the title for the record?
I think we all thought it was appropriate for the record. It's about a lot of emotions, feelings and personal situations and I think it kind of makes sense.
Do you feel like you were destined to become a musician?
No, I didn't feel like I was destined. It was something I always wanted to do, but I knew it would take a lot of work to put myself in an environment where that was a possibility, but it was something I wanted to do.
You worked as an audio engineer. Did you start doing that before you were a musician?
I started them both at the same time when I was in high school. I would write melodies for as long as I could remember. In high school, they offered a program to take and that's how I got into [engineering]. I got a four-year degree in audio engineering, and around that time, I started playing guitar and writing songs for myself.
Your music parallels the songwriting of Liz Phair and Kim Deal. Do you think you could be our generation's Liz Phair or Kim Deal with your brutal honestly?
No. I don't think so. I think that I just want to keep playing music and be as good as I can and have that be whatever it turns out to be.