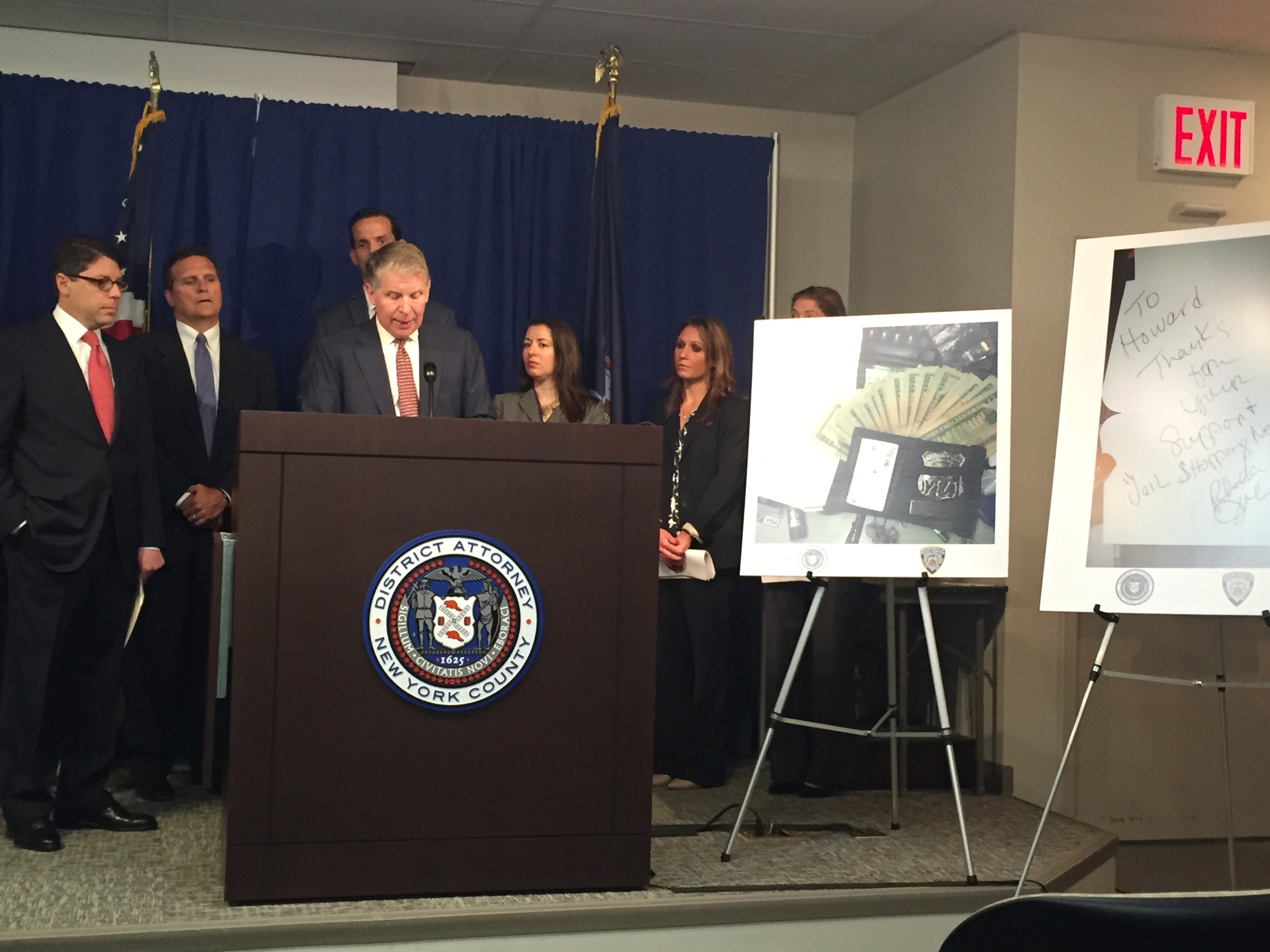 City officials said today they had broken up a "jailhouse shopping network" that smuggled weapons, tools and drugs into a Manhattan jail—and in the course of searching cells, also uncovered a rope made of 64 bed sheets that could have allowed for a daring escape.
Manhattan District Attorney Cyrus Vance Jr. and Department of Investigation Commissioner Mark Peters today announced four people had been arrested in connection with the smuggling of dangerous contraband at the Manhattan Detention Complex, more colorfully known as "The Tombs"—including correction officer Patricia Howard, 44, a 19-year veteran of the department who worked in the mail room of the jail.
The bust comes amid intense scrutiny of how contraband is making its way onto Rikers Island, where most of the city's inmates are kept—and as the state scrambles to find two dangerous inmates who pulled off a daring escape from an upstate New York prison using smuggled power tools.
After the smuggling ring was broken up, DOI asked the Department of Correction to sweep the jail for contraband—and that's when officers happened upon the rope made of bed sheets in the cell of Ernest Murphy, 25, who was awaiting trial on second-degree murder charges. The makeshift rope was made of 64 bed sheets "neatly" tied together, Mr. Peters said.
"Those are enough to shimmy down the 11 stories from his cell block to the ground," Mr. Peters said. "Thankfully it was discovered before he had his opportunity to test his skills at making a getaway."
Mr. Peter's said using the rope to escape would have been a "potentially viable plan."
"He did not make any confessions, but honestly, there is no other conceivable purpose for keeping that many bed sheets tied together like that, other than for an escape," Mr. Peters said.
As for the smuggling ring, Ms. Howard is accused of working with an MDC inmate, Tommy Davis, 56—who was in jail on charges of attempted murder—and two of his relatives outside of jail, his sister Velver Jean Davis, 58, and his niece Khalilah Mattocks, 35. Mr. Davis would take requests from other inmates for contraband and then direct his sister and niece to obtain those items—which included marijuana, oxycodone, tobacco, lighters, cell phones and phone chargers, earbuds, pliers and flashlights, Mr. Vance and Mr. Peters said. Ms. Mattocks would then deliver the contraband to Ms. Howard, the correction officer, who would smuggle them inside in exchanged for "hundreds of dollars in cash," according to Mr. Vance and Mr. Peters.
On inmate's family was so thankful for the sting that they sent Ms. Howard a thank-you note.
"To Howard, Thanks for your support and 'Jail Shopping Network,'" the note reads.
On April 29, an undercover investigator posed as an associate of an inmate and asked Ms. Mattocks to deliver a package that included a iPhone, oxycodone and tobacco, Mr. Vance said.
"In order to trace the movement of the contraband our undercover investigators simply activated the cell phone's Find My Phone feature, and then watched in real-time as the phone traveled from Mattock's apartment in Harlem to Officer Howard's apartment in the Bronx to its final destination here at the MDC," he said.
On May 9, Mr. Vance said Ms. Howard was still in uniform when she accepted a large bag full of crack cocaine, marijuana, three phones, chargers, lighters, tobacco, rolling papers, pliers,earbuds and a flashlight from Ms.Mattocks on a Harlem Street, leading to her arrest.Ms. Howard had $800 cash on hand when she was taken into custody, allegedly provided for smuggling in the items, according toDOI and the DA's office.
Mr. Peters said the department did not vet Ms. Howard before giving her the mailroom assignment, which allowed her extensive access to inmates and all parts of the rail, and that the department did not ever run her phone number through its database of those numbers called by inmates. If it had, they would have seen that Ms. Howard had received more than 2,400 calls from inmates between 1993 and 2012, a fact Mr. Peters said should have prompted close scrutiny. Mr. Peters said that Ms. Howard was also allowed to walk through security without being screened, and that sometimes even when packages containing contraband were put through metal detectors, the contraband wasn't found.
Ms. Howard also violated jail rules, Mr. Peters said, by not telling the department that several family members were incarcerated at MDC while she was working their—including the father of her child.
Mr. Peters has previously issued reports outlining lax screening for contraband at jails on Rikers Island, where the department has promised to beef up security and use drug-sniffing dogs to vet both officers and visitors on occasion. In addition to weapons that are used in jail violence, Mr. Peters and other officials have said that all contraband—including drugs and cigarettes—help fuel a violent underground economy in jails.
The bust at the Manhattan Detention Center, Mr. Peters said, shows that simply de-centralizing the city's jails, most of which are located on Rikers, won't solve problems with contraband.
"I think today's case shows pretty dramatically is that while there certainly is work to be done at Rikers Island, simply moving things to Manhattan and other boroughs is certainly not the solution," Mr. Peters said.
Ms. Howard faces a slew of charges including attempted sale of a controlled substance, possession of a controlled substance, promoting prison contraband, and bribe receiving. Her attorney was not immediately available to comment.