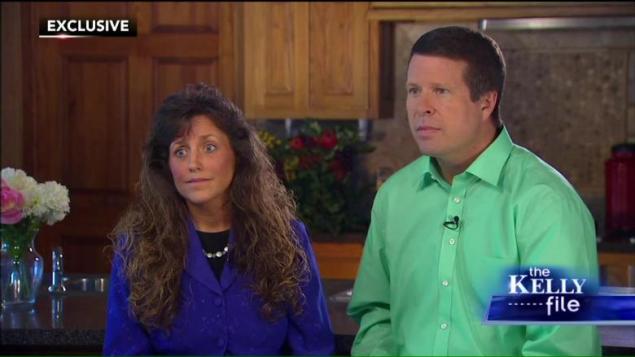 The Duggars insist that God forgave Josh for his transgressions. But can America?
After In Touch broke the news that Josh Duggar sexually abused five young girls—four of which were his sisters—as a teen, all corners of the Internet erupted with frenzy, picking apart everything from the family's Christian fundamentalism to their widely known prejudices and hypocrisy.
So when, last night, Jim Bob and Michelle Duggar sat down with Fox News' Megyn Kelly to discuss their son Josh and his past behavior, the Internet promptly exploded.
To spare you from watching the entire video, here's what the Duggars discussed (or didn't) during their interview:
— According to Jim Bob, Josh came to him and Michelle when he was fourteen, crying that he had, "Inappropriately touched some of their daughters."
— Michelle mentioned her, "One ray of hope [was] that Josh had a tender conscience and he was the one that came and shared on his own, even though the others really didn't know anything of his wrongdoing."
— Michelle reiterates about her daughters that, "One by one, as we talked to them, none of them were aware of Josh's wrongdoings," referencing the fact that they were asleep during first assaults.
— Josh's supposed excuse was that, "He was just curious about girls, and that he went in and basically touched them over their clothes while they were sleeping."
— Jim Bob commented on the extent of his daughters' abuse, saying, "This was not rape, or anything like that, this was like, touching somebody over their clothes."
— Jim Bob later admitted, "There were a couple of instances when he touched them under their clothes, but it was like, a few seconds."
— After the third incident, Jim Bob and Michelle reached out for help and found their son a Christian based mentor, who stayed with Josh in Little Rock when the Duggars removed him from their home.
— Josh admitted his actions to a police officer, who is, as Ms. Kelly noted, "in jail for 56 years for child pornography charges." The officer, from jail, claimed that the Duggars only admitted to one incident, while the Duggars insist Josh told the entirety of the story.
So what didn't the Duggars answer?
— Firstly, happened to the Duggar family babysitter? Michelle and Jim Bob claim that their daughters had no idea they were being molested. However, there was no mention of their employee, who was also harassed by Josh.
— Did Josh ever see an actual therapy or psychologist, or was his recovery purely based his construction abilities? The parents tell Ms. Kelly about a mentor who, "Really helped young men who had made unwise choices in their lives to get straightened out and he was running a little training center in Little Rock, Arkansas." While it's been confirmed that Josh spent much of his time on a construction site, nothing was said about licensed professionals.
— Why did the family continue to have more children? The Duggars discovered their son's actions in 2002; they had six more children during and after that time.
— Finally, why are there so many inconsistencies with the family's story? In Touch reports, despite Jim Bob's denial, that Jim Bob refused to procure Josh for an interview requested by police and that Josh's records were obtained legally. Moreover, the family insists they had no legal obligation to report their son, which is not only untrue, but could have resulted in jail time.