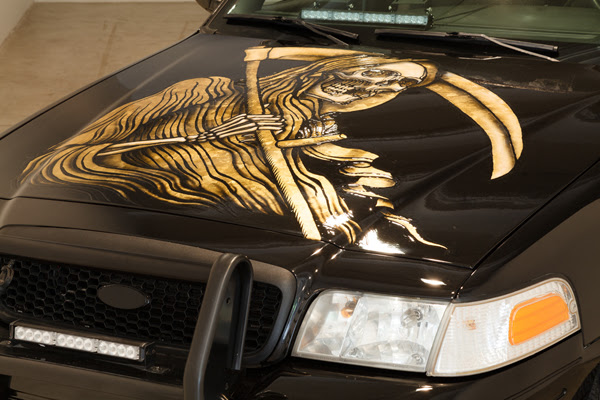 Scott Campbell, the talented tattoo artist whose work has graced the bodies of Courtney Love, Sting, Heath Ledger and many others, will soon be exhibiting a different piece of custom body work.
The body in question belongs to a Ford Crown Victoria—a classic cop car—that Mr. Campbell has both remodeled and adorned with some tat-like imagery. The car, along with a single painting, can be seen in Mr. Campbell's solo exhibition "Crown Victorious" which opens tonight at Martos Gallery in Chelsea.
Mr. Campbell's handiwork on the car includes 24-carat gold body painting and windows etched with elaborate motifs. The car is for sale with price available upon request.
As you may or may not know, Mr. Campbell is married to the lovely hollywood actress Lake Bell, who was featured on TV shows like Boston Legal and HBO's How To Make It In America, as well as the goofy Rom Com What Happens In Vegas from 2008.
Mr. Campbell has been an exhibiting visual artist since 2009 and is represented by the OHWOW gallery in Los Angeles, Calif.
"Crown Victorious" opens tonight at the Martos Gallery, 540 West 29th Street, from 6 to 8 p.m.