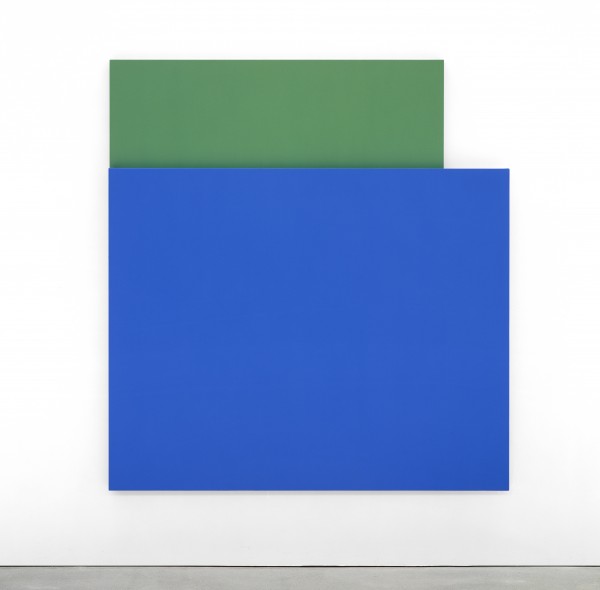 On two floors of a Chelsea tower, the exhibition space FLAG Art Foundation opened its newest show "Space Between" this week.
Most summer group shows are fairly sleepy, either space-fillers or opportunities to experiment, with all the curatorial erraticness that implies. This one offers works by a roster of superstars, old and new: Douglas Coupland, Thomas Demand, Liam Gillick, Mark Grotjahn, Andreas Gursky, Agnes Martin, etc. The signature piece, and the one that inspired the title, is a blue and green superimposed canvas by Ellsworth Kelly.
The unusual and fresh exhibit plays with the boundaries between two- and three-dimensional spaces—stacked canvases create shadows, objects protrude from the walls and one work even dangles from the ceiling in the entranceway. This approach to curating makes for an exhibit that surprises at every turn, but makes it difficult to label an artwork "painting" or "sculpture" or "sculptural painting" or "painted sculpture."
Curated by Louis Grachos, who is director of the Contemporary Austin, in Texas, and for years helmed the Albricht-Know Museum in Buffalo, NY, and Stephanie Roach, FLAG's well-known director, the show is meant to explore multiple generations of contemporary artists' radical abstraction. Non-profit FLAG is meant to act as an educational space, teaching and encouraging a diverse audience to appreciate contemporary art.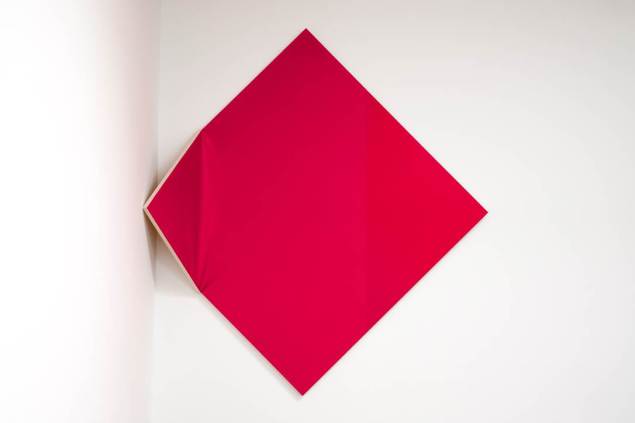 And this show does exactly that, combining artists of a variety of ages, working in a variety of mediums.
Olafur Eliasson's Walk Through Wall (2005) acts as the focal point for the upstairs gallery space. Reminiscent of Michelangelo Pistoletto's mirror paintings from the '60s, this framed spiraling double mirror plays with space and dimensions while interacting with the viewer. However, as the young gallery hoppers meandered upstairs, it quickly became little more than "selfie station."
The brilliant pink canvas in Kaz Oshiro's Untitled Still Life (2013) straddles the corner, playfully subverting traditional white-wall gallery presentation.
And in Sliced Snake and Hook Swan, artist Sarah Crowner cuts up and sews her canvases back together. She appropriates the traditionally female act of sewing, exploring the history of the craft.
The exhibition will on view at The FLAG Art Foundation's gallery at 545 West 25th Street through August 14.