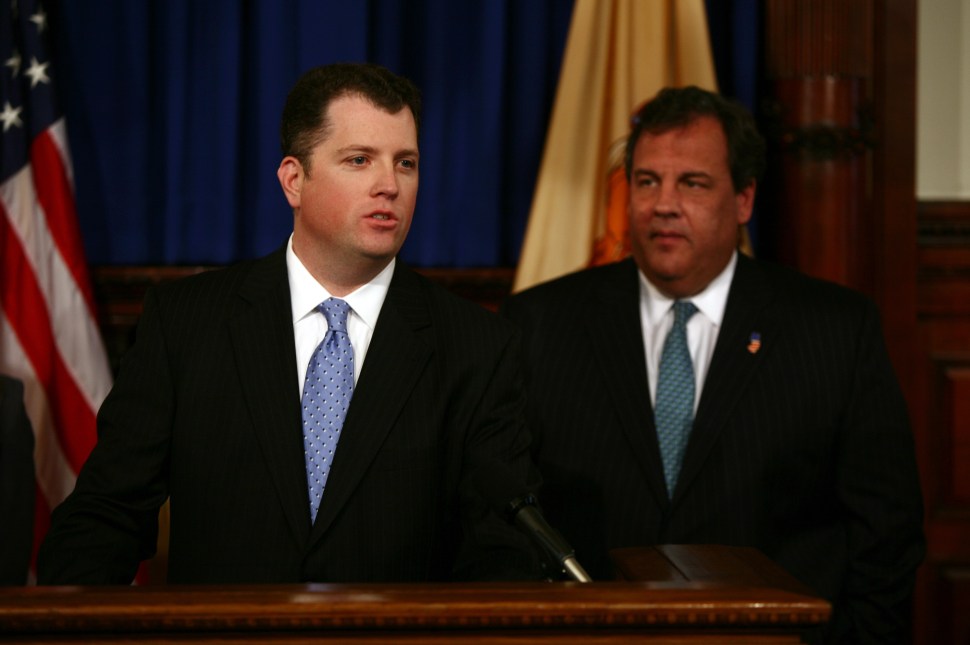 Working to "ensure state government continues to deliver results and reform for the people of New Jersey", Governor Chris Christie today announced the departure of three long-serving cabinet members, along with new leaders for those posts.
A release from the governor's office says State Treasurer Andrew Sidamon-Eristoff, Health Commissioner Mary O'Dowd and Banking and Insurance Commissioner Ken Kobylowski will leave the administration over the next several weeks.
"I want to personally thank these three talented and dedicated individuals for their service to this administration and to the citizens of New Jersey," said Christie. "Acting on some of the most challenging issues facing our state, each has responded with utmost professionalism in working on solutions that have balanced six state budgets and provided a framework for long-term pension reform; ensured that residents have the healthcare access they need through our health care delivery system; and protected consumers by calling for more accountability from insurers. The Garden State is a much better place because of their hard work and I wish Andrew, Mary and Ken all the best in their future endeavors."
In addition to the changes in these departments, Christie also announced the formal nomination of Elizabeth Connolly as Commissioner of the Department of Human Services. Connolly became Acting Commissioner on February 28, 2015. She has worked in various roles at the department for 26 years and began her career in the department's Division of Family Development and worked in child welfare reform as Director of Data Analysis and Reporting in the Office of Children's Services. Connolly also served as Director of Research and Evaluation, Special Assistant to the Commissioner and led the department's Sandy recovery initiatives and emergency preparedness activities related to Ebola Virus Disease. Prior to her nomination as Commissioner, Connolly most recently was the department's Chief of Staff.
Read the rest of the governor's release:
Department of Treasury:
Nominated by Governor Christie and confirmed by the New Jersey State Senate on February 22, 2010, Treasurer Andrew Sidamon-Eristoff has been responsible for managing a state department with more than ten divisions, almost 3,100 employees, and an annual operating budget of $200 million.
During his tenure, Sidamon-Eristoff oversaw the development, adoption and management of six balanced State budgets with substantially reduced reliance on nonrecurring revenues at a time of continuing fiscal challenge. He played a major role in developing and negotiating Governor Christie's landmark 2011 pensions and health benefits reforms, which reduced unfunded liabilities and will save more than $120 billion in pension costs over 30 years and $3.1 billion in health care costs over 10 years.
In addition, Sidamon-Eristoff drafted Governor Christie's five-year, $2.3 billion business tax reduction initiative, adopted by the State Legislature in June 2011; coordinated a five-year, $8 billion reauthorization of the Transportation Trust Fund Authority Act in 2011 and managed the privatization of a State-owned and -operated television and radio network and the procurement of a 15-year agreement with a private partner to manage sales and marketing for the State Lottery.
"I am deeply grateful to Governor Christie for giving me the opportunity to serve the people of this great state as part of his administration," said Treasurer Sidamon-Eristoff. "With the help of Treasury's talented and dedicated staff, we have met major challenges successfully while recording important achievements for New Jersey's taxpayers, including six State budgets that were balanced without raising taxes, $2.3 billion in tax cuts to make our businesses more competitive, pensions and benefits reforms that will save taxpayers more than $120 billion over three decades, and a range of internal management reforms that have improved the State's procurement processes, budgeting, fiscal analytics and transparency, tax administration, debt management, and information technology infrastructure and governance."
Deputy Treasurer Robert A. Romano will become Acting Treasurer. As Deputy State Treasurer, Romano is active in the management and operation of all Treasury activities, advising the Treasurer on issues related to procurement, pension and benefits, property management, public finance and lottery. Romano has twenty years of experience with the Department of Law & Public Safety's Division of Law. He is formerly a New Jersey Assistant Attorney General in Charge of Financial Affairs, where he supervised the work of four sections within the Division: Treasury, Transportation, Construction and Condemnation, Banking and Insurance, and Debt Recovery. Romano also served as Deputy Attorney General dealing with matters related to Treasury, the Housing Mortgage Finance Agency, and the Environmental Infrastructure Trust. He is a graduate of Rutgers Law School, the University of Michigan and Rutgers College.
Department of Health:
Mary E. O'Dowd first joined the Department of Health in January 2008 as Chief of Staff, subsequently serving as Deputy Commissioner for a year prior to becoming Commissioner in April 2011.  During her tenure, she has been responsible for a staff of more than 1,200 and a budget of $1.9 billion.
O'Dowd's leadership of the Department coincided with extraordinary transformation in the healthcare delivery system in New Jersey. Under her leadership, the Department invested in the healthcare safety net and health information technology, implemented new financial strategies designed to promote quality of care, transitioned senior services programs into the Department of Human Services and championed public health initiatives to enhance population health.
Furthermore, O'Dowd's efforts to improve pregnancy outcomes and health early in life has resulted in a statewide effort to better coordinate health and social services programs, an expansion of the Newborn Screening program, and increased breastfeeding rates as part of a broader obesity prevention program. She also made it a priority to improve the quality of care at the end of life by promoting the need for individuals to discuss their care preferences with their loved ones and health care providers.
O'Dowd led the Department's response and recovery efforts during a number of unprecedented emergent events including: Hurricane Irene, Superstorm Sandy and the West African Ebola epidemic.
"It has been an honor to serve the state of New Jersey for the last seven years while leading the extraordinarily talented workforce at the Department of Health." Commissioner O'Dowd said.  "I believe our collective efforts have led to empowering individuals and communities to improve their health and quality of life now and in the future."
Governor Christie will nominate O'Dowd to the Board of Directors for Horizon Blue Cross Blue Shield of New Jersey.
Catherine Bennett, the Department's Director of Policy and Strategic Planning, will become acting commissioner. Bennett joined the Department as Director of Policy and Strategic Planning in August 2010.
She has directed strategic public health and healthcare delivery initiatives including healthcare quality assessment, health statistics and informatics, population health and health equity, regional health planning, and health information technology. Prior to joining the Department, Bennett worked as an executive in the private sector, providing consulting, strategy, and management services to federal and state health and human services agencies.  Bennett holds a Master of Government Administration from the University of Pennsylvania, a Juris Doctorate from The Dickinson School of Law, and a Bachelor of Arts from Villanova University.
Department of Banking and Insurance:
Governor Christie nominated Ken Kobylowski to serve as Commissioner of Banking and Insurance on January 30, 2012 and was confirmed by the Senate on December 20, 2012.  Kobylowski joined the Department as Chief of Staff in February 2010 and took on the additional role of Acting Director of Banking in October 2011.
As Commissioner, Kobylowski has been responsible for overseeing New Jersey's banking, insurance and real estate industries. During this time, he brought a pro-business regulatory culture to the department that promoted growth and strengthened New Jersey's major insurance markets without sacrificing consumer protection. He worked successfully for the enactment of laws establishing an interstate insurance compact; helped reform New Jersey's insurance and surplus lines laws, allowing the establishment of captive insurance companies; and established the Bureau of Fraud Deterrence, making the fight against civil insurance fraud a key part of the Department's mission.
Kobylowski also enacted sweeping changes to the Personal Injury Protection (PIP) portion of auto insurance in 2013, completing a decade-long reform effort which has had long-term positive effects on the state's auto insurance market.  Nine of the nation's top 10 auto insurers are now writing auto business in New Jersey.
During his tenure, Kobylowski has served as Chair of the National Association of Insurance Commissioner's (NAIC) Financial Stability Task Force as well as a member of NAIC's International Relations Committee and Financial Conditions Committee. He has also served on NAIC'S Executive Committee as Chair of the Northeast Zone.  Additionally, Mr. Kobylowski represents the NAIC on the International Association of Insurance Supervisors' (IAIS) Executive Committee and Financial Stability Committee.  He was also appointed by the Governor to serve on the State Employees' Health Benefits Plan Design Committee and the School Employees' Health Benefits Plan Design Committee.
Kobylowski was instrumental in leading the department through successful reaccreditation by both the NAIC and the Conference of State Bank Supervisors.
"I want to thank Governor Christie for giving me the opportunity to serve as Commissioner," said Commissioner Kobylowski.  "It has been an honor and a privilege to lead the Department and work for New Jersey residents and businesses.  I am proud of all that we have accomplished and confident that the Department's work will continue seamlessly under my successor."
Governor Christie will nominate Richard J. Badolato to replace Kobylowski as Commissioner of Banking and Insurance. Badolato is a partner at the law firm of Connell Foley in Roseland. He has expertise in civil trial litigation including medical, legal, and dental malpractice; products liability; automobile litigation; insurance coverage and policy interpretation and subrogation recovery. Badolato has served as President of the New Jersey State Bar Association, President of the New Jersey State Bar Foundation as well as Chairman for the Supreme Court Advisory Committee on Professional Ethics. He also served as Chairman of the Supreme Court of New Jersey Commission on Professionalism in the Law. Badolato is a graduate of Rutgers School of Law and Fairfield University.
Badolato is expected to begin his service on August 1, 2015.