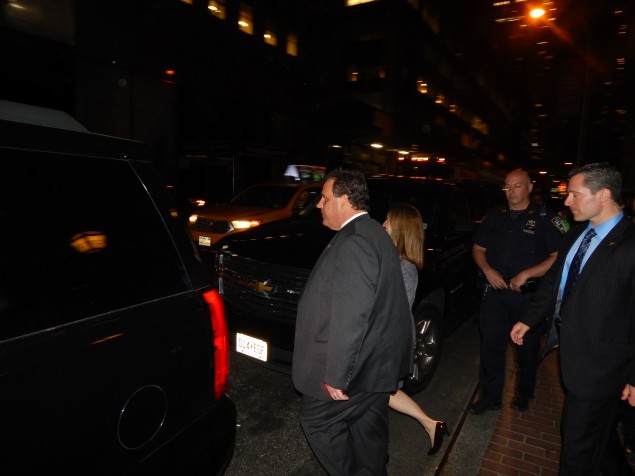 TRENTON – WNYC reporter Matt Katz is reporting this morning that Gov. Chris Christie plans to formally kick off his 2016 presidential campaign next Tuesday at Livingston High School.
The Essex County town where Christie grew up playing catcher for the high school baseball team, represents that quintessential New Jersey suburb always threatening to burgeon into a Norman Rockwell painting. Classically, it's been that escape hatch community from New York City, a political universe unto itself big enough to contain the histories of former Governor Tom Kean, former Mayor David Wildstein, PolitickerNJ publisher Jared Kushner, and Christie.
Earlier this year, PolitickerNJ profiled Livingston's role in Christie's development here.
Newark-born but raised in Livingston, Christie as a boy famously rang then-Governor Kean's doorbell to express his interest in politics, dispatched to a lifetime of moves-making that sometimes ran the sitting governor afoul of his political mentor. On Tuesday, according to Katz's report, the polls-mired New Jersey governor intends to put his head down amid a 2016 GOP field that looks more like a rugby scrum than a distance race, with no clear frontrunner.
"His slogan is 'I'll do for the country what I did for New Jersey – screw it up,'" deadpanned Sierra Club Director Jeff Tittel, a longtime Christie critic as Trenton plodded through today's budget session.
Christie's scheduled announcement comes less than a week after the Republican governor's longtime ally – state Senator Joe Kyrillos (R-13) – sent out invites for a New Jersey-based fundraiser for former Florida Governor Jeb Bush.
A Suffolk Poll targeting New Hampshire earlier this week shows Christie sandwiched in the midst of his fellow White House-seeking Republicans. Republicans to a person regard New Hampshire – where Christie has done the most pre-campaign campaigning – as the governor's fire wall state.
The poll finds Bush (14 percent) leading businessman Donald Trump (11 percent) in the New Hampshire Republican presidential primary contest, according to today's poll from the Suffolk University Political Research Center.
With the primary seven months away, the rest of the crowded GOP field remains in single digits, with Wisconsin Gov. Scott Walker at 8 percent; Sen. Marco Rubio (R-Fla.) 7 percent; retired neurosurgeon Ben Carson, 6 percent; and Christie, 5 percent. Following closely behind Christie were Sen. Rand Paul (R-Ky.), Sen. Ted Cruz (R-Texas); and businesswoman Carly Fiorina, who were tied at 4 percent each. Former Arkansas Gov. Mike Huckabee and Ohio Gov. John Kasich were tied at 2 percent, while six other candidates, including former New York Gov. George Pataki, former Texas Gov. Rick Perry, former Pennsylvania Sen. Rick Santorum, Louisiana Gov. Bobby Jindal, Sen. Lindsey Graham (R-S.C.), and former Maryland Gov. Bob Ehrlich combined for 4 percent. A significant 29 percent were undecided.
Asked about the resonance of Livingston in presidential politics, Patrick Murray, political scientist with Monmouth University, said, "Humble roots, man of the people.
"Unless he's announcing a run for Livingston High School student body president," he added jokingly, "A race he could win."