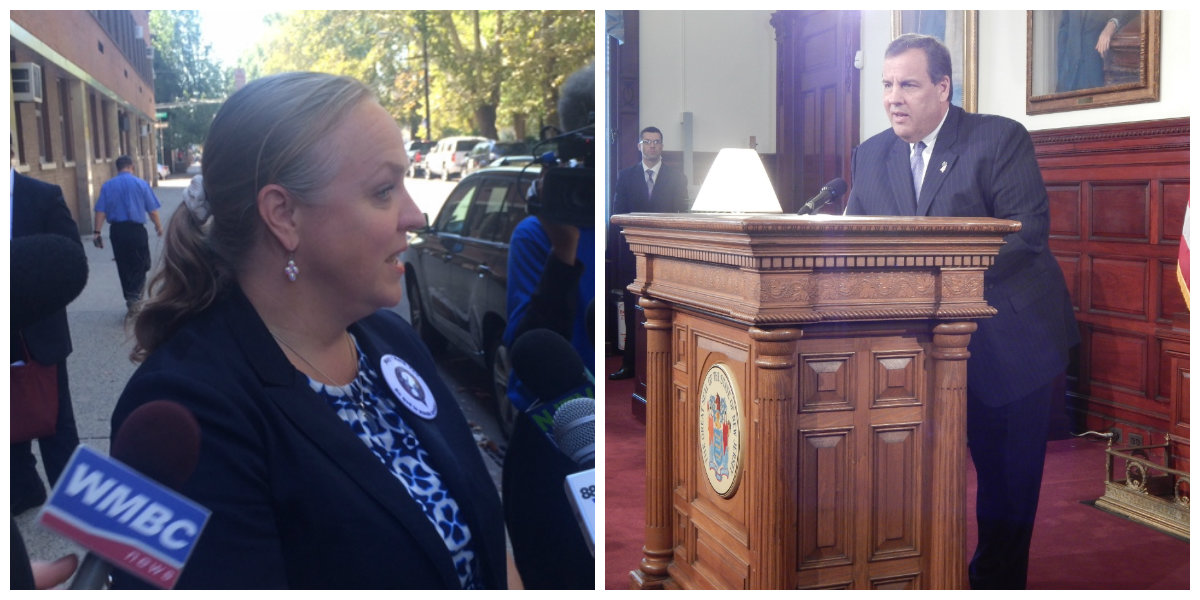 TRENTON – New Jersey Governor Chris Christie, in the aftermath of Cami Anderson's abrupt exit from her position as Newark Schools Superintendent earlier this week, sang Anderson's praises to the heavens on Friday, despite the fact that many Newark residents want to figuratively send her to Hell for the implementation of her controversial school reorganization plan.
"I think Cami did a really extraordinary job, under very difficult circumstances," Christie told members of the press moments after he signed this year's state budget. "I think some of the progress that you've seen made [in Newark], in terms of the performance of students, and reining in the size of that district, will reap benefits going forward.
"It was time for Cami to move on. Four years of full-scale combat in Newark is a lot for anybody," Christie, who was born in Newark, continued. "She did an extraordinary job. I will always be very grateful to her for her service, and I think that the people of Newark appreciate it. Some don't. The ones that don't are always most vocal, no matter where you are in public service. That's fine. Cami Anderson knows that she did a good job. Believe me, I appreciate what she's done. I don't think that she's had a bigger or a better supporter than me over the last four years. But there is a lot of tough stuff that she had to put up with not only at the job, but at home, with her family – people who did not respect any kind of zone of privacy for her at all. It was outrageous. And after a while, that weighs on you. I don't blame Cami at all for coming to the decision that we did that it was time for her to move on."
Governor Christie stood with then-Newark mayor and current U.S. Sen. Cory Booker, D-NJ, and Facebook CEO Mark Zuckerberg in 2010 when the social media titan pledged $100 million to revamp Newark's schools, which were placed under state control in 1995.
It is unclear whether the dramatic attempt to jump-start school reform in Newark has had any lasting effect. But Governor Christie's decision to appoint Cami Anderson to head Newark's public schools in 2011 created what many saw as an educational impasse, especially after Ms. Anderson launched her school reorganization scheme, known as the "One Newark" plan, in September 2014.
Meant to improve the city's public education system by increasing student options, the plan has left many parents angry, confused and frustrated. A widespread community backlash included vociferous student, parental and teacher protests. Prominent local politicians also spoke out, including state Senate education committee chair Teresa Ruiz, who stated that "the trust is gone" in Ms. Anderson's leadership of the city's schools. Yet Mr. Christie doubled down on his support for Ms. Anderson and her plan, renewing her contract for three more years in June.
Anderson will step down from her post by July 8, according to an announcement by the governor's office on Monday.
When the state finally decided to pull the needle off of what many observed to be Anderson's scratchy record of achievement in Newark, many felt that the Christie administration was tone deaf by indicating that it was replacing Anderson with former state education commissioner Chris Cerf. Cerf, a close Christie ally, helped hire Anderson in the first place.
Christie, who noted Cerf's role in Anderson's selection as Newark Schools Superintendent, was not precise when asked by PolitickerNJ when he believed that local control would be restored to Newark's public schools system.
"I don't know, but we will certainly have more to say about that in the weeks ahead," Christie said. "I want to give [Cerf] the chance to make judgments and recommendations to me, along with others like [Newark Mayor Ras] Baraka and leaders in the Newark community, and to be able to talk about the issue. But we're nowhere near being able to put the date on that."