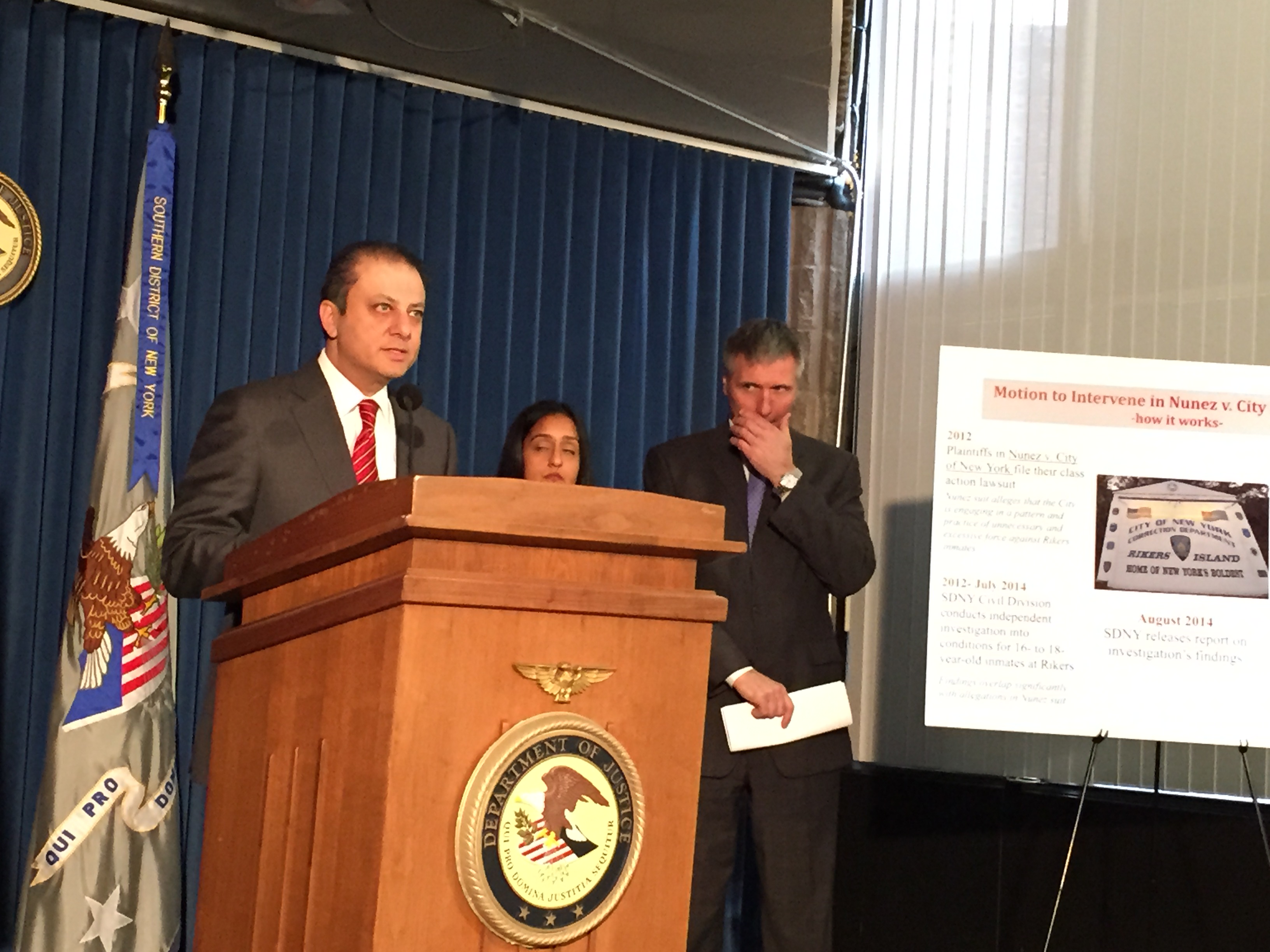 The city has agreed to sweeping reforms at Rikers Island—including the installation of a federal monitor over the Department of Correction—in order to settle a lawsuit first filed by inmates alleging they were beaten by officers that was eventually joined by U.S. Attorney Preet Bharara.
"I have repeatedly made clear our unwavering commitment to enduring and enforceable reform at Rikers Island. Today, we have reached a groundbreaking agreement in principle with City officials, subject to ultimate approval by the Court," Mr. Bharara said in a statement. "This comprehensive framework requires the City to implement sweeping operational changes to fix a broken system and dismantle a decades-long culture of violence. Its ongoing implementation will be overseen by the Court and an independent federal monitor. Federal prosecutors will remain vigilant to ensure that the Constitution protects each and every person within the walls of Rikers Island."
Operations at Rikers Island have been under intense scrutiny due to increased media coverage and Mr. Bharara's decision to join the lawsuit, known as Nunez vs. the City of New York, which was originally filed as a class-action by several inmates, with the support of the Legal Aid Society. While Mr. Bharara has praised Mayor Bill de Blasio and Correction Commissioner Joseph Ponte for making reforms in city jails over the last year, he has also insisted that those reforms must be codified in a federal agreement like the deal filed today.
According to the letter filed with the court today, the city has also reached an agreement on damages to resolve the cases of "most of" the individual plaintiffs who first filed the suit.
In a statement, Mr. de Blasio sought to emphasize those changes already underway—many of which focus on the city's youngest inmates, whose treatment was the subject of a scathing report from Mr. Bharara last year. The city has ended solitary confinement for all inmates under 18; it will eventually end it for all under 21, a move that goes beyond most correctional institutions nationwide.
"Today's settlement builds upon the important changes this administration is bringing to our correctional system and reinforces the necessity of Commissioner Ponte's current reforms on Rikers Island. We have a moral imperative to ensure every New Yorker in this city's care is treated with decency and respect," Mr. de Blasio said. "I appointed Commissioner Ponte to bring real change to a correctional system plagued by years of abuse and neglect, and since his tenure he has taken extraordinary steps to reform Rikers Island and end this culture of violence. Today's agreement represents another strong step toward our goal of reversing the decades of abuse on Rikers and building a culture of safety for officers and inmates alike."
Mr. Ponte came to the department with a reputation for reforming jails and prisons, and many activists for better jail conditions—including those at the Legal Aid Society, which helped bring the suit—have been generally pleased with Mr. Ponte's tenure so far.
"All parties involved in these negotiations share a common goal: We are determined to make New York City's Department of Correction the best and safest correctional institution in the country," Mr. Ponte said in a statement. "Our comprehensive program to reform DOC is well under way, and today's agreement will help us achieve our shared goal of creating a culture of safety on Rikers Island. We look forward to implementing all elements of the agreement, and pledge to work closely with the federal monitor as we further establish a culture of safety at DOC."
The federal monitor will be Steve J. Martin, as reported by Capital, who has worked in a slew of correction systems including as a correction officer. He has also previously served as a federal monitor, and he'll have access to the department's records, staff, facilities, and will be able to hire people to work with him.
As part of the settlement, the city will have to "make best efforts" to find somewhere to house inmates under 18—whom Mr. Bharara has charged have been victims of a "culture of violence" by officers at Rikers Island. The site would have to be accessible by public transit and be able to allow for direct supervision. Mr. Ponte has previously expressed willingness to relocate the young inmates, though he has also pointed to the governor's efforts—which have failed, so far—to raise the age of criminality.
The settlement also calls for a slew of reforms to the way the department operates—including a pilot program that would test out the use of body cameras by correction officers for a year, in addition to an expansion of video surveillance already in place in city jails, which the de Blasio administration has already vowed to expand. The department will now be required to add at least 7,800 cameras "on a rolling basis," with at least a quarter of them in place by July 1, 2016. Officers will also be mandated to use handheld video cameras to record certain actions that often lead to conflict—like responses to use of force incidents, cell searches and "extractions," the process of getting an inmate out of a cell.
The department will also develop a new use of force policy, will have new requirements for reporting uses of force against inmates, and will have to speed up the timeline for investigating uses of force incidents.
The city will also have to designate a "Use of Force Auditor," who will report to Mr. Ponte or a depity commissioner, and will be tasked with analyzing all data related to uses of force and compile quarterly reports.
The department will also have to create a disciplinary guidelines for officers, and develop an "early warning system" to track staff members "who are at risk of engaging in serious misconduct" without intervention.
The city, the department, and a slew of individual employees—including the former commissioner, Dora Schiro, were named as defendants in the suit, and were represented by the city's Corporation Counsel Zachary Carter, appointed by Mr. de Blasio.
"The settlement is the result of a prodigious effort on the part of all parties to reach agreement on a system of operational reforms that are both effective and achievable and that ensure that accountability and operational control of Rikers rests with the Commissioner of the Department of Correction," Mr. Carter said in a statement.
The settlement will still have to be approved by a judge.
After the framework of the deal was reporter earlier this week in the New York Times, the Correction Officers Benevolent Association—led by Norman Seabrook, who was recently subpoenaed by Mr. Bharara—took to Twitter to criticize the deal.
"We want real Rikers reform but @nytimes & other media fail to mention very real issues facing inmates, jail workers & their families," the union's account wrote. "There's no mention of inmates who commit crimes while jailed, of criminal justice system that begins in street & only ends in NYC jails…no mention of a Dept of Health which uses City Jails as a dumping ground for overflow of mentally ill patients…No mention of D.A's who hide away low-level street criminals. No mention of a system that uses NYC Jails as overflow homeless shelters."
In full disclosure, Jillian Jorgensen's father is a retired deputy warden with the New York City Department of Correction, who served at Rikers Island. He is among department leadership named in the Nunez complaint.