The city will not renew its contract with Corizon, the for-profit healthcare provider at Rikers Island that has been under intense scrutiny—opting instead to work with the Health and Hospitals Corporation, Mayor Bill de Blasio's office announced today.
"We have an essential responsibility to provide every individual in our City's care with high-quality health services—and our inmates are no different," Mr. de Blasio said in a statement. "This transfer to HHC will give our administration direct control and oversight of our inmates' health services—furthering our goal of improving the quality and continuity of healthcare for every inmate in City custody."
The mayor's office put out a press release about the decision just minutes after Department of Investigation Commissioner Mark Peters began a media briefing outlining his agency's investigation into Corizon, finding that the company had inadequately screened its employees—hiring one person who served 13 years in prison for kidnapping and was later caught trying to smuggle a razor blade into Rikers—and improperly removed inmates from court-ordered suicide watches, leading to at least two deaths (many other suicides have been linked to Corizon by media reports).
"I think it was understandable and prudent on the city's behalf to not renew Corizon's contract," Mr. Peters said today. "Regardless of who they give the contract to, there are changes that will need to be made."
Among those things that need to be changed, Mr. Peters said, may be the very structure in place to deliver healthcare to inmates at Rikers Island. Unlike in many correctional facilities, the Department of Correction is not responsible for inmate healthcare—in New York City, that's the role of the Department of Mental Health and Hygiene. But the health department does not provide the care itself, instead looking to Corizon and now, in the future, to HHC. Meanwhile, it's the correction officers, who do not work for the health department, who are in jails and determining whether an inmate goes to an infirmary.
"There is a real problem with the present model of three agencies. So if you're going to continue to have three entities involved, DOC, DOH, and a healthcare provider to be named later," Mr. Peters told the Observer, before he was informed the decision to use HHC was announced, "if you're going to keep doing, that there needs to be a restructuring of the relationships—a set of very clearly defined responsibilities."
The arrangement is unusual, he noted—Corizon had 58 contracts citywide; the contract at Rikers was one of only three in which Corizon was not contracted directly with the correctional facility.
The decision to contract with HHC instead of Corizon comes after review by an interagency task force, Mr. de Blasio's office said, and they argued it would provide better continuity of care—with inmates having access to HHC hospitals outside of Rikers when they're released—would better integrate physical and behavioral health services, and will provide for "direct, public accountability" because HHC is a public entity.
The city promised a seamless transition, but it's unclear just how easy that will be—the city will have just six months to turn over care, currently handled by about 1,000 Corizon employees, to HHC, the already cashed-strapped parent corporation of New York's public hospitals.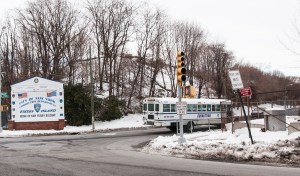 The health department's budget for correctional health is $225 million, the city said, which includes the $154 million Corizon contract and an $8 million contract with another provider, Damian.
"I'm of course pleased that this decision has been made—I think it's the right decision on the merits," Councilman Corey Johnson, who has argued the contract should be ended, told the Observer. "The details and the implementation of how HHC takes over the contract and provides the services, the details are gonna matter."
Among those details is the money, Mr. Johnson said—and HHC should get more money if the agency needs it, he said.
"The goal here is to provide better healthcare at Rikers Island and I think HHC can do that, but I think they need the resources to do that," he said.
HHC President Dr. Ram Raju said the agency was conducting an "in-depth review" of operations and developing a plan to put in action in January.
"HHC has an important opportunity to improve New York City's correctional health services, and we look forward to taking on this critical work on behalf of the City," he said in a statement.
In a statement, Corizon said its employees had worked to make improvements at Rikers, helping to roll out clinical units for mentally ill inmates, developing new records system, and trying to better coordination between agencies at Rikers.
"We hope the City will build upon these successes, and we look forward to working closely with HHC during the transition period and offering any help, guidance or advice we can to ensure a smooth transition," the statement said. "For the remainder of the contract, as we have every day for the past 15 years, we will continue to focus on providing compassionate, quality health care to the patients we serve."
It's unclear whether simply changing the entity handling healthcare will fix the healthcare problem at Rikers—in addition to Mr. Peters' critique of complicated three-entity set-up, the report also found fault with the Departments of Correction and Health, particularly a failure to communicate.
For example, Mr. Peters cited a "total breakdown" when it came to fingerprinting Corizon employees. At first, the Department of Correction told DOI it did not believe it had the authority to fingerprint Corizon employees. The report includes a picture of a stack of fingerprint cards Corizon had sent to a correction deputy commissioner for processing—which the deputy commissioner had an employee stack up and ignore for years, not sending them for processing or sending them back to Corizon.
But in October, the Department of Investigation determined that Correction was actually responsible for processing the prints. Not only that, but the Department of Health knew Correction had the obligation, but "never bothered to follow up on that," as Peters put it.
Mr. Peters said his office told Correction Commissioner Joseph Ponte and senior staff in October that they needed to begin fingerprinting immediately, and Mr. Ponte promised to make it a priority.
"Unfortunately, there were then a number of missteps by DOC," Mr. Peters said.
First, there were delays. Then, when the fingerprints began being taken, they were taken in ink—even though the state stopped accepted ink fingerprints in 2010. And Corizon kept sending the fingerprint cards to the same deputy commissioner who had ignored them, even after he left the department.
"The bottom line is, it was six months later in May when they started doing these," Mr. Peters said. "This was clearly a breakdown. It shouldn't have happened."
In a lengthy response, Corizon took issue with the Department of Investigation's report, saying most of the blame belonged with the Correction Department, which had responsibility for conducting background checks. The company also ripped DOI for admitting a lack of medical expertise but going on to draw conclusions about the company's medical care.
"With over 800,000 patient encounters a year, as much as we regret it, not every outcome is going to be positive. As public health professionals, we deeply regret every death and every bad outcome. Our staff work every single day to provide the most comprehensive medical care in corrections in the country, and every day we identify solutions to improve care, especially after problems are identified," the company said in a statement. "We respect the Mayor's efforts to reform Rikers Island and to improve the quality of services provided there. We cannot say the same about the DOI report."