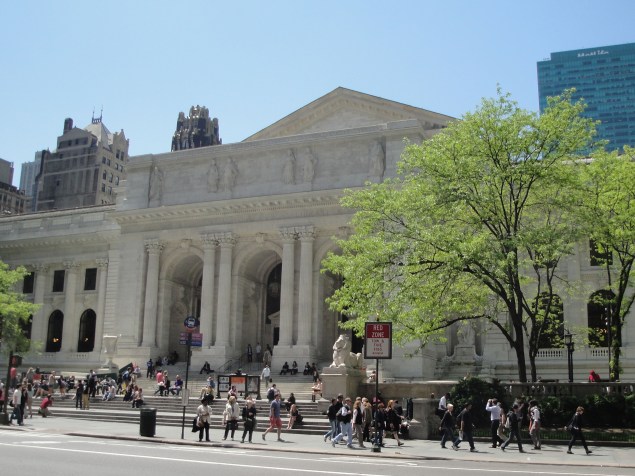 Activists, writers and librarians set up camp outside of City Hall Tuesday afternoon to advocate for the institution they love, calling for over one billion dollars in funding.
It's Tuesday afternoon in City Hall Park, and a the sound of a long passage of Ray Bradbury's Fahrenheit 451 being read drifts through the humid afternoon air. A modest group of intellectual looking onlookers, many sporting colored hair, ponytails and their favorite novels, imagine a world in which books are banned and libraries are a figment of the past.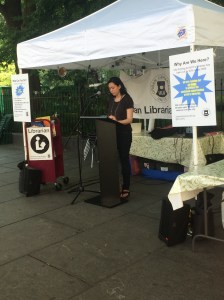 The "Read In" kicked off with a long passage of Ray Bradbury's Fahrenheit 451 read by writer Marilyn Johnson. The irony of the passage was not lost on any of the protestors, who had gathered next to City Hall to advocate for increased funding to the New York Public Libraries, whose budget has been slashed by nearly 20 percent over the past decade. Calling for a $65 million increase to the annual budget in addition to $1.4 billion from the City's 10-year capital plan for maintenance and renovation to the libraries, activist organization Urban Librarians Unite staged a 24-hour "read-in."
"The three library systems here in New York are some of the finest library systems in the country and we just are very limited in what we can do," executive director of Urban Librarians Unite Christian Zabriskie told the Observer. "We haven't been able to hire librarians in a large way for years, all of our libraries are currently running on skeleton staff, and it just makes it very demanding and very difficult for patrons. A lot of libraries are closed on Saturdays and are only open for seven to eight hours per day."
Recently, the New York Public Library has received support from public figures, including Junot Diaz and Judy Blume, who credit the public library system with their own development as writers. In an online letter entitled "Stop the Neglect of Libraries Now!" Mr. Diaz wrote "I discovered who I was and what I wanted to be in a public library. When I was so poor that I couldn't have bought a soda, my public library gave me the world—and it did so for free."
Strategically staged in the midst of the City's budget meetings, the organization's sixth annual "read-in" was moved to City Hall from previous years at the Brooklyn public library—Mayor Bill de Blasio himself ran into protestors on his way into City Hall.
Amy Spitalnick, a spokeswoman for the mayor, said in a statement to the Observer, "The de Blasio administration has made an unprecedented investment in our city's public libraries—tripling capital commitments compared to the last Ten Year Strategy, while increasing and baselining operating funds. We also continue to work in close partnership with library leadership on major citywide initiatives, including IDNYC, universal pre-K, and much more."
---

'Libraries are key to ending inequality in this city,' NY City Councilman Jimmy Van Bramer said.

---
For many, access to the public libraries is not just a convenience, but a powerful tool for social mobility and place of support. The New York Public Library branches provide an incredible amount of free resources to the public such as Wi-Fi, classes on everything from technology and taxes, to resume building and relaxation to English and exercise. And, oh yeah, books.
"What we need is for everyone to come together and realize that libraries are key to ending inequality in this city" Jimmy Van Bramer, NY City Councilman of the 26th district and chair of the City's Committee on Cultural Affairs, who also personally funds Urban Librarians Unite, told the Observer. "We want to make sure that people who are in poverty, people who are recently arrived immigrants have access to every program they can to better their lives. Libraries do that."
Yet, many New Yorkers who don't need the services that the library provides may view libraries as a disposable luxury rather than a basic necessity.
"The biggest issue at this point is this perception that we don't need public libraries anymore," Meghan Sirrito, a speaker at the event who worked as a librarian in New York City for five years, said.