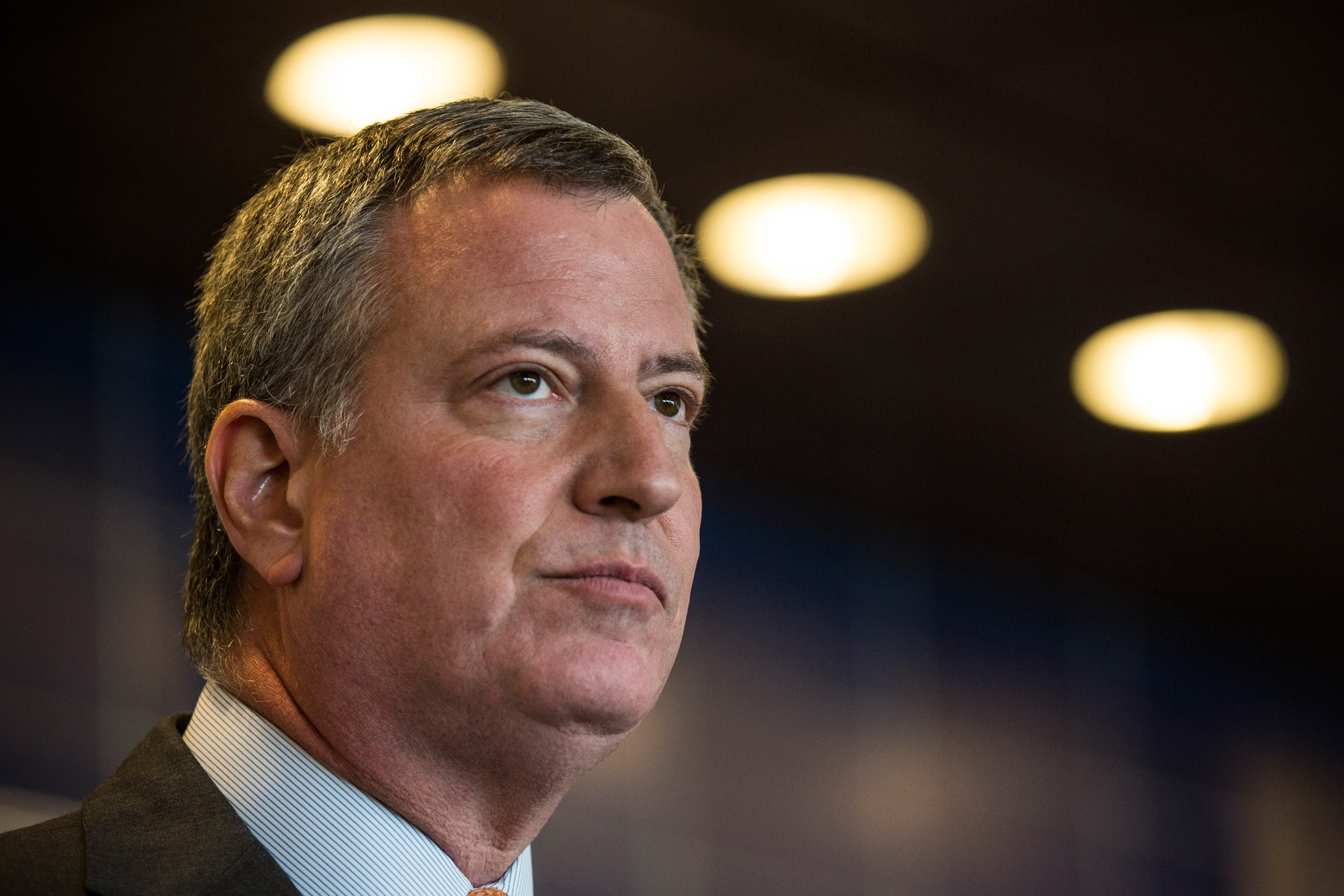 Mayor Bill de Blasio said today that the experience of Kalief Browder, who spent at Rikers Island because his family couldn't afford to pay his $3,000 bail, is an "eye-opener" when it comes to a need for bail reform.
"I think his case was an eye-opener to New Yorkers across the board," Mr. de Blasio told the Observer today at an unrelated press conference in Manhattan. "There's just no reason that someone should be held for a long period of time if they can't pay bail and we can help, a modest bail level like that."
Browder, 22, died by suicide Saturday. His death comes after he spent three years at Rikers Island, more than 400 days of it in solitary confinement, while awaiting trial for allegedly stealing a backpack. The trial never happened and the charges against him were dismissed. His story was documented by The New Yorker, which also uncovered surveillance footage of him being beaten at Rikers Island.
Mr. de Blasio called the young man's death "very, very painful" and said it had spurred some of the efforts underway to reform conditions at Rikers Island.
"Once his story became public, it caused a lot of people to act and a lot of the changes we're making at Rikers Island right now are the result of the example of Kalief Browder. So I wish, I deeply wish, we hadn't lost him—but he did not die in vain," Mr. de Blasio said.
Among those reforms are efforts to examine the bail system—but it's unclear which proposals will gain traction. Council Speaker Melissa Mark-Viverito has proposed a bail fund that would help pay bail for people accused of certain crimes, with bail set at $2,000 or less. That would not have helped Browder, whose bail was too expensive and whose charges likely would not have qualified.
Mr. de Blasio has been reluctant to back the bail fund and today was not specific about which bail reforms he'd support.
"The speaker and I certainly agree that we need some type of bail reform," Mr. de Blasio said.
He cautioned that higher bail levels are a different situation.
"That suggests a different type of crime and that's a different type of reality," he said. "But for the very lowest levels of bail, we have several reforms that we're working on that would address that."
As for whether there'd been any progress on the bail fund negotiations—the issue is one of several budget items on which the Council and the mayor disagree—Mr. de Blasio said there'd be more news "in the coming weeks."
Ms. Mark-Viverito, in a statement, mentioned the bail fund among other efforts at reducing the population at Rikers Island. She has called for the city to issue summonses for certain crimes rather than arresting people and letting them sit in jail until they can make bail or have a trial.
"The tragedy of Kalief Browder's death is a call to action and further proof that our criminal justice system is in desperate need of serious reform. We have already paid a high price, as a city and as a society, for policies that senselessly incarcerate and abuse a generation of young people who have not been found guilty of a crime," she said. "From proposing the creation of a citywide bail fund, to leading dialogue on how to make the summons system more fair and just, to increasing accountability and transparency at the Board of Correction, the City Council is committed to bringing justice to all victims of this broken system."
Mr. de Blasio and New York State's Chief Judge Jonathan Lippman have previously announced an effort to "reboot" the backlogged court system, including setting up a calendar for a trial or plea within 45 days of his announcement for all cases where the defendant had been at Rikers and the case pending for more than a year; resolving 50 percent of those cases within six months; and overhauling half of criminal court cases by simplifying the summons process.