On Coca-Cola's website, one can read of an award that was recently presented to Zahi Khouri, CEO of Coca-Cola Palestine, founder of the Palestinian National Beverage Company and exclusive holder of the Coca-Cola franchise in the West Bank and Gaza Strip. The beverage conglomerate's blog "invites Khouri to share his optimism, grit and reflection" with their global readers.
One wonders if his reflections represent Coca-Cola as a whole; for the Palestinian-American entrepreneur supports a boycott of Israel and urges sanctions against the Jewish State.
Israel faces mounting pressures from a number of businesses doing business in its neighborhood. Last week, Stephane Richard, the CEO of Orange, the French telecom conglomerate, backtracked from earlier remarks he made in which he implied his company would boycott Israel. During an emergency visit to Israel, Mr. Richard advised Israeli Prime Minister Benjamin Netanyahu, "I want to make it totally clear that Orange as a company has never supported and will never support any kind of boycott against Israel."
Similar to Orange's business model, Coca-Cola has a local partner in Israel.
SEE ALSO: Legendary Rabbi of England Calls for Jewish Surrender in Europe
In November 2014, The Jerusalem Post reported that "Coca-Cola plans to build its first factory in Gaza," noting the company had invested $25 Million into its Palestinian area business in the past five years, with Mr. Khouri as a partner. At the time, Mr. Khouri said all the right things, including this memorable soundbite: "The only enemy of extremism is good jobs." A deeper look at Mr. Khouri's rhetoric, however, reveals an executive more in line with Gaza hardliners than has been portrayed in the press.
Perhaps at the time Coca-Cola was unaware of Mr. Khouri's September 2014 op-ed in the Orlando Sentinel in which their partner & regional CEO noted that the "non-violent efforts of Boycott, Divestment and Sanctions (BDS) advocates make sense as a means to force Israel to recognize that the occupation is not cost-free." Coca-Cola's local partner suggested that "countries, like those in the European Union, could enforce their own laws against doing businesses with countries that violate human rights."
Perhaps Mr. Khouri should re-read the Coca-Cola Code of Business Conduct for franchisees, which states, "because The Coca-Cola Company is incorporated in the United States, our employees around the world often are subject to U.S. laws." In addition to it being morally wrong to boycott Israel, recent amendments by the U.S. House and Senate require U.S. trade negotiators to "discourage politically motivated actions" by foreign countries and international organizations that aim to "penalize or otherwise limit" commercial relations with Israel or "persons doing business in Israel or in territories controlled by Israel." A regional CEO threatening to boycott America's staunchest Mid-East ally is cause for concern on many levels for Coca-Cola.
Yet, Mr. Khouri flouts these regulations, noting in the Washington insider publication The Hill that "this Congress is now legislating against the Palestinian nonviolent action of Boycott, Divestment, and Sanctions (BDS) as a means to secure Palestinian freedom." He then urges Jewish Voices for Peace, the anti-Zionist organization funded by George Soros, to assist him in lobbying efforts in Washington, DC. Does he also meet with Coca-Cola lobbyists while in our nation's capitol?
When advocating in favor of BDS, Mr. Khouri is careful to identify himself not with Coca-Cola but as, for example, a "Palestinian-American businessman," as he did in his bio line on The Hill or as "chairman of Orlando-based Intram Investments and chairman of the Palestinian Tourism Co. in Ramallah," as reads his bio in the Sentinel. (Multiple emails and calls to Coca-Cola, Mr. Khouri, and Palestinian National Beverage Company requesting comment for this story were not returned. If any responds, this story will be updated to include their viewpoint.)
With many finding the BDS movement both anti-Semitic and racist, it is difficult to imagine how any company can justify a top executive supporting a boycott of Israel – and that much tougher for Fortune Magazine's 10th most-admired company of 2015.
(Meanwhile, someone's infringing on Coca-Cola Palestine Twitter, claiming 100% of people who drink Pepsi will die.)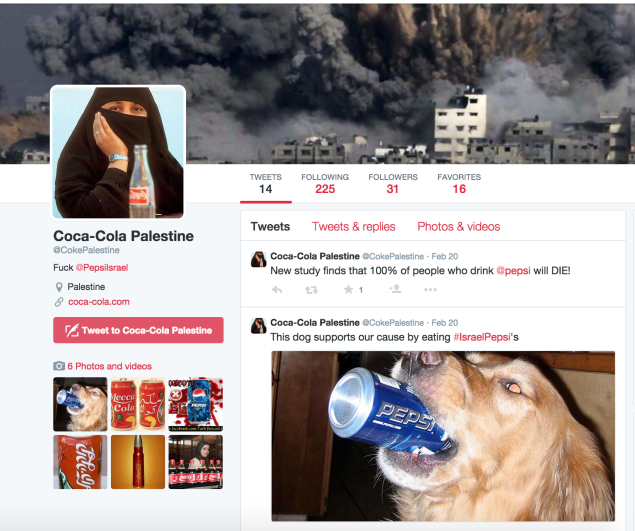 Mr. Khouri's off-message opining has deep roots. In an op-ed Mr. Khouri published in The Huffington Post, he urged compensation for Palestinian refugees – a certain non-starter for peace talks. In a 2012 Washington Post oped, he claimed that "Israel did not make the desert bloom. Instead, thanks to a deal struck with the British viceroys of Mandate Palestine, it made away with a land, a set of institutions and, indeed, a culture that was not its own." Mr. Khouri invents facts to malign Israel, such as suggesting that Israel claims to have invented falafel, oranges, and hummus. Israel has done no such thing.
While one can read countless articles containing Mr. Khouri's political commentary, one will not find a word of criticism of the Palestinian Arabs. Not a word about the fact that Hamas—headquartered in Gaza where Coca-Cola has built its latest factory—is devoted to the destruction of the Jewish State. Not a word about Israel's continued peace overtures, nor a word about Israel's claims to their ancient homeland. He certainly never mentions that Coca-Cola Israel employs many Israeli Arabs, while Coca-Cola Palestine has not a single Israeli Jew employed.
We have come a long way since 1966 when it was reported that, "The issue of whether the Coca-Cola Export Corporation has bowed to the Arab boycott against Israel, when it refused to grant a franchise to the Israeli firm, Tempo Soft Drinks Company, was settled this weekend when the Coca-Cola company announced that it had agreed to grant such a franchise to Abraham Feinberg, noted American Jewish leader and business executive, whose associates in the venture will be Israeli citizens."
At the time, Coca-Cola suffered in the Arab world for defying the Arab league boycott. Today, while there's a page on the Coca-Cola Web site ensuring the public no profits are transferred to Israel and that there's no Coca-Cola production on "disputed territory," the CEO of Coca-Cola Palestine has not gotten the memo that Israel is not being boycotted.
Across the Israeli political spectrum, boycotts have been attacked. Prime Minister Netanyahu responded forcefully to Orange's threat of a boycott, saying, "We must not cave into the pressure, expose the lies and attack the attackers. We shall unite forces in Israel and abroad, expose our enemy's lies and fight for the Israeli citizen's right to live their lives peacefully and safely."
Now, the CEO of Coca-Cola Palestine has been exposed espousing similar views. Coca-Cola must follow in the footsteps of Orange and distance itself from any talk of supporting a boycott or sanctions of Israel.
Ronn Torossian is the founder of 5WPR, a top 25 US PR agency, and the author of For Immediate Release.