[youtube https://www.youtube.com/watch?v=0Rgf9UL1N_c]
If you've been considering a career change, Google would like for you to consider learning how to build apps for Android devices. The company is going out of its way to make it easy for people to acquire the skills and providing incentives for them to acquire them quickly.
One way: it's partnering with Udacity to run an online course in Android engineering that Mountain View has certified as meeting their qualifications for a new developer.
Udacity calls programs like this nanodegrees. The curriculum for Android developers says the course was "Co-created by Google." We understand why Google would want more people to know how to build on Android, but why would someone set time and money aside to acquire Googly skills?
The Observer reached out to the first aspiring devs who tweeted that they had made progress on the Udacity program. It pays to move fast. Students that complete the degree in less than a year will earn back half their tuition (it runs $200 per month), as long as they enroll by Monday. Google will also fly the first fifty people to successfully complete course out to the Googleplex for a three-day summit and hackathon with actual engineers, according to an email from Udacity that came out today.
We reached James Frew and Tareq Fadel, both of the UK, who are working now toward the degree. Frew has posted to Twitter that he's completed two courses already and Fadel has one under his belt.
Mr. Fadel and Mr. Frew are in very different places in terms of experience in tech. The former has worked as a Blackberry developer and teaches other kinds of technology online. The latter is brand new to technology and an Android fan, considering work as someone making technology.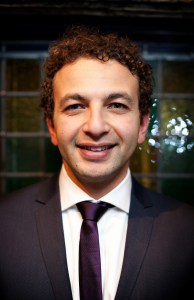 "Out of all the other online courses that I have done, I think this one is the most polished," Mr. Fadel told The Observer via email. He's previously completed courses in Coursera and Lynda.
He says that the first courses came pretty easily to him. The fundamentals of programming languages tend to be fairly similar, after all, so once a dev knows one, they learn the next one faster; however, he said it's giving him ideas for better ways to construct his own courses.
Work as an Android engineer may be his next move, Mr. Fadel said, and he'd be interested in working for Google, if the company is looking.
Other app development courses haven't been able to carry Mr. Frew to their conclusion, he told The Observer in an email, but he hasn't completed them because they seemed either out of date or poorly presented. He immediately saw advantages in how tools provided for the Udacity course would help him to get a good start in a field that has previously overwhelmed him. He wrote:
One of the setbacks I had when trying to learn development for Android on my own is that I would often feel overwhelmed by the terminology or the Developer Studio, as although there are some tutorials on the internet, they would often assume a certain level of knowledge or ability. The Android XML viewer that they have built gives you real time visualisation of the changes you make to the code, and also gives you prompts when there are errors. This is a huge benefit when starting out as you actually get a practical sense for what you are learning, rather than just theory.
If he completes the course, he says he wants to build an app for himself. If he feels competent, he might look for some kind of work.
Udacity itself has offered a first hand account from a student who completed one of its dev courses and found work.
Is it smarter to be an Android dev or one working on iOS? It's a tough call. Vastly more Android apps get downloaded, but vastly more money gets made on ones for iOS, according to TechCrunch. Going the Udacity route will cost aspirants, at a bare minimum, 360 hours and $900 (factoring in a reimbursement). According to Glassdoor, both disciplines have roughly the same average salaries, in the mid-$80Ks. Right now, Android is a little higher.
Udacity was founded by Google alum, Sebastian Thrun, and he based it in Mountain View, as well. He founded it to run big online courses, but that business proved not to work for the company. So, Udacity  switched to engineering certifications, according to Fortune. It paid to stay close to the search giant, as it was able to launch the new vertical with Google's endorsement. Salesforce and AT&T recognize certifications from the company as well.