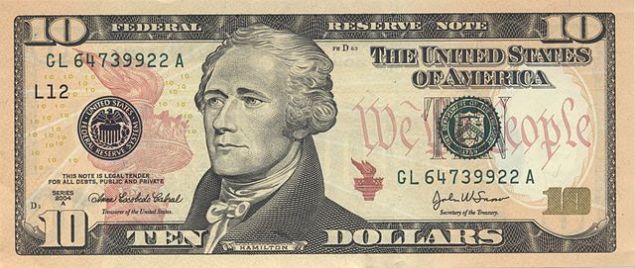 Congresswoman Carolyn Maloney wants to make sure the new $10 is in an Empire State of Mind.
The Manhattan Democrat is calling on the Treasury Department to make sure that the woman who replaces Alexander Hamilton, a Founding Father and the nation's first Treasury secretary, on the $10 bill is from New York–like the man who was a Revolutionary War hero and later died in America's most famous duel.
"Alexander Hamilton's portrait proudly hangs in my front office, because he was one of our most important Founding Fathers, and because he was a New Yorker," Ms. Maloney said in a statement. "Soon he'll have to share space on the ten dollar bill with a woman, and I'm calling on Treasury Secretary Jack Lew to make sure that woman is also New Yorker."
The Treasury Department announced this week that a yet-to-be-named woman would appear on the $10 bill in 2020. Originally, a movement was afoot to replace Andrew Jackson, the 19th century president known partly for his aggressive anti-Native American policies, on the $20. But it's the $10, not the $20, that's next up for a redesign, according to the Treasury Department.
The 2020 date was picked to coincide with the 100th anniversary of women gaining the right to vote.
"A hundred years after women gained the right to vote, there is no excuse for women to be excluded from our money," Ms. Maloney added. "I supported legislation to boot President Andrew Jackson from the 20, but the ten dollar note was up for a redesign, so that has been chosen instead. Not since the late 1800s have we seen a woman on our paper money."