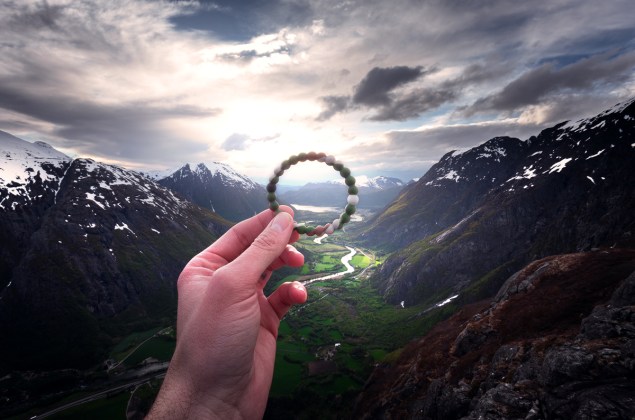 Savvy shoppers looking to channel their adventurous side, while simultaneously conserving endangered wildlife, can now multitask in style thanks to Lokai's latest charity collaboration. Today, the socially responsible jewelry brand released a new limited edition bracelet, titled Wild Lokai. For each bracelet sold between now and its final sale date of July 28, the company will donate $1 to the World Wildlife Fund, a non-profit that supports global wildlife conservation.
Lokai has pledged to donate a minimum of $250,000, although the brand's founder and chief executive officer Steven Izen has plans to exceed that goal.
The company can already attest to an impressive customer base, including celebrities such as Alessandra Ambrosio, Diane von Furstenberg, Gigi Hadid, Kendall Jenner and Zoe Saldana. But those A-listers aren't the only ones making a difference: Many Lokai fans sent emails and made phone calls, asking the brand to donate the proceeds from its next bracelet to benefit wildlife. The dedicated customers were the main source of inspiration for Lokai's newest collaboration.
"We have an extremely loyal fan base and people that follow us through social media," Mr. Izen said. "They are the ones to thank for being able to do these amazing things with different partners."
What makes Lokai's seemingly simple rubber bracelet so desirable? Each unisex bangle is made with materials from the highest and lowest points on earth: A white bead contains a drop of water sourced by sherpas from the top of Mount Everest and a black bead contains mud from the bottom of the Dead Sea.
The two contrasting beads are used to represent a "reminder to the wearer to live a balanced life – staying humble during life's peaks and hopeful during its lows," the company's website states. This is also a mantra that Mr. Izen became familiar with during a particularly difficult time in his life.
Five years ago, between his freshman and sophomore years at Cornell University, his grandfather was diagnosed with Alzheimer's disease, a shock that changed his life. That same week, he decided to found Lokai.
Mr. Izen had two main motivations when he founded Lokai. One was to seek out that balance between life's highs and lows and the other was to donate a portion of his company's proceeds to the Cure Alzheimer's Fund, which raises money for research on the disease.
For the next three years, Izen worked on developing his idea. Upon graduating in 2013, he founded Lokai and launched its signature bracelet. Acquiring the unique materials used to make the bracelet proved to be an interesting challenge. "When I first started thinking about how I could get these materials, I thought it was going to be nearly impossible," Mr. Izen told the Observer. "Then I started calling people [and] interestingly enough…. people were actually extremely helpful."
Since it was founded two years ago, Lokai has expanded its social responsibility efforts by donating to eight additional charities, including building six new schools in Ghana with Pencils of Promise. Through a previous limited edition style, called Blue Lokai, the brand partnered with Charity: Water to provide clean drinking water to approximately 10,000 people in Ethiopia.
The company has also taken steps to quickly allocate funds to help those afflicted by natural disasters and other issues. Following the earthquake in Nepal this past April, Lokai donated $100,000 to the Red Cross to aid in its relief efforts. After an avalanche on Mount Everest killed several sherpas, Lokai made a donation to support the victims' families.
Deciding to be a socially responsible company was an obvious choice for Mr. Izen. "Part of finding balance is giving back and is something that I truly, personally believe in," he said. Does that sound familiar? That's because Mr. Izen was inspired by the growth and success of companies who have become synonymous with giving back. "Watching TOMS and Warby Parker as they continue to grow helped inspire me, but the core reasons for [Lokai] came from my own belief in how important giving back is."