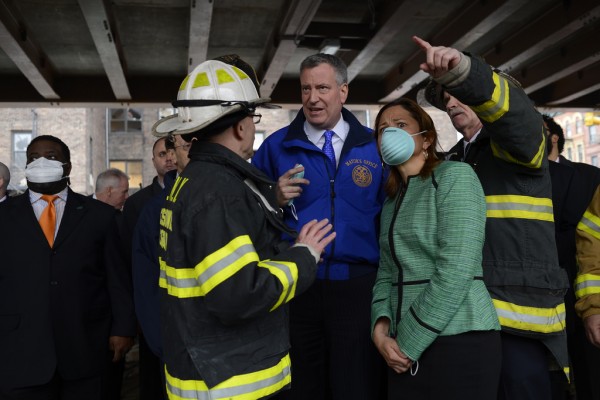 As fire and police union officials rallied in Albany with Gov. Andrew Cuomo today for increased disability pension benefits for injured officers, the City Council hastily scheduled a hearing to vote through an opposing proposal from Mayor Bill de Blasio that the unions say does not go far enough.
At issue are disability pensions for the city's uniformed officers, which legislation had shielded from benefits cuts other public employees faced until former Gov. David Paterson vetoed the bill when it came up for renewal in 2009—significantly cutting payouts for those joined the NYPD, FDNY and Departments of Sanitation and Correction in subsequent years and were injured on the job. Unions, with Mr. Cuomo's support, have pushed for bringing back the old benefits system for all recruits.
But Mr. de Blasio and City Council Speaker Melissa Mark-Viverito have maintained such a measure would cost the city too much money, and the mayor put forth an alternate proposal, derided by the unions, that the Council passed today by a vote of 31 to 17.
"It's an outrage," Jim Slevin, vice president of the Uniformed Firefighters Association told the Observer in a phone interview.
Mr. Slevin complained that Mr. de Blasio's plan, which would let disabled post-2009 recruits receive either half the average salary or half the maximum salary for their position and increase cost of living adjustments, makes no special provisions for those afflicted with cancer—a common ailment for firefighters. He argued the plan would still create two separate, unequal classes of uniformed workers, and mocked Ms. Mark-Viverito's claims of increased Council transparency, accusing her of deliberately tacking the pension bill onto the Council agenda while she knew union leaders would be in Albany.
"It makes us believe that despite all their claims about ultimate transparency, they're not about ultimate transparency. They'll do anything they can to get their agenda passed," he said.
But it's unclear whether Mr. de Blasio proposal will ultimately be adopted. Today's vote was on a "home rule" message to the State Legislature in Albany, which governs the applicable pension laws. The legislation would still need to be passed by the legislature and signed by the governor.
The proposal favored by Mr. Cuomo and the unions, meanwhile, could simply be passed over Mr. de Blasio's objection—if legislation is written to target the entire state, rather than the city, it does not require a home rule from the Council.
A slew of council members who originally supported the bill backed by the unions and introduced by Councilwoman Elizabeth Crowley today changed their votes to back the mayor's plan—they said because of a change that will provide the most seriously wounded workers, who qualify for Social Security disability, with a pension equal to 75 percent of their salary.
"I'd think the mayor's plan strikes a healthy balance between fairness and fiscal responsibility," said Bronx Councilman Ritchie Torres, one of the original signatories the Crowley bill.
Ms. Crowley voted against the mayor's bill and urged others to do the same—ripping the mayor and the speaker for fast-tracking their version of the pension fix. Seventeen members ultimately voted against the bill.
Mr. de Blasio echoed Mr. Torres' assertions, and added that the union-backed proposal would have meant a return to "the excesses of the past."
"The original concept wasn't everything it should have been. We went back we amended it, we came up with a stronger version that really did gain a lot of support in the Council. That's the one that we found broad agreement on that's what been voted on today," the mayor said, stressing the need to create a sustainable model for future pension plans.
The unions said they were blindsided by the vote on the legislation today. Ms. Mark-Viverito refused to say exactly when this morning's hearing on the bill, a necessary step to passing it, was scheduled; it was not promoted by her press office with the typical notice given to hearings. Union officials complained that they received less than an hour's heads up
"The information was online, so it was available to all," Ms. Mark-Viverito. When asked if the press ought to simply refresh the Council's website all the time to catch last-minute hearings, the speaker said "yes."
Ms. Mark-Viverito also brushed off questions about why Ms. Crowley's proposal never got a vote—despite having a veto-proof majority of the Council signed on a co-sponsors. A prime component of the Council's rules reforms, championed by the speaker, was the such popular bills should get hearings and votes.
"There's conversations we had and we followed the process and we analyzed the alternative proposals, and that is the one we will be voting on today," she said.
She argued communication lines with the unions had been open.
"This has been a real long process in which many voices have been heard internally and externally, and we are arriving at a point where a decision has to be made and we know that Albany is shutting down soon," she said.
She noted that while the state had authority over the pensions, it wouldn't have to pay for them—the city would. Ms. Mark-Viverito said taking no action would have been unacceptable. But then, she could not say whether the action the Council had taken—which needed approval from Albany—would actually result in any change.
"You can't really guess what's going to happen in Albany these days, but I know the city of New York and this municipality and this City Council has a right to weigh in an express its position," she said.
Mr. Cuomo assured the unions of his support for their proposal when he addressed their rally this afternoon
"As governor of the state I am with you," he said. "There is no justification to getting second-tier benefits."
Ross Barkan contributed reporting.