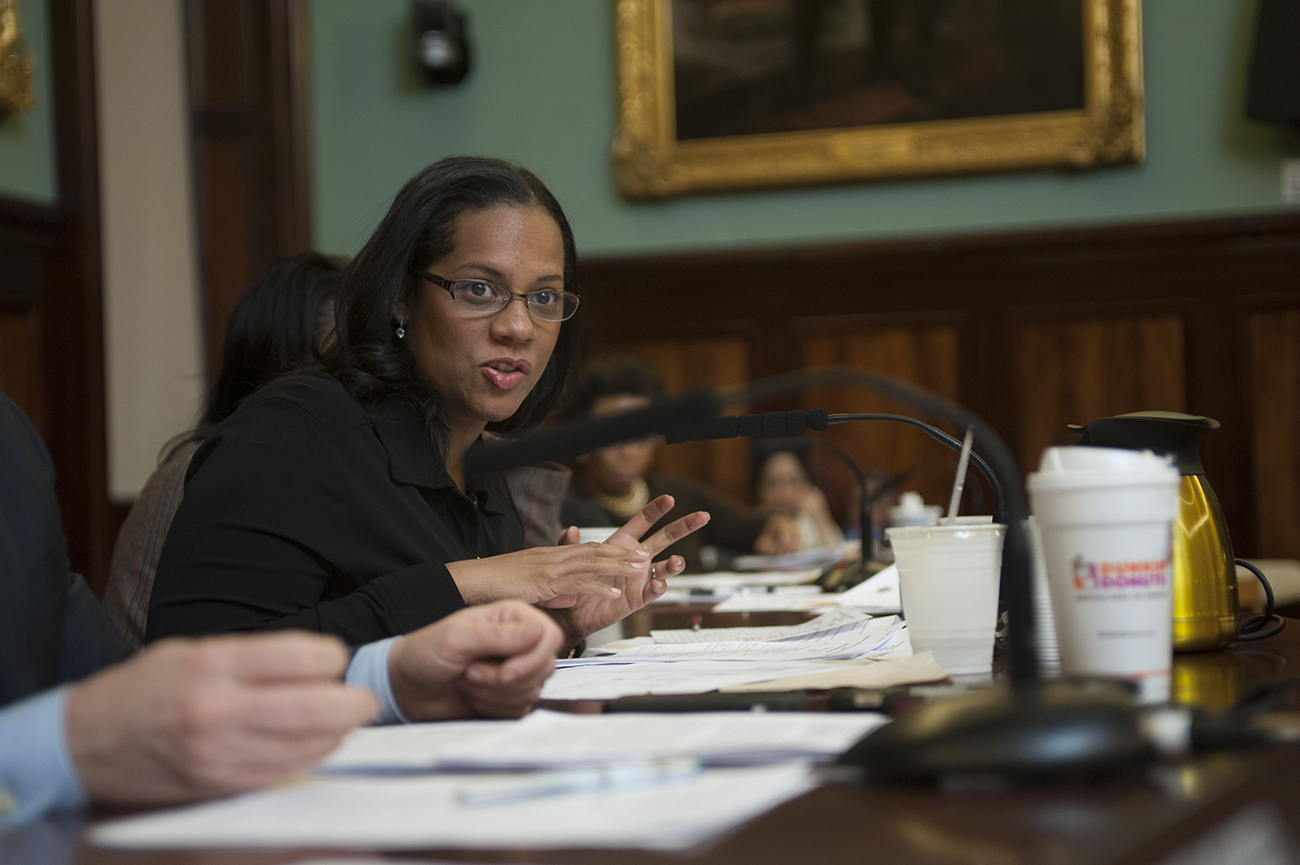 Despite promises that the "budget dance" is over, City Council members today said that the mayor's proposed city budget would mean waiting lists for seniors services and library program cuts—while other agencies like the NYPD rack up big overtime bills.
"Let me be clear, the days of the budget dance are over, and as Finance Chair I reject any notion of the budget dance," Councilwoman Julissa Ferreras said today, insisting this year's fight was different from previous tangles over closing firehouses and libraries. "However, the administration has failed to reflect in the executive budget funding for many of the Council's priorities, such as senior services and youth programs."
Budget Director Dean Fuleihan fielded questions from Ms. Ferreras and her colleagues this morning, as the June 30 deadline approaches for a handshake deal between the Council and the mayor on the proposed $78.3 billion budget. And while Ms. Ferreras said in her opening remarks there had been no cuts, she later argued that "savings" asked of the Department for the Aging and the Department of Youth and Community Development could indeed affect programs.
"I think in the case of DFTA and the case of DYCD and some other agencies, there are services that are going to be impacted by the savings that you've proposed," Ms. Ferreras argued.
She pointed to $3.1 million in baseline savings offered up by the Department for the Aging, an agency with an already tiny budget that is tasked with serving an ever-growing population of city seniors. The councilwoman contrasted their savings plan with the budget for the NYPD, an agency that was not asked to do anything to reduce the $672 million it is expected to spend on overtime in this fiscal year.
"Why didn't the NYPD have to propose any future savings, particularly because the Council has repeatedly called for, and the agency has acknowledged the need for, an overtime control plan?" she asked.
"We are working with the NYPD on the overtime budget," Mr. Fuleihan said. "There were many instances over the past year that forced that overtime to go up."
Ms. Ferreras, in one of the very few apparent references to the biggest open question about the budget—whether the city will hire 1,000 new cops—said if overtime is on the rise, it means the agency needs "more support."
"It is a challenge for us to understand why DFTA has to take these cuts, but NYPD does not have to propose a plan. And you say you're having conversations—this is year two of our budget process. When do the conversations turn to an actual overtime plan?" Ms. Ferreras asked.
Mr. Fuleihan argued that the city had increased funding for DFTA by more than $20 million compared to the Bloomberg administration—but advocates and Council members have pointed out the agency's funding is relatively flat this year compared to last, despite increased need, and have continued to point to the $3.1 in savings as unfair.
Councilwoman Margaret Chin asked why any savings the agency identified wouldn't be put back into services for seniors. Mr. Fuleihan again argued the city had made "signficant investments" in the area.
"But Dean, the senior population is growing. And last year at the adopted budget we were able to get $20-plus-million in new funding, and we're not there right now. And in the preliminary budget, it was not there and I was not happy, and you told me to wait," she said.
Councilman James Van Bramer, meanwhile, focused on library funding—noting the city added $10 million in operating expenses for libraries at budget adoption in June last year, but did not include that funding this year in the proposed budget.
"This administration had opportunity to baseline that $10 million, not a lot of money when you're talking about a $78 billion budget, but you did not take that opportunity. If that money is not restored in this budget, there will be a cut," Mr. Van Bramer said, and libraries will have to reduce programming. "That is unacceptable to me, and I wanted to ask you if you think that was an acceptable outcome for libraries."
Mr. Fuleihan said that the money has "historically" been added in at the budget adoption, and pointed to boosts of capital funding for libraries. But Mr. Van Bramer said library funding shouldn't be added in at the last minute during the handshake deal—the way firehouses were restored during the budget dance—and pointed out the library system has requested $65 million in help.
"We cannot in good conscience talk about ending the budget dance and libraries continue to be bandied back and forth as part of this process," Mr. Van Bramer said. "This funding should be set, and it should be baselined, off the table going forward because it is so fundamental."
But despite the back-and-forth about libraries and senior services—two issues that were often front-and-center during the budget dance—after the hearing Ms. Ferreras and Mr. Fuleihan insisted the city's waltzing days were over.
"When you dance, someone is leading you. In this Council and in this finance chair, I believe we're equal partners," Ms. Fererras said. "So we're going to engage as strong as the administration."
Mr. Fuleihan said the Council will sometimes have different priorities than the mayor's office, though most of the time their priorities will be aligned.
"That's not really a dance, that's part of a negotiating process and establishing priorities of a budget," Mr. Fuleihan told reporters after the hearing. "That's very different than cutting a firehouse you know you're going to restore."
This story has been updated to correct the name of the Department of Youth and Community Development.