Crain's New York's list of New York City's most powerful women includes heavy hitters like Diane von Furstenberg, Anna Wintour and Arianna Huffington.
But the issue's cover could raise some eyebrows because of the way it portrays three of the city's top political players—Deputy Mayor Alicia Glen, First Lady Chirlane McCray and Schools Chancellor Carmen Fariña are shown holding hands in a display of camaraderie that is decidedly powerless.
The web version of the photo, which omits the hands of the three women, is not much better—Ms. Glen, Ms. McCray and Ms. Fariña are just awkwardly standing next to each other, which doesn't exude power so much as confusion.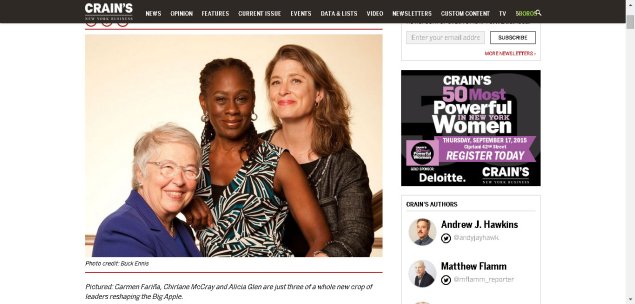 No list of powerful men would include an affectionate tableau of Mayor Bill de Blasio holding hands with two of his commissioners—but apparently a list of powerful women requires motherly cover girls.
We've reached out to Crain's for comment and will update this story if they respond.