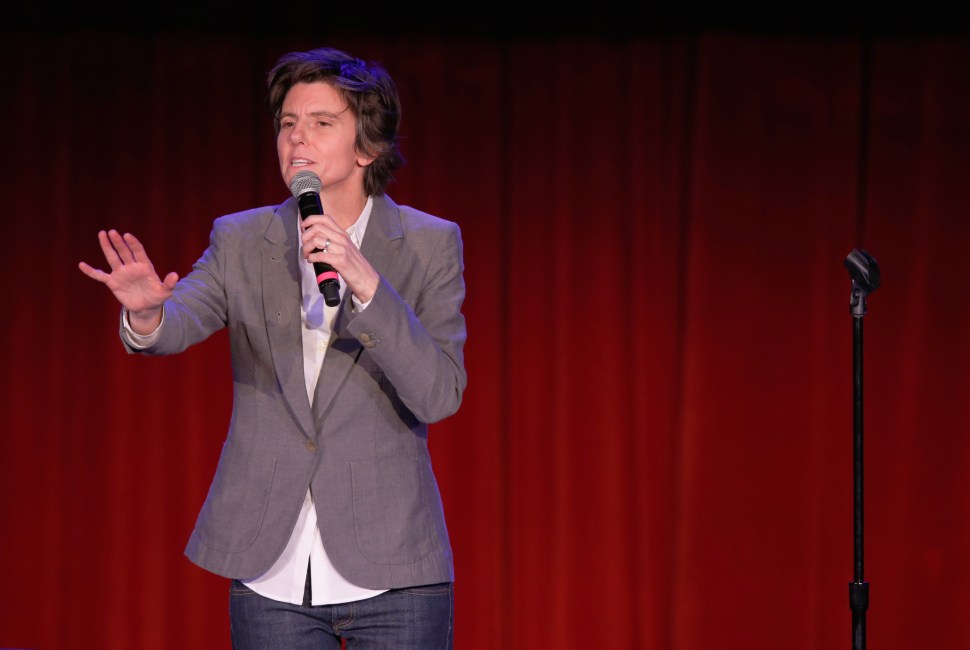 In August 2012, everyone with any interest in standup comedy and a Facebook feed heard about Tig Notaro's now legendary set at Largo in Los Angeles, where she opened with the words: "Hello! Good evening, hello! I have cancer, how are you?" Except, it wasn't just about her cancer. It was also about losing her mother, getting dumped and taking antibiotics for pneumonia, which left her intestines defenseless against one of the world's grossest superbugs, Clostridium difficile, or C. Diff.
Dr. Mel Thomson, an infectious disease researcher at Deakin University in Australia, is now crowdfunding public awareness around that disease, the first of two that Notaro survived. C. Diff is an intestinal infection caused by antibiotics. Dr. Thomson wants to fund a cartoon about preventing the disease using an old arthritis drug she's researching as an alternative treatment.
The doctor argues, in the video below,  that C. Diff doesn't get the attention it should because its symptoms are just so gross. In her video, she describes C. Diff's symptoms as running from persistent diarrhea, or, in extreme cases, toxic megacolon, which she says is as awful as it sounds. In terms of other disgusting aspects of the infection, the main treatment used today is a fecal transplant, according to the Mayo Clinic.
The Centers for Disease Control and Prevention recently estimated that there are 453,000 cases of C. Diff in the U.S. every year, and 29,000 of those end in fatalities, which it reported in the New England Journal of Medicine.
[youtube https://www.youtube.com/watch?v=kBNPN_EQX40&w=560&h=315]
In Ms. Notaro's Largo set—which resulted in a surge in attention for the comedian and which Louis C.K., who was there that night, called masterful—she describes her struggle with the infection, saying, "I had this bacteria eating my digestive tract. So, I lost twenty pounds, I've put five back on, so: how do I look?" Ms. Notaro released the performance later under the title Live.
While much of the thirty-minute set gets emotional, listeners mostly feel that tone where a joke is always coming. Even as she's describing the worst four months she can imagine, she keeps up that sense of building tension toward a (painful) laugh throughout.
There is a moment, though, when she drops that tone, as she describes her bout with C. Diff, telling the crowd:
Just so you know, If you take antibiotics make sure you take probiotics. This is not part of like any humor. I'm just trying to spread the word. Take probiotics if you take antibiotics.
The intestinal infection part of Notaro's story was largely lost or glossed over in subsequent coverage, which focused on her breast cancer. This isn't surprising, since at the moment she performed the set she'd just been diagnosed with breast cancer but largely seems to have gotten past her intestinal infection (except for the fact that it has changed her eating habits for good).
That said, in a way, the focus on Ms. Notaro's cancer underscores Dr. Thomson's point with this campaign. The doctor says there are diseases with good PR and those with bad PR. She specifically points to breast cancer as one in the former camp, which makes it interesting that Ms. Notaro's story features both diseases and both left a permanent impact on Notaro's life. Since the set, Ms. Notaro has received treatment and announced she was cancer free on her podcast.
Dr. Thomson has three days left to go to fund her cartoon, with 89 supporters and approximately half of the $10,750 she is seeking.
Thomson has previously run successful campaigns around maggots and infected implants.