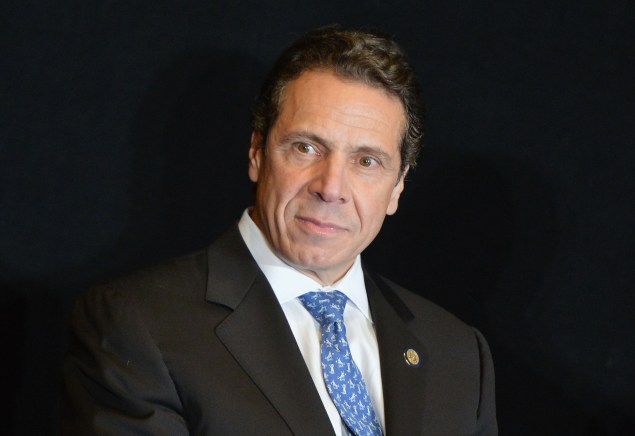 Gov. Andrew Cuomo, Assembly Speaker Carl Heastie and State Senate Majority Leader John Flanagan today debuted the "framework" of a deal that will extend the city's rent regulations and the controversial 421a tax abatement for six months—with some tweaks to the former, and potential for the latter to last through 2019 if the real estate industry and labor reach an agreement on construction wages.
A week after the price caps on some 1 million apartments and the tax exemption for developers expired—only to be re-upped for five days—and six days after the State Legislature was scheduled to adjourn for the year, the governor and legislative leaders announced in Albany they had finally reached a tentative agreement on an array of contentious issues. Despite the delays and prolonged negotiation, Mr. Cuomo hailed the deal as an extraordinary breakthrough in a legislative session that saw the previous leaders of both the Assembly and State Senate step down from their posts amid federal corruption charges, and Mr. Heastie and Mr. Flanagan rise to succeed them.
"It was almost unimaginable to have this kind of change this year. We have two new leaders. Both leaders stepped up and performed," Mr. Cuomo said, hailing it as a deal especially friendly to the two million-plus residents of price-capped apartments, though tenant activists have already begun to argue otherwise. "It is an unprecedented package to protect tenants."
Specific details are still pending, as Mr. Heastie and Mr. Flanagan will need to discuss them with their respective conferences and obtain votes of approval. Mr. Cuomo said that the agreement will raise the threshold at which a landlord may remove apartment from the rent control program from the current ceiling of $2,500 a month.
The governor also said that the new regulations would raise the level at which a property owner may pass the costs of major capital improvements, or MCIs, to buildings along to tenants.
Both fall short of what Mr. Cuomo, Mayor Bill de Blasio and tenant leaders called for: an end to vacancy decontrol, whereby a property owner may remove an apartment from the rent control program if it becomes unoccupied. The mayor and his liberal allies hoped to make MCI charges a one-time fee to a tenant, rather than a permanent add-on to the rent, and also wanted to abolish the "vacancy bonus"—which permits a landlord to raise the rent of a stabilized unit by 20 percent if death or relocation leaves it empty.
The announcement was swiftly denounced by pro-tenant activists, who have deployed increasingly fierce rhetoric and tactics against the governor in recent weeks for what they saw as an insufficient commitment to reform the rent laws. Advocates argued the new arrangement will lead to as many as 100,000 apartments becoming deregulated.
"Our worst fears about Governor Cuomo have been confirmed. He took no action at all to strengthen the rent laws. Cuomo made empty promises and lied repeatedly while helping the Senate Republicans advance a bill that is a massive giveaway to landlords. Cuomo's Republican deal on rent will harm and endanger countless low-income and working-class households," said Katie Goldstein of the Alliance for Tenant Power.
Mr. Cuomo, however, noted that—before 2011—Albany had weakened the regulations with each four-year renewal.
"The pattern was to roll back rent protections every time there was a sunset," he said. "This is the second time that rent protections will be increasing."
The governor explicitly linked the renewal of rent laws to the 421a tax abatement. The exemption was created in the early 1970s to spur construction during an economic downturn, and was revised in the 1980s to include provisions for below-market housing. Critics note that the current program only requires developers to include affordable units if their buildings are in the "Geographic Exclusion Area" covering less than 17 percent of the five boroughs, and that it costs the city upwards of $1.1 billion in foregone revenues.
Mr. de Blasio unveiled his own proposal for the tax credit, which would end the exclusion area and require affordable housing in rental buildings in the program citywide, while eliminating the exemption for condominiums. The governor undercut the mayor by arguing that state law should obligate developers—who endorsed Mr. de Blasio's ideas—to pay construction workers prevailing wages, a requirement Mr. de Blasio asserted would cost the city dearly needed new below-market apartments.
Mr. Cuomo said today that 421a would be temporarily prolonged in its current form for six months, in which time he expected building trades unions and real estate interests to come to a deal on pay rates. If they come to a consensus, the program would last just as long as the rent regulations.
"If they don't come up with an agreement in six months, the program will expire," the governor said.
Labor leaders embraced the news.
"The framework for this agreement is a victory for all New Yorkers. Creating good middle-class jobs benefits not only our economy by providing working men and women with the means to support local businesses, but also our state and local communities by generating tax revenue to support the vital public services that ensure a quality of life all New Yorkers deserve," said Mario Cilento, president of the New York AFL-CIO.