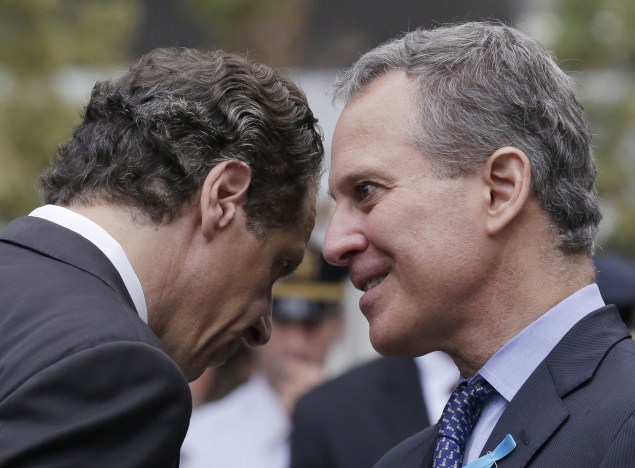 Gov. Andrew Cuomo today announced he would accede to Attorney General Eric Schneiderman's request to be named special prosecutor for cases in which a police officer kills a civilian—even as the governor noted that he took the step with reluctance, and that the appointment would last just one year.
Speaking at a press event in Albany, and joined by State Senate Majority Leader John Flanagan and Assembly Speaker Carl Heastie, Mr. Cuomo cited the failure of the two houses the State Legislature to come to an agreement on the handling of law enforcement homicides by the end of the legislative session, which was supposed to have been last Wednesday. The governor—who has had an often antagonistic relationship with Mr. Schneiderman—said he personally favored "more discrete, more nuanced approaches" to handling police killings, possibly alluding to his State of the State proposal to create a monitor who would review the records of cases where grand juries decided not to indict a cop and making a recommendation as to whether a special prosecutor is appropriate.
"We were working on a piece of legislation. I don't believe the best approach is to have one special prosecutor for the entire state," he said, acknowledging that he had promised to install Mr. Schneiderman in the role if the Senate and Assembly failed to merge their competing proposals by the summer. "We were close to reconciling them. This isn't horseshoes. The buzzer went off, and we'll work on it next year."
The attorney general asked for the appointment shortly after a grand jury decided not to indict a white police officer who applied an apparent chokehold that a medical examiner said killed Staten Islander Eric Garner, who is black. It was one of a series of high-profile homicides of African-Americans at the hands of law enforcement, all of which prompted massive street protests.
Mr. Schneiderman at the time insisted that his assumption of the role would restore confidence in the criminal justice system in the short-term, giving the legislature time to find a permanent solution
"We stand here today in the shadow of a tragedy that weighs on the hearts of all New Yorkers and all Americans," Mr. Schneiderman said at a press conference in his Manhattan office last December. "It carries an imminent risk of danger when the trust between the police and the communities they serve and protect breaks down–everyone is at risk."
District attorneys from both parties savaged Mr. Schneiderman's proposal as an unfair intrusion into their jurisdiction. Under the executive order, local authorities will still handle most of the investigation of the fatalities.
Mr. Schneiderman did not immediately respond to requests for comment.
Mr. Cuomo also announced today he would be accomplishing another piece of his 2015 criminal justice agenda unilaterally: removing people under 18 from the state's adult prisons. While the State Legislature failed to agree on a bill that would protect minors from prosecution—or to "raise the age," as Mr. Cuomo put it—to governor said he would issue an executive order barring persons under the age of 18 from the state's adult correctional facilities, a move he said had Mr. Heastie and Mr. Flanagan's support.