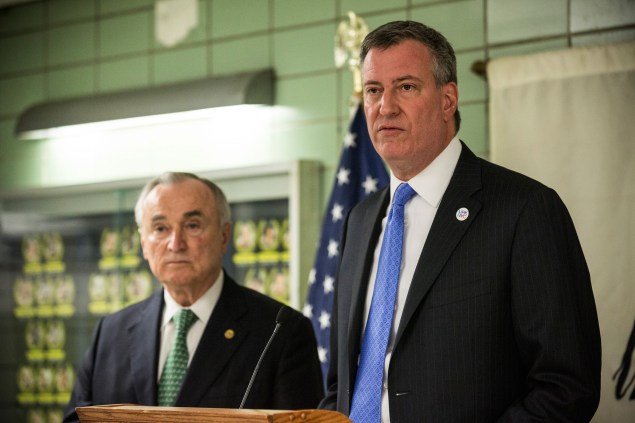 In an effort to soothe fears about a 20 percent increase in shootings and homicides this year, Mayor Bill de Blasio said today that crime in the city is down overall compared to last year.
Addressing reporters at a hastily arranged City Hall press conference, Mr. de Blasio stressed that 2015 has seen 2,700 fewer crimes than 2014 had at the start of last June, amounting to a 6.6 percent decrease.
"This is very important for the people of this city to understand," he said, praising the police department's efforts to tamp down on miscreant behavior. "That is a remarkable achievement, and the credit goes to the men and women of the NYPD, and to their leaders who have been constantly improving their strategies and their deployments to achieve this result."
Mr. de Blaiso was also quick to note that 2014 saw record low crime rates, despite a short-lived increase in illegal activity in the early months.
"If you recall last year, we were at a point just around this time of year—at the end of the spring,beginning of summer—where we saw an uptick in crime. There was tremendous concern in communities around the city, rightfully," he said. "We turned those numbers very quickly and intensely, so that by the end of 2014, we had had the safest year in decades."
The mayor also highlighted again that his police commissioner, Bill Bratton, is the same man who created a statistics-driven model of combating crime, and is widely credited with making the city safer in the 1990s.
"The whole idea that he brought to this department first 20 year ago—and he is reinvigorated it now—is to constantly improve strategy and tactics, to constantly make the moves that'll allow us to fight crime more effectively," said Mr. de Blasio. "He is doing that now, as is his leadership team, and I have great, great faith in them."
Among those tactics is the return of the "Summer All Out" program from last year, which will redeploy police from low-crime precincts to troubled areas. Mr. de Blasio blamed the spike in gun violence on "gang and crew-related activities."
"We can fight it because we have the knowledge of where the problem is, and who the perpetrators are, and what kind of patterns we are dealing with here," he said, adding that he personally reviews crime numbers daily. "There is no more important priority for me than public safety."
Ross Barkan contributed reporting.