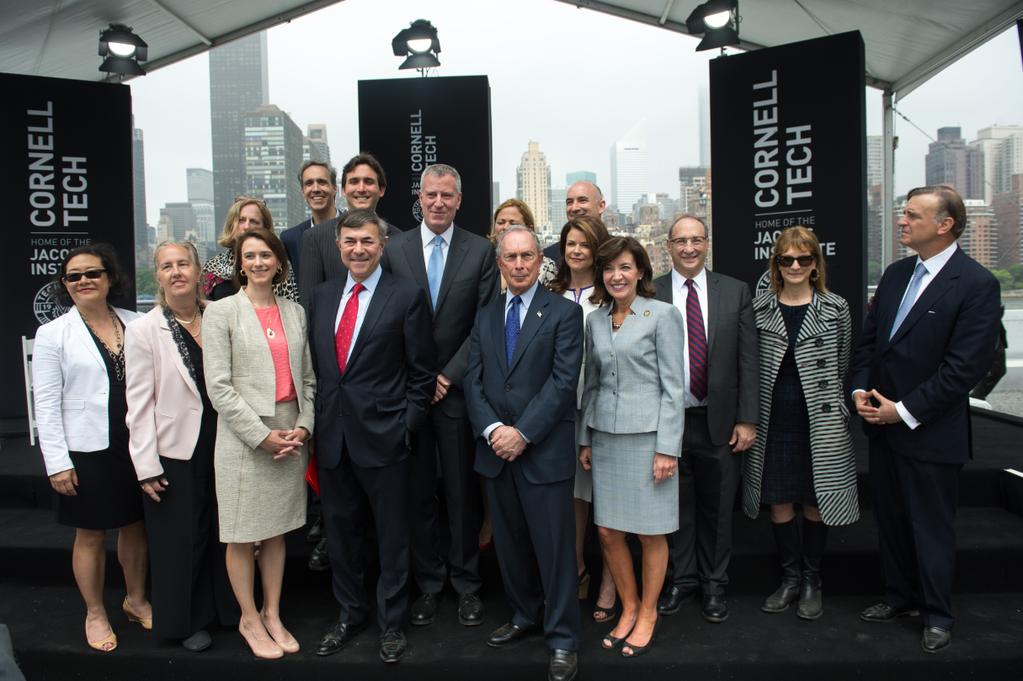 Mayor Bill de Blasio does not frequently compliment his predecessor, Mayor Michael Bloomberg, and the two do not exactly run in the same circles. But today the mayor heaped praise on former Mr. Bloomberg for his work in bringing a Cornell Tech campus to Roosevelt Island—and for donating $100 million to the school.
"I want to give Michael Bloomberg a true compliment, because he doesn't usually do things halfway. And he believed in this vision and this possibility for New York City, and largely due to his will and his sense of vision we are here today," Mr. de Blasio said on Roosevelt Island today, standing beside Mr. Bloomberg. "And it is greatly, greatly intensified by the extraordinarily generous gift he has made to further this work. I want to thank him for that, following through on a vision he felt so deeply and sticking with it means a lot to the people of New York."
That was just the beginning of the warm words Mr. de Blasio had for Mr. Bloomberg, with whom he has very rarely appeared since they shared a stage at Mr. de Blasio's inauguration—where Mr. Bloomberg was dinged several times by de Blasio allies. The two have very rarely shared a stage since.
But while Mr. de Blasio went on to praise Mr. Bloomberg's vision—the tech campus, a partnership between Cornell and Israeli university Technion, was created through a contest thought up by Mr. Bloomberg's deputy mayor Robert Steele—Mr. Bloomberg did not appear to exactly revel in being Mr. de Blasio's company. During a photo opp before the ceremony, Mr. Bloomberg and Mr. de Blasio chatted only briefly, then stood on opposite sides of the crowd chatting in separate conversations. Eventually they stood beside each other for a photo at the site of a giant pit that will become a campus building. Mr. Bloomberg stood with his arms crossed in front of him.
Mr. de Blasio has made a habit of knocking Mr. Bloomberg on issues like policing, his handling of Rikers Island, his failure to reach contract agreements with municipal unions. And even where he agrees with Mr. Bloomberg—he's repeatedly praised his efforts around sustainability—he's tried to put his own stamp on issues, renaming Mr. Bloomberg's climate-changed focused PlaNYC effort to OneNYC and adding a focus on poverty.
But today Mr. de Blasio, whose campaign was largely devoted to saying he would move away from Mr. Bloomberg's policies, cozied up to his predecessor's legacy.
"It was not just about this project: it was about a bigger vision. Not just a bigger vision of how we have a more educated, learned city, how we have more and more talent for this city, it was also a bigger vision on our economy and our future," Mr. de Blasio said. "Mayor Bloomberg focused incessantly on diversifying our economy, something that was long overdue and that meant, necessarily, a focus on the tech community."
Mr. Bloomberg's large donation to the campus—which will earn him a building named for his daughter—was reported last night by several news outlets including the Observer. It's unclear exactly when Mr. de Blasio learned of it; today he told reporters he got the news within "the last 24 hours."
"That was something they kept close to the vest, and I don't blame them," Mr. de Blasio said after the event.
And while Mr. de Blasio got his due as the city's current executive, much of the event involved people thanking Mr. Bloomberg—both for his work on the campus in City Hall and for his donation.
"You know how to steal the show, right?" Lt. Gov. Kathy Hochul asked Mr. Bloomberg in her friendly upstate accent. "I mean, $100 million, that's gonna be the front page story."
Mr. Bloomberg, meanwhile, heaped praise on his own City Hall staffers—and elected officials who worked with him at the time, like former Council Speaker Christine Quinn—for the work they did in making the new tech campus a reality.
"Let me certainly thank my successor, Mayor de Blasio. Bill, you and your administration thank you for all your support you have given to this project and keeping it on track, and also for your kind words," Mr. Bloomberg said. "As we all know none of these things never end—they're going to need a lot of support from you and your successors down the road. So we're all in this together and we should all take great pride in what we've accomplished."
Mr. Bloomberg also took a moment to place the campus within his own City Hall legacy.
"This project also seriously represents so much of what we worked to accomplish in City Hall: it will help lay an economic foundation for the next century, it will create jobs and opportunity for New Yorkers on every rung of the economic ladder, it will improve our public schools and universities, it will celebrate great design and public art, and it will benefit all New Yorkers from all backgrounds in all boroughs," Mr. Bloomberg said.
The former mayor—who noted he started his own tech company before it was cool—did not take questions after the event. When a reporter shouted to him to ask how it was to share a stage with Mr. de Blasio, Mr. Bloomberg deemed it "great."
After the event, Mr. de Blasio said the two of them talked about the Cornell project, caught up on family, and "joked around a little bit."
"As we've seen each other at different events, you know, we chat—we catch up. And again, I appreciate his commitment to this city," Mr. de Blasio said.
But would they become chums, with one reporter using the example of former presidents Bill Clinton and George H.W. Bush? That seemed a little unlikely.
"I think that's an interesting example—you know your recent American history," Mr. de Blasio laughed. "I look forward to certainly working with him on things where we have common beliefs."