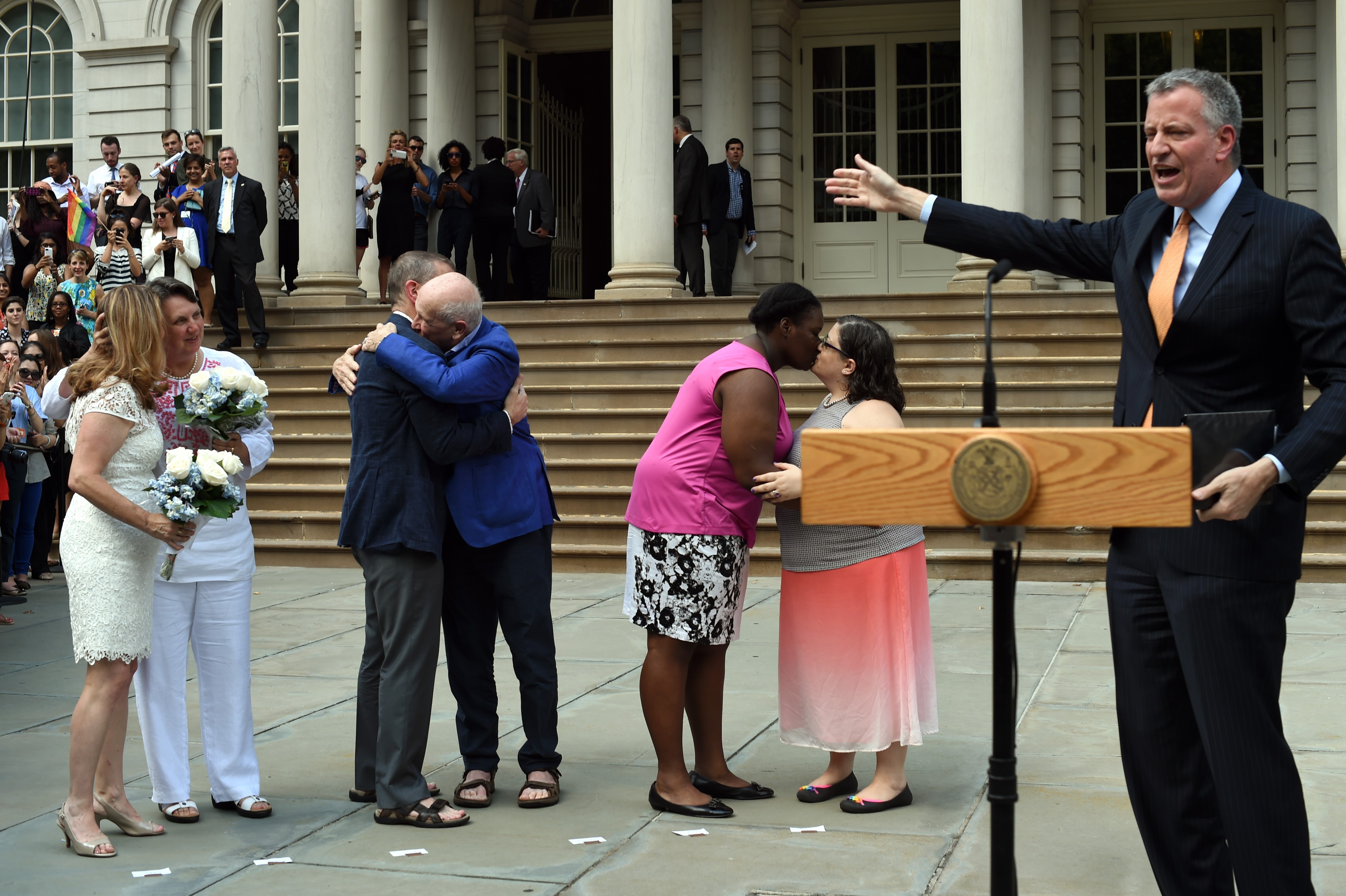 It wasn't your typical City Hall wedding.
Mayor Bill de Blasio officiated two weddings today, and renewed another couple's vows, at what his office dubbed a "pop-up party" to celebrate the United States Supreme Court's decision to legalize gay marriage across the nation.
While gay marriage has been legal in New York since 2011, today's news has still spurred plenty of local celebration, and comes just days before the city's annual Gay Pride March is set to step off on Sunday. (On CNN this afternoon, Mr. de Blasio said he expected Pride Weekend to be an even bigger party than usual.)
"As New Yorkers, we feel a singular pride today, because what began at the Stonewall Inn in 1969, when our brothers and sisters first banded together to stand up for fairness, for justice, for equality, that ignited a movement and that movement swept across this nation and fueled today's triumph," Mr. de Blasio said.
Then, after a few words in Spanish, he asked, "Is everybody ready for a wedding?"
First he wed Denise Niewinski, the deputy director of LGBTQ policy and practice at the Administration for Children's Services, and Cindy Jackson, a high school science teacher.
"Together since 1999, lovers of adventure, opposites who attracted," Mr. de Blasio said of the women.
Ms. Niewinski and Ms. Jackson also offered their own words.
"Through laughter and tears and in sickness and health, and in every trip we take, I give you my hand, my heart and my love, always," Ms. Niewinski said.
"My heart is so full of joy in the fact that I can be married to you, and care for you, and love you, til death do us part," Ms. Jackson said.
The second couple to wed were Sarah Joseph, a foster care social worker with Catholic Guardian Services in the Bronx, and Katrina Council, a high school history teacher.
"I'm not making this up, they met on a blind date at the Stonewall Inn, and they have been together ever since," Mr. de Blasio said.
Ms. Joseph told her soon-to-be wife that her nickname, Kat, was her first word as a child.
"I love you more than I know the meaning of that word, and I can't wait to spend my life with you," Ms. Joseph told Ms. Council, as Mr. de Blasio observed she was giving her wife a "beautiful ring."
"Sarah, life with you has been amazing so far and I'm looking forward to spending the rest of our lives together," Ms. Council said, before promising to her let her wife have the last cookie, choose the Pandora station, take her to whatever Broadway shows she'd like and make her pumpkin spice flavored food in the fall.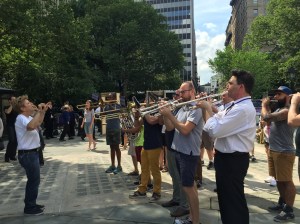 After the weddings, Mr. de Blasio also renewed the vows of a gay couple—Terrence McNally, the famous playwright, and his husband, Thomas Kirdahy, whom Mr. de Blasio said was his roommate at New York University.
"We learned together in those early years how to make sense of life and I honor you for having gone on to fight for the civil rights and human rights of so many people," Mr. de Blasio told Mr. Kirdahy.
After the quick ceremonies, the Gay and Lesbian Big Apple Corps, a marching band, burst into Mendelssohn's "Wedding March." The band's conductor, Marita Begley, later led the ensemble through several pop songs and a couple other plays of the march.
The band had been waiting for this day, Ms. Begley said, for 35 years—even if some of its members weren't born yet.