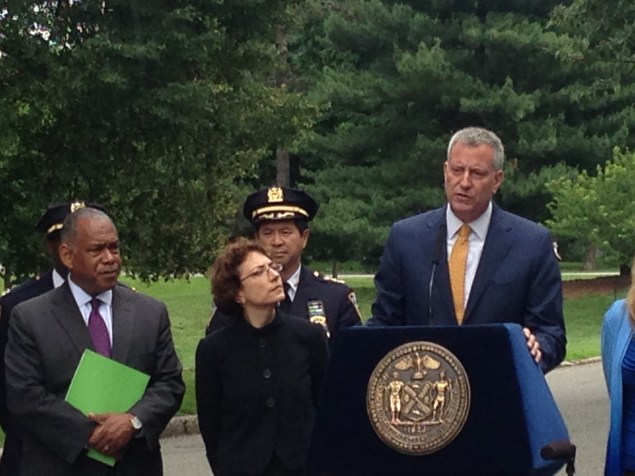 Mayor Bill de Blasio today pledged to "reinforce" the city's African-American religious institutions after a white gunman murdered nine black worshipers at the Emanuel African Methodist Episcopal Church in Charleston, S.C. last night, an act officials have labeled a hate crime.
Before beginning an unrelated press conference in Brooklyn, Mr. de Blasio—the father of a biracial family, and a popular figure in the city's black community—first addressed the shooting. The mayor asserted that his city would not become the scene of the sort of racial animosity believed to have stoked the incident in the south.
"I want everyone to know, there's no place in New York City for this kind of hatred," he said. "This was an absolutely troubling and heart-wrenching moment."
The mayor pledged to increase police presence in the vicinity of the city's larger black houses of worship. He added that the response would mirror NYPD reactions to recent attacks attacks on synagogues and Jewish people in other countries.
"We make it a point to reinforce peak community locations when that has occurred," he said. "We, in this case, are going to reinforce key African-American religious institutions, and be very watchful for anything that suggests any other type of attack."
Mr. de Blasio added that there was no indication that anyone might be planning a similar attack in New York, but described the bolstered security as a preemptive safeguard.
"We have no particular specific evidence that that is in the offing, but it's a precaution we take consistently with houses of worship," he said. "This is a protocol we have."
South Carolina authorities have identified 21-year-old Dylann Roof as the shooter, and have taken him into custody. They allege Mr. Roof, a native of the area surrounding Columbia, S.C., entered the church around 9 pm and sat through a prayer meeting before uttering a rambling justification and opening fire.
"I have to do it," the New York Times quoted the gunman as saying. "You rape our women and you're taking over our country. And you have to go."