"Powrplnt," a new exhibition, is planting the seeds for interest in digital art at Hunter East Harlem Gallery.
Artworks on computer and television screens are the focus of the show, which opened last weekend at 2180 Third Avenue at 119th Street. But, going way beyond simple display, Powrplnt will offer free classes (the first series starts tomorrow, June 30) in making digital art to local youth.
The exhibition features cyber and sculptural work by four local artists: Yulan Grant, Sam Rolfes, Samantha Cornwell, and Giguel Maybach. To mitigate the sterile environment technology creates, the organizer, Angelina Dreem, 29, hangs plenty of plants, creating an indoor garden—hence, the organization's name.
Ms. Dreem regularly hosts these shows in areas "on the rift of gentrification," she said, as a way to expose locals to digital art and pique their interest in the digital media classes. Taught by Hunter College IMA MFA students and NYC-based digital artists, the classes will be held inside the gallery at the Hunter College uptown venue over the next 9 weeks. (The show runs through Sept. 5).
There are two four-week long sessions, with classes such as "Alien or Bust: Digital Sculpting," "Animation Situation," and "Digital Painting."
"It's important because really what defines gentrification a lot is access to technology," Ms. Dreem told the Observer. "Technology is a real way of evening [that] out."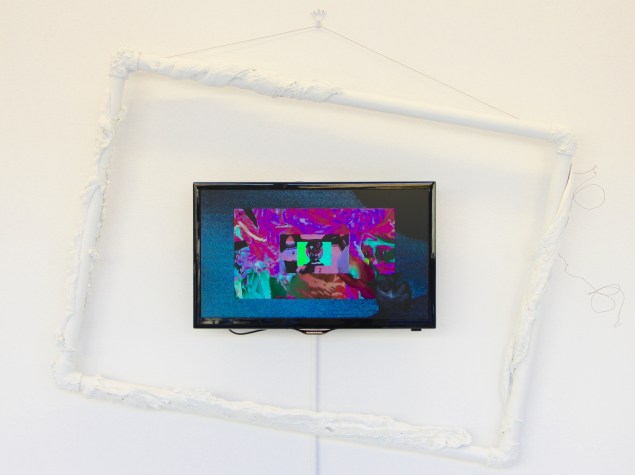 When Ms. Dreem graduated from University of Washington in Seattle a few years ago, she said she found it difficult to obtain a job in San Francisco because she was never exposed to the basics of Photoshop. As technology advances exponentially, introducing communities to the basics is crucial—not only to pursue a career in digital art, but bridge the gentrification gap.
"I know a lot of kids identify as being an artist, but they don't see where contemporary art is going in some respects," Ms. Dreem told the Observer. "I think once you have access to a computer, the only limit is your imagination."
A few dozen kids signed up at her previous installation in Bushwick, and about ten have already enrolled in classes this summer.
Terrell, 17, (who declined to give his last name) from East Orange, New Jersey, was at the gallery opening and signed up for the Digital Painting class. He commutes to the city to work at a digital company called To Be. He's thinks he'll pursue a digital media career, but his school doesn't offer classes like Powrplnt. "Maybe I'll learn something I didn't know before that I can use later on," he told the Observer.
Ms. Dreem hopes to take Powrplnt to Los Angeles or Detroit in the near future.