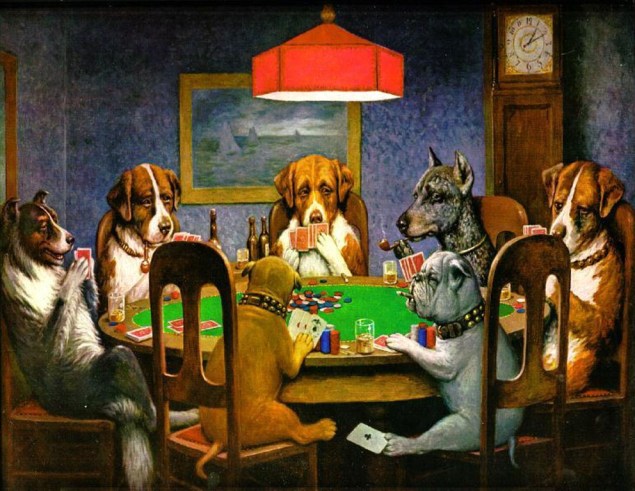 On a recent Saturday afternoon in late May, I showed up at Luckydog Bar in South Williamsburg with my scruffy terrier mutt Phoebe and was turned away. I was perplexed, and a little panicked—I had invited 20-odd friends for a "Luckydog afternoon" of drinking with dogs, my favorite pastime. Was I going to have to call the whole thing off? My dog and I had walked three miles from Bed-Stuy and we had a whole crew of thirsty dog enthusiasts in tow. The exasperated bartender told me they had an inspection coming up, and having been fined repeatedly by the city's Department of Health in the past several months, they'd had to forgo their dog-friendly policy for fear of being shut down.
Arriving at Luckydog and being told your dog can't come inside feels sort of like showing up at a cigar bar and being told to put out your stogie. For so many, Luckydog Bar was defined by its dog-welcoming nature—after all, it's right there in the name. The place was so quintessentially doggie that regulars would drop the lucky and just call it straight up "Dog Bar." Who knew dog would ever be the part to go? The bartender suggested a nearby watering hole with an under the radar pro-pooch policy—whose name I won't mention—to which we relocated; but it wasn't the same as an afternoon at the pup paradise that Luckydog used to be.
And the bar is taking a hit for it: on a recent visit, a bartender, Ashley, told me that business is half what it was, especially on weekend days, when the place would pack in with patrons and their pups. "In my three years here, I never saw a dip in business until this past year, since the DOH has been hounding us," she said, making an unintentional dog pun. "And it sucks, people who don't know will still come in with their dogs—it sucks having to turn people away."
Still, the South Williamsburg dive is so beloved that plenty of dog-owning regulars still frequent the place, even if it means having to leave theirs at home.
'Luckydog was the place where Akira came to get attention, get pet, get her energy out,' said Jasmin Cruz. 'She's blind, this was her only social scene.'
Jasmin Cruz, a tattoo artist who lives and works in the neighborhood, still hangs out at Lucky Dog several nights a week without her 5-year-old Staffie/pit mix Akira. But she reminisces about the glory days. "Luckydog was the place where Akira came to get attention, get pet, get her energy out," Cruz said. "She's blind, this was her only social scene. We take longer walks now, and I'll bring her by some of the other dog-friendly bars, but it's not the same. This was our spot."
Cruz says when she walks Akira by the bar, Akira will try to drag her in. "It's really sad. And she acts out now—I'll come home and find a pair of shoes completely chewed up."
Cheyenne Timperio, a hair and makeup artist and owner of a 4-year-old Shih tzu/Fox terrier mix, told me Luckydog was a great place for dog owners to blow off steam after work. "People want to come here at the end of the day to have a drink and also be with their dog; this was the perfect place to do both."
Luckydog regular Jeff Owens, a nurse who lives across the street and is known as "Leroy's dad" at the bar—Cruz and Timperio joked that for the longest time, they knew his dachshund's name, but not his—echoed that sentiment. "I work 12-15 hour shifts, it was nice to walk over and relax with Leroy when I got home."
For New Yorkers, whose lives are tight on space and time, the city is in many ways their backyard. Add a dog to the equation and there's an even greater need for breathing room. Dog runs and off-leash areas provide an option to tire out your four-legged dependent, but the hours are restrictive, and the social element is missing. Luckydog, open daily from noon to 4 am, provided a refuge for dog owners to congregate with their dogs and human friends alike, at an hour convenient to a range of schedules. Sitting out on the tree-shaded back patio, sipping a meaty, delicious $7 bloody mary while your dog roamed free, was a truly blissful thing.
"Everybody who works here and everybody who comes here loves dogs," bartender Melissa, who's also worked at the bar for around three years, told me.
So why the dog ban now? "When Luckydog opened [in 2009], this was still the South side of Williamsburg, it was under the radar," she said. "The neighborhood has changed, it's busier, and the DOH has flagged us. We've had to say no to dogs just to keep the bar open."
When I reached out to the DOH for a statement about the situation, however, I heard something a little different. Deputy press secretary Levi Fishman told me there was no record on file of complaints or citations in response to live animals at Luckydog. The bar received an A on their May 19 inspection, and the last record of violation was back in December 2014 for "an open bag of cat food and a bowl of cat food found in the basement."
When I shared the discrepancy with Luckydog, the owners declined to comment.
Under NYC Health Code, it is illegal for dogs to enter inside a food service establishment (Article 81, Section 25). (This also applies to bars that don't serve food, because beer and ice count.) But "for years this has been one of the most widely—and gleefully—violated rules in the city," according to a 2011 City Room article that attributed the changing attitude about dogs in bars to the advent of the Health Department's letter grading system in 2010. Bobby Gagnon, owner of Park Slope bar The Gate, which was dog-friendly for 17 years until a complaint last fall forced the dogs out, told me, "It's not a coincidence that fines, etc., have skyrocketed since the letter grade model began."
Where there were maybe a dozen dog bars on the DL in Williamsburg and Greenpoint, now there's five or six, a bartender at one of the latter told me recently. She also repeatedly asked me to not mention the bar's name, because "everybody lives in fear of the Department of Health." And of journalists too, I learned—at least three bartenders I spoke to brought up a December New York Post article "4 NYC bars where dogs are allowed, despite city law" they claim served as a DOH tip-off, leading to crackdowns.
It hardly seems reasonable for bars that don't serve food to have to abide by the same mandate as restaurants. That's why back in the fall, Gagnon partnered with community group Park Slope for Pets (which has since changed its name to Brooklyn for Pets) to file a petition to amend the DOH classification of food establishments. Despite gathering over 1,000 signatures, it became clear the DOH wouldn't bend without bigger pressure, and Gagnon abandoned the cause. The Gate has been woefully canine-free since November.
Yet, the dog days might not truly be over—of late, there's a strong pull towards integrating dogs into social spaces in NYC. The Dining with Dogs bill sponsored by assembly member Linda B. Rosenthal and senator Kemp Hannon, which would allow companion dogs in outdoor areas of food service establishments, passed Tuesday morning in the state Assembly, after passing in the Senate twice. It's currently up for review by Governor Cuomo. Brooklyn for Pets filed a petition on their site to garner support for the bill; they've also initiated a social media campaign encouraging users to post pics eating and drinking outside with dogs, with the hashtag #diningwithdogs.
If Cuomo approves the bill, it still wouldn't immediately change the situation for a bar like Luckydog, which doesn't have a separate egress to its back patio—one of the bill's several stipulations to ensure health standards are maintained. The Gate would only be able to allow dogs, leashed, in its front patio.
But it could, at the very least, open up the conversation. "If this bill passes, we think it would be a great idea to look into how bars like The Gate, or non-food drinking establishments, could allow dogs," says Allison Hansen, the editor of Brooklyn for Pets. "There will still be bars that don't sell food and want to allow dogs but can't because they don't have an outdoor patio. It would be interesting to see, if the law passes, how the Department of Health would look at these establishments." She's held onto The Gate's petition, in case it becomes a viable option to refile it.
The DOH, naturally, has been pretty dogged in its opposition to the bill. DOH press secretary Christopher Miller told the Huffington Post, "dogs in restaurants can create unsanitary conditions through shedding hair and dander among other things. Their presence outdoors at sidewalk cafes … invites opportunities for negative interactions and bites."
Writer Kate Bratskeir followed with a list of 12 reasons dining with dogs wouldn't be a problem, the most convincing of which is the successful model in other states. Since the California version of the bill, which passed in August 2014, took effect January 1, "the city [San Francisco] has received the same number of complaints on dogs in food facilities since the bill went into effect the previous year, before the legislation was passed. The total number of complaints in 2014 was four."
It's outdoor drinking season. Come on, New York. Let the dog days of summer truly begin.