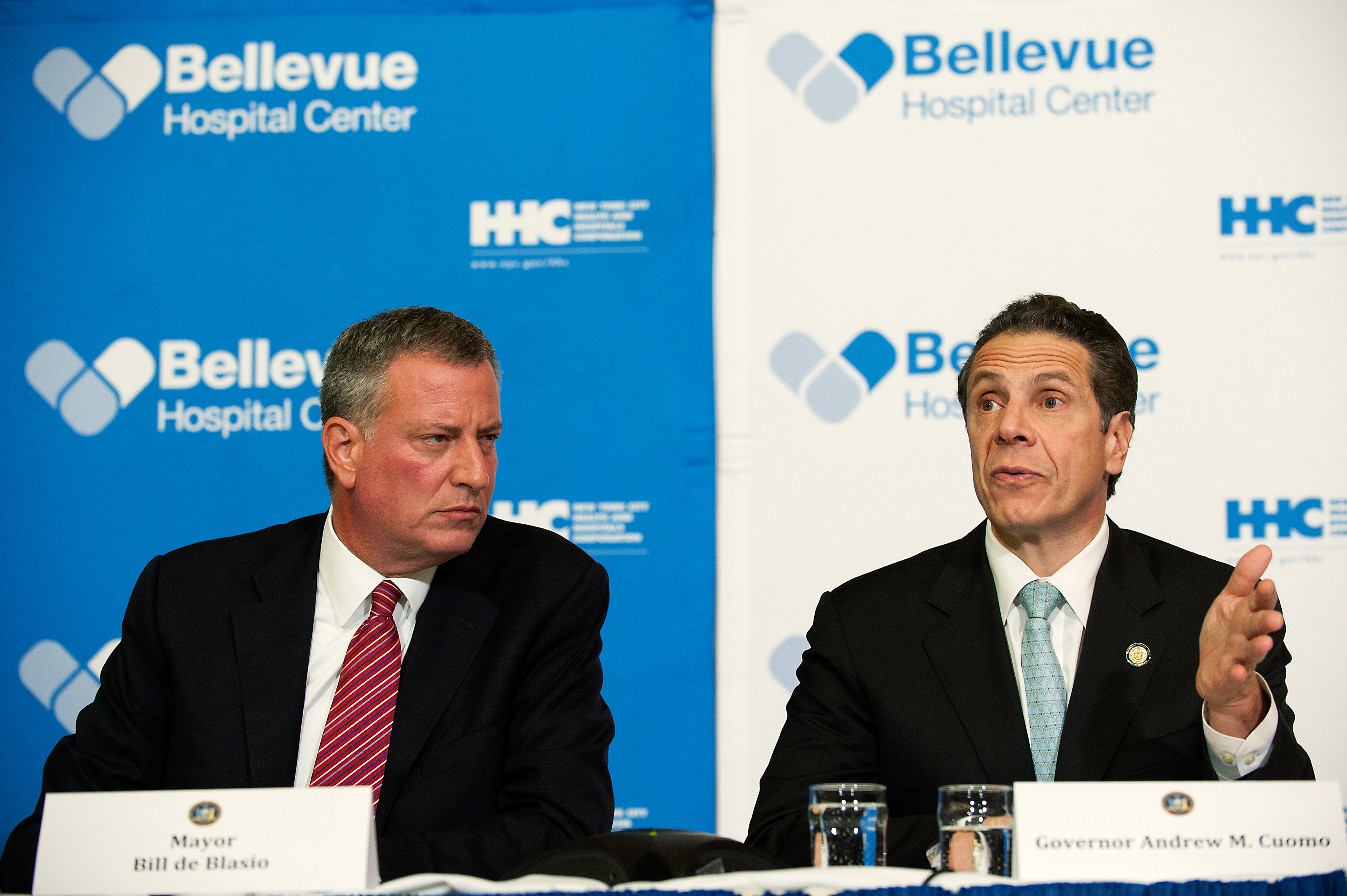 After keeping largely silent as his priorities for New York City in Albany withered over the last week, Mayor Bill de Blasio today ripped Gov. Andrew Cuomo, accusing him of seeking "revenge" for perceived political slights by stymieing progress on key issues.
"It keeps playing out in ways that I think sometimes are about dealmaking, sometimes about revenge," Mr. de Blasio said during a sit-down with City Hall reporters in his office. "I think each situation obviously is different. But it's not about policy. It's not about substance. It's certainly not about the millions of people affected."
In a nearly thirty minute sit-down with reporters, the mayor spoke on a range of issues that had come before the State Legislature in Albany—specifically mayoral control of city schools and overhauling the 421a tax credit—and argued that it was not Republicans in the State Senate under GOP Senate Leader John Flanagan who had shut them down, but Mr. Cuomo, a member of the mayor's own political party and self-professed friend.
"I think they were willing to work with us on mayoral control. I think they were willing to work with us on 421a. I think the sticking point was the governor," Mr. de Blasio said. "I think it's clear that Leader Flanagan in particularly listens to the governor's guidance and the results speak for themselves."
Mr. de Blasio, who is set to depart tonight for a family vacation, invited reporters who work in City Hall's Room 9 to sit down in his office and discuss the end of Albany's session, after spending much of the last week saying he was not quite ready to answer questions about it at length. There was no such standoffishness today, as the frustrated but calm and calculating mayor offered his analysis of the session to about a dozen reporters on his home turf.
The mayor said the governor had not acted in the interest of New York City when it came to extending mayoral control—a proposal he noted was backed by business groups, editorial pages and parents. And as soon as Mr. de Blasio rolled out a plan to overhaul 421a, the governor began "undermining" it, Mr. de Blasio said, saying there was not enough time to make the changes—most of which, exception a "mansion tax," wound up being made at the end of session in just days—and "manufacturing" a labor issue by suddenly backing a prevailing wage for construction workers the mayor said would be too costly.
"Why would anyone publicly trash that plan if it wasn't about politics and game-playing and maneuvers?" Mr. de Blasio said. "So that was not a serious approach to government, and again the proof was in the pudding— the final plan as everyone saw with their own eyes got done in a manner of days."
Earlier in the day, Mr. de Blasio told NY1 he believed Mr. Cuomo carried out "vendettas" against those who disagreed with him. This afternoon, speaking to the print and radio reporters, he again said he'd seen the governor seek out revenge—aggressively inspecting homeless shelters after the city pressed for more homelessness funding, to asking, a day before the city's executive budget, for an extra $1 billion for the MTA.
"I'm not going to be surprised if these statements lead to some attempts at revenge," Mr. de Blasio said of his remarks today. "And we'll just call them out, because we're just not going to play that way. We're not going to accept that as anything like acceptable government practice."
The State Legislature's decision to extend mayoral control for just a year was a particularly bitter bill for Mr. de Blasio, and he insisted repeatedly today it was one prescribed by the governor.
Was that political blow from Mr. Cuomo another one of the vendettas he had referenced?
"There is a kind of deal-making and horse-trading that he engages in that I think often obscures the truth, and get so convoluted that I'm not sure he and the people around him even remember where they began," Mr. de Blasio told the Observer.
The mayor again insisted mayoral control was an issue that had few detractors—nobody has been clamoring for a return to the days of school boards.
"I would think here would be a deep imperative to ensure that that was renewed for a substantial time frame, and it's telling to me that that became fodder for more of the political deal-making," Mr. de Blasio said.
But the mayor could not say what, exactly, he believed the State Senate had received from Mr. Cuomo for agreeing to renew mayoral control for only a year.
"I can't articulate to you how every deal was made," Mr. de Blasio said, adding he'd talked to many individual lawmakers in Albany. "It was abundantly clear the Senate did not have a philosophic problem with mayoral control of education. They just didn't. They had voted for it. The vast majority of those Republican senators were in office the last time this came up, and they were strenuous supporters of it on behalf of Michael Bloomberg."
Mr. de Blasio and Mr. Cuomo have had a bumpy relationship since near the very beginning of the mayor's term. The governor shot down Mr. de Blasio's efforts to enact an income tax to fund his pre-K program; they clashed over how to handle Ebola; the governor shut down the subway after giving the mayor just a few minutes notice. Last week, speculation arose that Mr. Cuomo himself was anonymously bashing the mayor to the press.
But over the last year-and-a-half, Mr. de Blasio has sought over and over again to avoid tweaking the governor back, saying he would not discuss personalities. Calling the media into his office to accuse Mr. Cuomo of taking revenge on him politically is a decidedly different tact than he's taken before.
Is it indicative of a new strategy for dealing with Mr. Cuomo, long known politically to be mercurial, sometimes accused of being "Cuomo-vellian?"
"I think it's organic. Again, it's an accumulated experience," Mr. de Blasio said. "I started with, meaning a year and a half ago, with the hope of a very strong partnership. I have been disappointed at every turn. And these last couple of examples really are beyond the pale."
Mr. Cuomo's office, meanwhile, took a subtler swing back at the mayor.
"For those new to the process, it takes coalition building and compromise to get things done in government," Mr. Cuomo's spokeswoman, Melissa DeRosa, said in a statement. "We wish the Mayor well on his vacation."
This story has been updated with a statement from Mr. Cuomo's office.