I can remember countless afternoons in the '90s walking into a record store and first hearing about an upcoming release from one of my favorite groups: Nirvana, A Tribe Called Quest, Faith No More, OutKast, Descendants, the list goes on.
Other times, I would hear it from a friend or on the radio or see a commercial for whatever album it was on VH1, MTV or Video Music Box.
Big surprise—I don't do that anymore.
---

Is institutional promotion becoming a thing of the past? Is not advertising a new project before its release the new advertising for established musicians?


---
Usually, these days, I go to several websites to hear about an upcoming release, and then check to see how many of the songs are already floating on the web.
Almost all of my purchases since 2005 have been made on Amazon or the artists' Bandcamp pages and then uploaded to iTunes. Occasionally, I'll walk into a record store to see who is still putting out records and CDs. Even less frequently, I'll buy a record or CD.
So when the Pixies released the first of three new EPs out of the blue in September 2013, I felt like a kid walking into a record store at just the right moment, all by way of Google. The Pixies' last release before that came out in September 1991 and I had bought it on tape for $14.
When the Irish alternative rock band My Bloody Valentine suddenly put out mbv as a surprise release in February 2013—their first release since 1991's Loveless—the feeling of unexpected nostalgia hit just as hard. Here was an overseas group that fit so well in the back corners of a record store suddenly making Twitter and Facebook feel like a massive Sam Goody.
When Beyoncé put out her self-titled, fifth studio album, as a surprise release on the iTunes Store in December 2013, I was less surprised. Then again, I was hooked on unexpected returns, and might have cared more if it were Neutral Milk Hotel or the Fugees. But that's just me. The Beyoncé album was a major commercial success.
When U2 did the same with Songs Of Innocence, followed by Drake's If You're Reading This It's Too Late, followed by Earl Sweatshirt's I Don't Like Shit, I Don't Go Outside, followed by Tyler, The Creator's Cherry Bomb, the effect became increasingly numbing.
Still, the surprise album phenomenon raises interesting questions about the evolution of release dates: Is institutional promotion becoming a thing of the past? Is not advertising a new project before its release the new advertising for established musicians? Are movies next?
In the case of Earl Sweatshirt's latest release, it may be that some record labels are starting to say Fuck it, what does it matter? when it comes to album promotions for already-trending artists.
I Don't Like Shit, I Don't Go Outside appeared as a pre-order on iTunes on March 16 without prior announcement and was available for digital download a week later on March 23. But during a South by Southwest interview, Earl told NPR that his label, Columbia Records/Sony Music Entertainment, had botched the entire process.
Some could argue the ability to put out a new project without any big campaign beforehand saves time, money and sweat for the record companies and artists. But if a project flops, then time, money and sweat become even bigger expenses on the back end.
And there will always be a definitive line that separates pop sensations like Beyoncé, and even cult favorites like the Pixies and Earl Sweatshirt, from artists with little name recognition. (It's tricky to see exactly where that line gets drawn, but the equation has a lot to do with search analytics.)
Then, of course, there's the opposite phenomenon that some artists and record labels still give value to: the much-awaited follow-up to the last release people remember.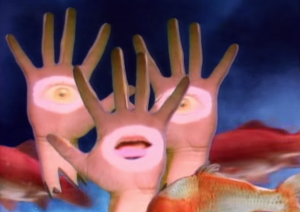 After putting out the 1997 LP Album Of The Year, Faith No More, the rock group from San Francisco that became so well known for its song "Epic" (remember the hand with the eyeball on it and the flopping fish at the end?), took a more than 10-year hiatus. The group's frontman and second lead vocalist, Mike Patton, kept releasing music, but Faith No More ostensibly became a thing of the past.
The band eventually reunited in 2009 to tour around the world and on May 29, 2014, began to hint at an upcoming album, later to be called Sol Invictus. The album finally hit record stores and the Internet last Tuesday and the excitement from fans swelled to the point of inflammation. Critics in the end gave the album mixed reviews, but the amount of text leading up to and following Sol Invictus could fill a library shelf.
Had that been a surprise release, a year's worth of anticipation would have never happened. 
One of garage rock's most influential bands, the Sonics from Tacoma, Wash., took that to an even grander level. In late March, they released This Is The Sonics, their first studio album comprised of all new songs to come out in 49 years. Like Sol Invictus, the album was promoted in advance of its release and all new and old followers were ready for it.
Economists use the phrase "opportunity cost" to refer to the benefits of one opportunity lost by the pursuit of another. If a seasoned banker spends more of his or her time writing plays, the opportunity cost becomes financial.
Similarly, the music industry might start calling it "anticipation cost" when it comes to putting out music with no prior promotion. For Beyoncé, it likely doesn't matter either way. For the Sonics and Faith No More, it could have been a loss.