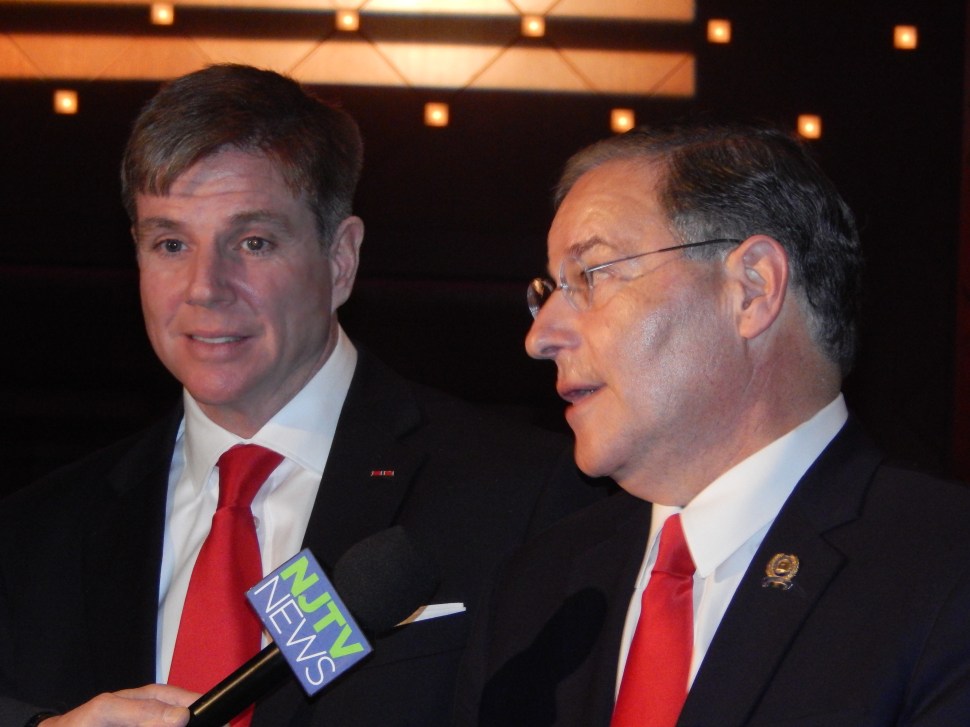 North Jersey casinos are inevitable at this point. That has been clear for some time but now has become inarguable.
Atlantic County Democratic Assemblyman Vince Mazzeo got himself in some political trouble by saying pretty much the same thing a while back. Republican Assemblyman Chris Brown, who holds the county's other Assembly seat, has been attacking Mazzeo relentlessly on the issue.
Brown wants to fight what he sees as the good fight against expanding gambling in New Jersey beyond Atlantic City, and county Republicans are basing their Assembly campaign on the issue. It's an understandable tactic – in Atlantic County, North Jersey casinos have always been seen as a death blow to Atlantic City.
Mazzeo has tried to backtrack on his initial comments on North Jersey casinos, but he was right the first time. They are inevitable. The sad state of New Jersey's economy makes it so. The politics of the moment make it so. The state is out of money. So when a guy like Reebok founder Paul Fireman says he wants to spend $4 billion to build a massive casino hotel and resort in Jersey City, the pols tend to get excited.
Too excited. In addition to a proposed constitutional amendment to allow three casinos in North Jersey – one each in Bergen, Essex, and Hudson County – Central Jersey lawmakers are now pushing for casinos of their own. And – hell, why not? – state Sen. Sam Thompson, R-Burlington, Middlesex, Monmouth and Ocean, says New Jersey should allow casinos anywhere in the state.
Every proponent of expanding casino gambling pledges that hundreds of millions of dollars of the annual new tax revenue generated will be dedicated to helping Atlantic City recover and redevelop. That no longer seems like the empty promise it once was. Again, the politics of the moment pretty much demand that any deal in the Legislature to put a constitutional amendment on the November ballot must include help for Atlantic City, which has suffered drastically because of competition from newer casinos in the Northeast. While I once was convinced that North Jersey casinos would be terrible for Atlantic City (I wrote countless editorials for The Press of Atlantic City denouncing any such plans), I now believe that properly funneling tax revenue from North Jersey and Central Jersey casinos to Atlantic City, if invested wisely in the resort's noncasino redevelopment, could be a great success story.
But back to the inevitability of all this.
This current surge of support for expanding casino gambling outside Atlantic City seems to be ignoring the cause of Atlantic City's woes – the expansion of gambling nationwide – and something no less inevitable: The headlines in a couple of years after some initial success at these new casinos.
Like this one: "New Manhattan casino opens, thousands line up for opening day"
Then this one: "Manhattan casino now busiest in nation"
And these: "New Jersey casinos begin to suffer due to increased competition" and "Layoffs planned at North Jersey casinos" 
And finally, "Once touted as state's savior, North Jersey and Central Jersey casinos now seen as bad bet"
Early proponents of casino gambling in Atlantic City called it a "unique tool of urban development." But there is absolutely nothing unique about gambling casinos anymore. They are everywhere. There are clearly going to be more casinos than the market can support. And if you have a long enough time frame – which most politicians and most CEOs clearly do not – it is easy to see the inevitable failure of any plan to carpet New Jersey with casinos. They will eventually fall victim to the same problem that undercut Atlantic City: An oversupply of places to gamble.
I suppose there are times when it could make sense to take a short-term gain even when you know the ultimate and inevitable result is something less than success. Certainly – and ironically – Atlantic City, infused with new funds for noncasino redevelopment from this gambling expansion, could be the only winner long-term. I'm all for that. But really, everyone everywhere needs to get over this belief that casinos are any city's or any state's savior.
Jim Perskie is the former editorial-page editor of The Press of Atlantic City. Email: jperskie@comcast.net.