The video game industry's most exciting week of the year is here. Gamers all over the world have been keeping their eyes glued to their computer screens to see the new games coming out in 2016, 2017 and, if we're very lucky, later this year.
E3 is still going strong as those able to attend rush across the show floor for a chance to talk to developers (or PR people) and maybe play some unreleased games. For the rest of us plebs stuck watching at home, E3 is all about the press conferences. If there are any big announcements to be made, they happen here. These conferences are in parts exciting, occasionally disappointing, usually awkward and this year, a little bit creepy. Looking at you, SquareEnix. Here's what happened.
Bethesda
Fallout 4 developer Bethesda kicked things off earlier than normal this year by holding their first-ever E3 press conference on Sunday night. They started the show strong by announcing a new Doom. Remember Doom? It looks like this now.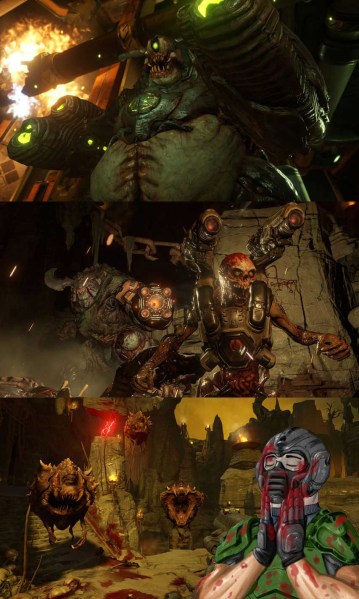 (Via Reddit/Nozickii)
Then, they announced a follow-up to their 2012 hit Dishonored. The trailer was brief, but it heavily featured a new playable character: Emily, the little girl you saved in the previous game. She has since grown into every bit the badass ninja her predecessor (and now partner) was.
Dishonored. #BE3 pic.twitter.com/eQDQiC2kvG

— Wario64 (@Wario64) June 15, 2015
But once they brought Fallout designer Todd Howard out on stage, nothing else mattered.
This is very fitting for tonight. #BE3 pic.twitter.com/xwGnLPuHO0

— Fat Kid Social Club (@FKSocialclub) June 15, 2015
Everyone knew he was going to tell us more about Fallout 4, but nobody was prepared for how much more. He showed off the much-improved character creation system and dispelled a few fears when he announced that, even though the main character is voice-acted this time, you can still play as a woman. We got a brief glimpse of the world pre-apocalypse before the demo skipped ahead to show off a complex weapon and armor crafting system and an option to build and maintain your own post-apocalyptic settlement.

Fallout 4 gets bigger every second... Good lord. Good lord. I want it straight into my veins! #BE3 pic.twitter.com/w5uj1scWia

— Jay Acevedo (@Darth_Jay) June 15, 2015
Congrats on your first E3 presser, Bethesda. You pretty much had us all feeling like this.
That was a solid #BE3. Bring on Fallout 4! pic.twitter.com/a0WCxtTBaN

— Tyrannosaurus Ry (@rynplmr) June 15, 2015
Microsoft
The Monday of E3 is a long one. Four companies hold press conferences that day and Microsoft got things started by showing us some Rise of the Tomb Raider. The game looks like a fun follow-up to the 2013 hit reboot of the series and we even see Lara start to raid a few tombs. Although, the way they chose to show tension and danger in the trailer did get a little repetitive.
Tomb Raider, a nice new entry into the "almost falls but doesn't" genre. #XboxE3

— Fauxtaku (@Fauxtaku) June 15, 2015
Microsoft also built up a bit of goodwill by showing off some awesome smaller games from indie developers, including Beyond Eyes, a game where you play a blind girl searching for her lost cat. It looks absolutely beautiful.

Hope you enjoyed seeing #BeyondEyes on stage at #XboxE3 - thanks for following! <3 https://t.co/g0GgpXsYDQ

— Beyond Eyes (@BeyondEyes_) June 15, 2015
Of course, some of that goodwill was called into question when Microsoft announced that Early Access games would be coming to Xbox. If you don't know, Early Access means you can pay money for a game that isn't done yet and, in some cases, is only playable in the loosest sense of the word. Some developers like it because it allows them to bring some money in while the game is still being made. Sometimes it's the only way development of a game can continue. Many players are not so keen on it because nobody likes paying for broken stuff.
The cancer of early access from the comfort of your couch. #XboxE3

— brutalcumpowder (@brutalcumpowder) June 15, 2015
Of course Day Z creator Dean Hall announcing that his game would be released via Early Access left Microsoft open to a few jabs like this.
I want a game that's not a finished product! - Dean Hall at #XboxE3

— Tyler Valle (@TylerValleGG) June 15, 2015
Definitely the highlight of Microsoft's conference was when they showed of Minecraft for HoloLens. Essentially, you put on a pair of glasses that project the game onto a table. You can then move around it, and manipulate the world with your hands. Here's what it looks like.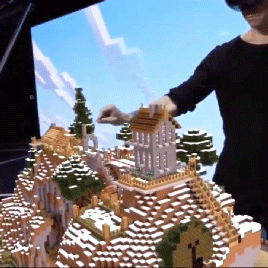 (Via Minecraftgifs)
After seeing that pretty much everyone looked like this.
(Via Rags-to-rupees)
Of course, once the game is out, it can only lead to this conversation.
I can see parents now: "JOHNNY! GET THAT MINECRAFT OFF THE TABLE AND EAT YOUR DINNER!" #XboxE3 #E32015 #BlackNerdE3

— Andre (BlackNerd) (@BlackNerd) June 15, 2015
Electronic Arts
The second press conference of the day was an exercise in frustration and boredom, broken up by fleeting moments of cool. Everyone was waiting to see gameplay from Star Wars: Battlefront and EA new it. Throughout the presentation, a little graphic kept popping up in the bottom of the screen telling us just how much time was left before we'd see Battlefront. This only made the interminable mobile game and sports game announcements all the more excruciating.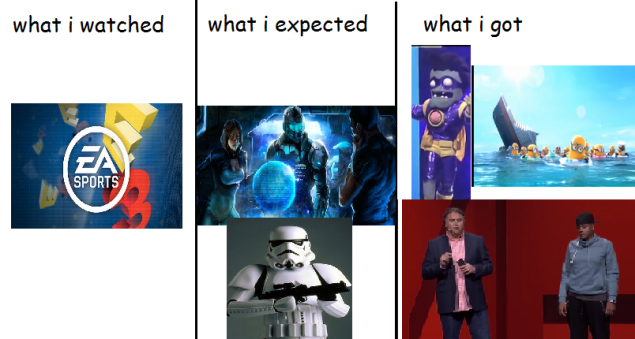 (via a-ballistic-toucan)
Yes, we sat through a Despicable Me Minions mobile game, someone called Hoop Gawd awkwardly demonstrating a NBA Live 16's creepy face-scanning companion app, and some guy dressed as a zombie superhero for reasons that weren't entirely clear. Just to see some Star Wars.
"Cool we hit our annual awkward quota. I was worried for a second there, but hoop god brought it home." - EA

— Tina Amini (@TinaAmini) June 15, 2015
Is enduring EA's press conference to get to Star Wars some sort of meta Jedi training?

— Alexa Ray Corriea (@AlexaRayC) June 15, 2015
That's not to say there weren't some good moments in between. DICE finally revealed some details on the follow-up to the flawed but beloved cult game Mirror's Edge, where some observant viewers noticed a strange similarity.
the antagonist from mirrors edge is literally the ceo of ea pic.twitter.com/jm0EdaYDUs

— shrek lover (@imahyperlover) June 15, 2015
Is DICE trying to call for help?
And finally, there was this guy.
A developer who's obviously very passionate about his game and a little nervous about being on stage. In an endless stream of put-together corporate suits, he was the only genuine human being in EA's conference. He and his little buddy Yarnie immediately earned the internet's adoration.

and the most adorable dude award goes to this dude presenting Unravel at the EA presser

— Griffin McElroy (@griffinmcelroy) June 15, 2015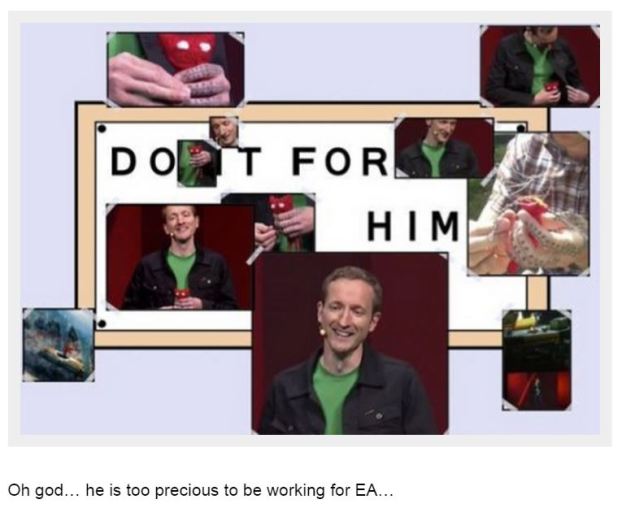 (Screenshot via dweebav8r)
And after all that, we finally saw some Star Wars: Battlefront. It looked OK.
Ubisoft
Most companies have E3 pressers down to a science. Everything is planned, scripted and rehearsed almost to death. Ubisoft's aren't that way. They're the only company that still treats their live press conferences like a show. A crazy, ridiculous piece of theatre. Consequently, the games can sometimes get overshadowed. Like this time. The press conference opened with an excellent trailer for a South Park game with the best title ever.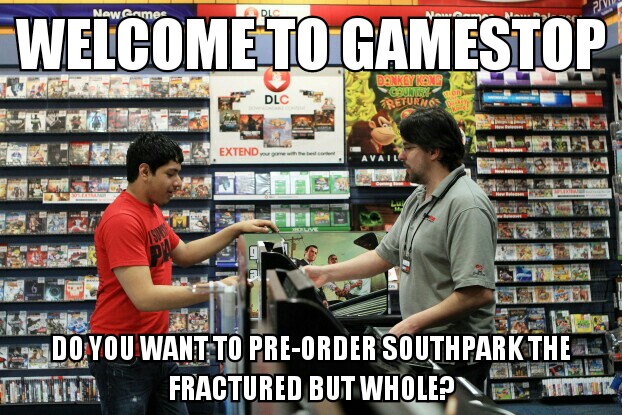 (Via Reddit/Rope_And_Chair)
After that, the games weren't memorable. They showed off Tom Clancy's The Division, an online loot-driven shooter taking place in post-apocalyptic New York, and the new Assassin's Creed game. Oh, and a new Ghost Recon game that looks fun. But all I can really remember are supremely awkward moments like this.
Worst part about E3 is with Ubisoft trying to make a meme out of nowhere for no reason https://t.co/xltxN7VQVw

— Pronko F. Valeth (@ProngsV) June 17, 2015
And since they failed to make a meme so spectacularly, the internet decided to show Ubisoft how it's done.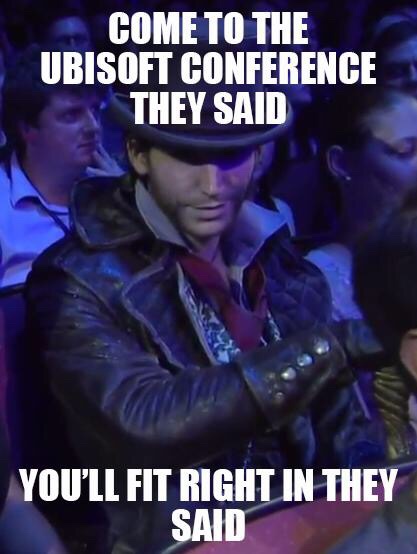 (Via tispeculiar)
And then there was the terrible Jason Derulo performance promoting the next Just Dance game. I'd warn against clicking that link if you value your ears.

Jason Derulo really should just dance. #UbisoftE3

— Dan Maher (@MrPointyHead) June 15, 2015
Sony
This is the big one. This was the conference that everyone was tweeting about. There were many games shown at Sony's press conference, but only three mattered. The first was The Last Guardian. This game has been in development since 2007, and after years of delays, the game's director leaving the company, and being a no-show at last year's E3, there were questions about whether it would come out at all. Well, it finally showed up. What's more, we finally saw part of a level.

THE LAST GUARDIAN IS AALLLIIIIVE!!!!!!!! pic.twitter.com/RZZl7tRCHa

— Danny O'Dwyer (@dannyodwyer) June 16, 2015
We even got something close to a release date: 2016. Hey, it's better than what we had before.
The next big announcement was one fans have been clamoring for for at least 10 years. A full remake of Final Fantasy VII, one of the most beloved games ever made. After hearing we'd finally be getting the game we'd been wanting since the last PlayStation was announced, it felt exactly like this.
(Via Reddit/impr0mptu)
Then, we started remembering the weirder things about that game that might look a little weird in HD. Like the scene where the main character (don't ask why) needs to dress in women's clothes to infiltrate a villain's mansion. And to get underwear he has to go here (again, don't ask why).

someone at Square-Enix is busy hand-animating a 500,000-polygon version of The Honeybee Inn pic.twitter.com/jwLjyStdee

— wee, but swole (@alexlifschitz) June 16, 2015
You know what? Bring it on. Can't wait to see a full HD version of… that.
The last big thing Sony announced was Shenmue 3. Shenmue originally came out on the Dreamcast back in 2000. Its sequel was released on the original Xbox a couple years later, but neither game sold enough to turn a profit, and future entries in the series were cancelled despite Shenmue II ending on a cliffhanger. Series creator Yu Suzuki announced that Shenmue 3 would seek funding on Kickstarter. Its $2 million goal was reached in less than 24 hours. Sony then stepped in and said they'd also be funding the project.
Those three announcements were the perfect feel-good ending to a very long day of press conferences.
I take back anything cynical I have ever said about video games or the video game industry

— Frank Cifaldi (@frankcifaldi) June 16, 2015
Nintendo
Nintendo doesn't hold an actual press conference anymore, but they do make a special video where they announce upcoming games. This video featured a genuinely funny puppet show featuring Nintendo executives made out of felt.
Nintendo comin' for you! Best start runnin! pic.twitter.com/QrFbgFrbhx

— Steve Kim (@Fobwashed) June 16, 2015
Unfortunately, the games they showed were nowhere near as well-received.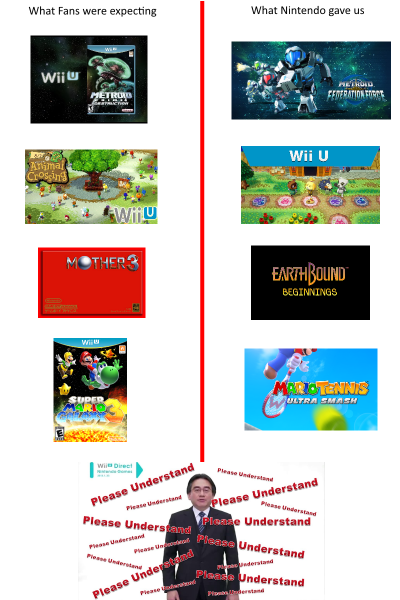 (Via Reddit/Pwnclub)
Especially for Metroid and Animal Crossing fans.
New Metroid Prime…handheld co-op sports game. Animal Crossing on Wii U…board game. 😭

— Patrick Klepek (@patrickklepek) June 16, 2015
SquareEnix
The final press conference of E3 went to SquareEnix. Most of their upcoming games had already been announced at other conferences, but there was still one we had yet to hear about: Kingdom Hearts III. And boy did they make us wait. They even showed off a Kingdom Hearts mobile game as if that was the big announcement.
Oh my, I hope #SquareEnixE3's offices has good security, because the angry mob will be visiting shortly #KingdomHearts3

— Jeremiah Peterson (@ichbinmiah) June 16, 2015
When we finally did see the trailer, it overshadowed everything that came after it. SquareEnix fans had gotten what they wanted and everything else was just filler.
This crowd as so excited by Kingdom Hearts III and then so lukewarm towards everything else. Love it. #SquareEnix

— rabbidluigi (@rabbidluigi) June 16, 2015
Oh, and this also happened.

This is uh.. creepy.. #Squenix #E32015 pic.twitter.com/8BmfLFinBi

— Milo (@MrRoflWaffles) June 16, 2015
The developer of the new Neir game doesn't like showing his face in public. This is how he chose to obscure it. Told you E3 got weird.