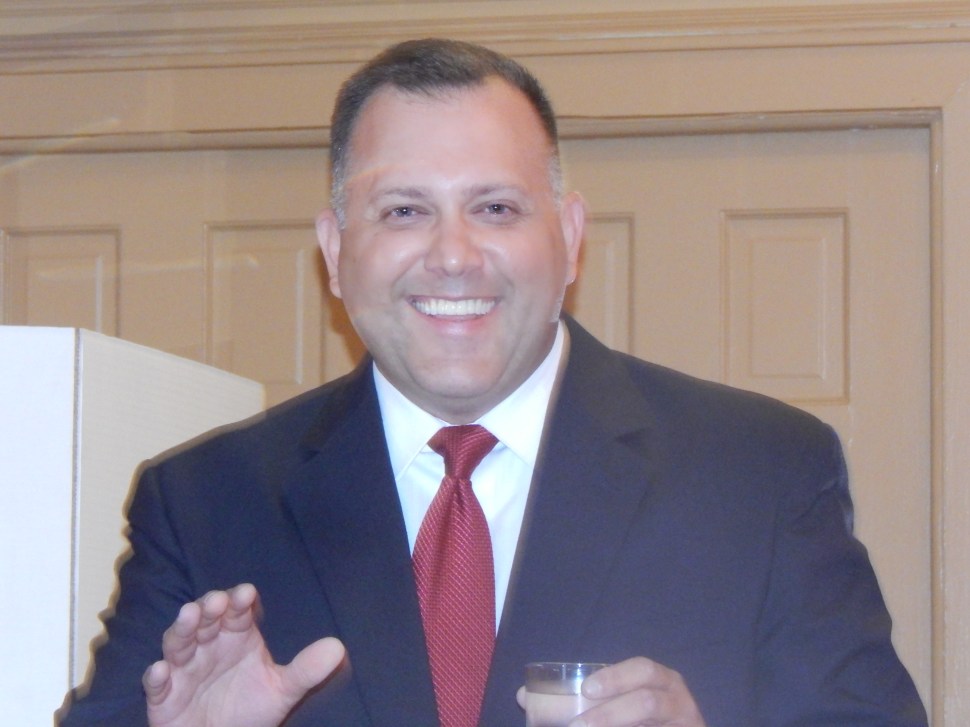 EDISON – It seems a cruel twist of fate that a town like Edison – named in honor of American energy and ingenuity – should have a habitation as dysfunctional as that bureaucratic backwater called New Jersey, but high spirits nonetheless permeated what most expected would be this passing of the Bunson burner from octogenarian Edison Democratic Committee Chairman Doc Paterniti to his successor Anthony Russomano.
But it didn't go down that way.
Why should anyone care?
Locally the narrative runs like this: there's the North and there's the south and then there's Middlesex in the middle, jump ball country come 2017 – and Edison in the middle of Middlesex. Upon the shoulders of Edison, so the logic runs, rests, conceivably, the fate of the next governor. And yet – and candidate Councilman Bob Diehl would expound on this in his public statement at the podium – they eat their own here. "Politics here is not for the weak of heart," admitted Russomano, who would have to summon internal fortitude to bear what came next at him sideways and in stunning fashion.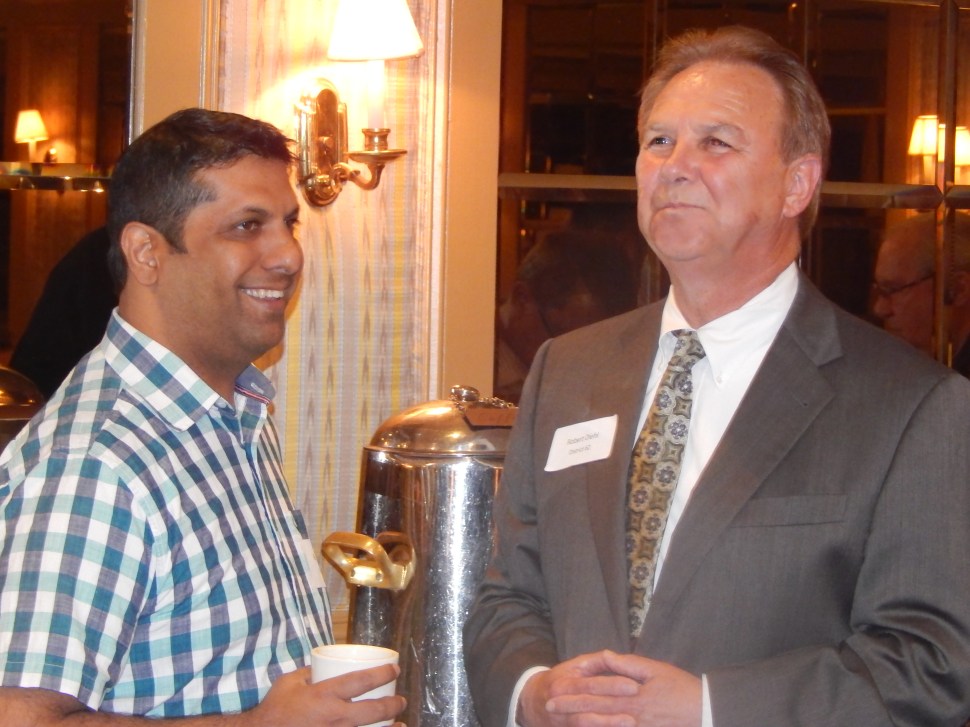 "We won't be supporting me tonight," said declared candidate Diehl, speaking of his supporters and himself, backing down and throwing his support to local Police Officer Keith Hahn to turn a long-touted three-man contest into a mano-a-mano. "We'll be supporting Keith Hahn."
There were audible gasps.
"At first I was going to thank my wife but I guess I should thank Bob Diehl first," beamed Hahn, a 21-year veteran of the local police force, who appeared at the microphone on the heels of the councilman.
It was a stunning rejection of the Paterniti era.
"As chairman, it will be my job to regain the trust of the public," Hahn promised.
Irritability abided early, as the three candidates for local chairman bickered over the order of the speeches amid at least one cryptic vow that the evening ahead would be unusual. In the end it didn't go the way insiders said it would: to powerhouse Pateniti's hand chosen protégé: City Hall minder Russomano, the politically mechanically-minded veteran of numerous campaigns, seven in all, including that of sitting Mayor Tom Lankey, and former Mayor Toni Ricigliano in 2009.
It went to Hahn, and presumably strengthened the political hand of Diehl, long a rumored future Assemblyman (or mayor) who tonight made a statement about his designs on the Democratic Party here.
The final vote was Hahn 66 votes to 64 votes for Russomano.
Giving no indication of a coming plot twist, the three combatants arrived in ties, while Paterniti persisted in projecting cranky dominance under yellow pastels-emanating chandeliers set within geometrically haphazard ceiling shapes.
"156," he said, pronouncing each syllable perfectly. "One-fifty-six." That's the number of members on his committee. "And they all vote," he took pains to add.
It turned out to be 26 short.
A chair of three decades (31 years, to be precise), former mayor, former assemblyman and former state senator, Paterniti has served for so long that mild agitation attended the ceremony at its outset when Doc pondered aloud how he should exit. He never had to leave, so he absently looked stage right and left in an apparent effort to discern the best course. When someone suggested no one ever challenged him, the 86-year old sneered back, "That's not true." He then recounted the public dismantling of a handful of rivals over the years.
In the midst of so much establishment history, tonight it looked like Councilman Diehl and Policeman Hahn would go down in a heap, their legs tangled by uncoordinated ambition. "They've never run anything," said a Doc backer with a shrug at the outset, when he predicted a no-sweat win for Russomano. Even still, Hahn appeared very poised at the start, grooving around the room and schmoozing with an all-weather grin affixed to his face. "I'm confident," he told PolitickerNJ, and when told of a possible challenge from the floor he added, "I'm sure there will be."
He stood in a corner with Diehl, beaming as he would all night.
Long a laborer in the party with little recognition amid rumors of wanting to move up but without traction in the Paterniti era, Diehl has the distinction of being known locally as the "Cicero of Edison," owing to his trademark rhetorical flourish, a backhanded assessment at times apparently among township committee members who pride themselves on blue collar grit. But he busted a move tonight no one apparently saw coming. "There's a pattern of success," Diehl said, noting his own history inscribed on resumes resting on committee members' chairs. "My history of working for the Democrats goes back a long time. I was 17 when I first started working.
"I know pretty well what it takes to manage a campaign," he added. "I'm concerned about the party. The party builds fences. You know the word outside of Edison is Edison doesn't fight Republicans, they fight each other. We need to take down those fences, we need to change."
Then he went and did it, and – after thanking Paterniti for his service – declared his support for Hahn and short-circuited Russomano.
If it was hard to discern if Paterniti's charge anticipated this it's because the super high energy Russomano is never in focus, a function of rapid moves in a roomful of fellow politicos. He zigzagged through the carpeted Pines Manor ballroom in Pascrell time while rivals and other assorted mortals hovered in relatively stationary poses.  "I've worked with Doc since 1993," said Russomano when it was his turn to speak, giving an early shout-out to Lankey, who stood visibly in the back of the big, packed room.
Working for Doc, apparently, wasn't enough, as the old era got bucked hard.
Keith. Anthony. Keith. Anthony. Anthony. Anthony. Keith. Keith. Keith. Keith. Anthony. Keith. Keith. The vice chair of the party read the names aloud as they came out of secret ballot boxes. One after another, names that would likely sound in the memory of the loser like downward slashing motions of a bitter knife born of a surprise alliance.
Paterniti disappeared.
At the podium, unflappably, stood Hahn, presiding as if he had done it for years.
Lankey sat on a chair looking stunned.
"Democracy in action; just about as close as it can get," he said when PolitickerNJ asked him for his reaction.
"I can work with him," he added, a nod to Hahn at the front of the room, but the rejection of his man in City Hall – who had even promised to give up that job to focus fulltime on county committee duties – and the entrenchment of his antagonist on the council Diehl, had to hurt, and – if the dimensions of power are to be believed – indicated fractures at the heart of Edison and trippy change contortions at work.