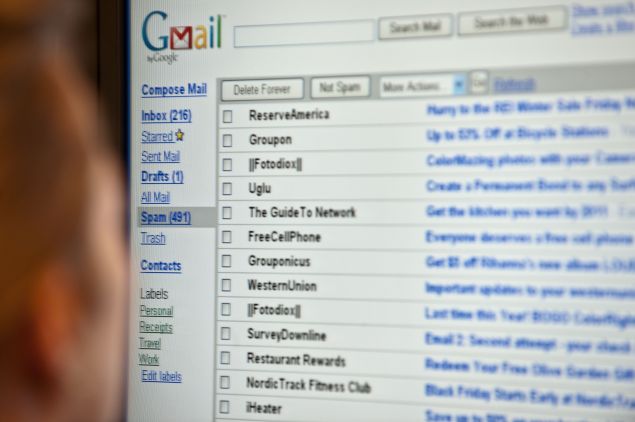 Last Thanksgiving, while the majority of Americans were taking a few days off from work and relaxing with turkey leftovers, the better part of the tech press corp was still checking their email. It wasn't because we're work obsessed.
We all had our eyes glued to an email thread that began with a simple, run-of-the-mill pitch. What made it so riveting, though, was that the company's founder sent it to nearly every reporter at every major news company that covers tech, putting all of the addresses into the "To" field instead of BCC'ing everyone. About 220 tech reporters received the pitch email, and before the founder was even able to check his inbox again, the tech reporters had replied with hundreds of trolling emails. We were playing off each others' jokes, spewing irrelevant stories and ideas and even seeking new job oppurtunities. It turned into a whirlwind about anything and everything except the pitch, and I still have no idea what that pitch was.
That founder definitely didn't get the type of press attention he was seeking. Surely, he wished he could've taken back that email.
Whether it was regarding a potentially career-ruining mistake or a minor typo, it's a wish we've all had at one time or another. The good news is that this wish has finally been granted; all Gmail users can now unsend any email within 30 seconds of sending it.
In honor of the official release of this much-needed feature, I reached out to friends, colleagues and random people on the Internet for their stories about the times they were horribly embarrassed by an email they desperately wanted to unsend. Here are some of those true tales.
I once sent a university professor, who was writing me a recommendation for graduate school, an email that just said 'boo ya bitch, he doesn't dip the dong.' The email was supposed to announce my victory in a minor bet over whether or not a coworker was homosexual (he was not) to my homosexual officemate and good friend. – Anonymous
I would like to submit (a partial bit from) an email I sent Vinnie at 2:50 am, several months ago in some sort of dream state. Subject line: 'blurf duty for to.'The body of the email: 'Also include streaming stuff as well. And fuck, a funny YouTube video of a cat trying to climb the stairs. Ashton Kutcher utopian reality show where everyone is Steve jobs and meg from Family Guy has Channing tatum's Jupiter juju juice and….blah law lay. You get the point. It can sched for Friday, so give me a chance to look over.Mwah meh,' – Drew Grant
When I was an intern at the Observer two years ago, I interviewed Ray Rivera, a New York Times reporter who left to become editor of a New Mexico daily, the Santa Fe New Mexican. After talking to him, I called the New Mexican's publisher to ask why she decided to hire him. I (stupidly) took notes on that interview in an email draft and then ACCIDENTALLY SENT THAT DRAFT with my interview notes to Rivera. – Peter Sterne 
Back in high school, I messaged a friend asking for advice on how to end things with my boyfriend of the time. Accidentally sent the message to said boyfriend, obviously. – Jordyn Taylor
And in response to that story:
Jordyn, I did the exact same thing!! But then I tried to trick him into believing I had been 'hacked.' – Lale Arikoglu
On my first day of college, I missed my first class because I read the schedule wrong. I went to email the professor to explain why I missed the class, but instead of going to just the professor, it went to the whole class chat and everyone saw it. – Anonymous
Never, I repeat never forward a meeting request to your boyfriend. And never put into writing, 'And this is why I hate this account.' At the time, I didn't know that when you forward a meeting request, the response will go directly to the originator of the meeting. So in this circumstance I was blindsided by a meeting with HR about how unprofessional it was for me to forward confidential client information to my boyfriend and to openly dispagare the account from my company email. Needless to say I was removed from the account—which was actually a blessing. – Sabrina Wottreng
I hated a job and would always start an email to my superior with 'Dear Winnie Meanie' and forgot to change it one day. – Andrew Lawson
Our own editor-in-chief says he's made horrible email mistakes "HUNDREDS OF TIMES. Maybe thousands."
For one thing, a former boss of mine, Bob Safian, has the same 'rs' beginning to his email as my wife (he's 'rsafian' and Becky is 'rskurson') so Bob's seen his share of 'you never appreciate me, sniff' emails I've had to send when my genius and hard work are insufficiently recognized by the homefront. – Ken Kurson 
Asked my best friend out yesterday…Still no reply. – Anonymous
When I was a super hormonal 13-year-old, I emailed my crush that I was going to commit suicide after I realized we'd never be together…We stopped talking for a good amount of time after that. Thankfully, by now, I think she forgot about it because we reconnected like six years later, but it still haunts me that I was so dumb. – Anonymous
I famously did it with an email length text, supposedly to my sister, where I beefed about my British best friend who 'thinks she invented Instagram' and 'was super frosty today' etc., And then I sent it to the friend instead – Sarah Kennedy
During my first job out of college in 1994, the Internet was just getting legs and computers were being stalled so that employees could send email. I was the Company Manager at The Shakespeare Theatre in Washington, D.C. and the artistic director had hired an assistant whom I did not like. I sent an internal email to my colleague in financing calling her a jackass, among other things. But, I also copied her. I will never ever forget that day because that new assistant gave me a verbal lashing outside and truly, there wasn't much I could say in my own defense. – Paula Conway
Submissions have been edited for length and clarity.