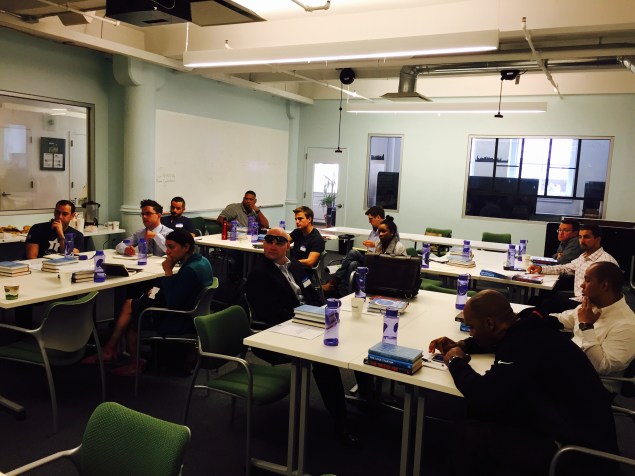 NYU Polytechnic School of Engineering is helping bright veterans in their 20's and 30's break into NYC's booming tech sector.
The school just launched Veteran Entrepreneur Training (VET), a mentor program combining academic and real world training to help veterans develop the skills they need to excel in the world of business, and in some cases, bring their own ideas to market.
On Wednesday, the 15 veterans kicked off the 10-week program by discussing their ideas and strengths, eventually choosing ideas to run with and forming teams around them. Yesterday, they met, mingled with and pitched their ideas to the mentors, who have built and sold many businesses and who hold positions at Indiegogo and other companies that are valuable resources for the veterans. Together, they'll work over the summer to build the companies and prepare for the two final showcases: an internal presentation where the veterans will pitch to local technology business leaders and the program's stakeholders, and then a public demo day on August 13.
"[The program] is something from a couple of people who put their heads together," Kurt Becker, Vice Dean of research and entrepreneurship for NYU Polytechnic School of Engineering, told the Observer.
He oversees incubators and entrepreneurship at the school and partnered with the Brooklyn Chamber of Commerce and Assemblyman Joseph R. Lentol to bring the new program together. Mr. Lentol secured a significant portion of the funds that allowed the program to run with all fees fully covered for the veterans.
"Assemblyman Lentol from Brooklyn took great interest in it," Mr. Becker added. "He really wanted to help the vets integrate back into their lives. In his assessment, there are quite a few with ideas, but they did not have the tools and the knowhow to pursue them."
Some of the ideas have been on the veterans' minds for years.
"I've been kicking it around since I got out," Elana Duffy, who served in the U.S. Army for 10 years, told the Observer at last night's event.
When she finished her run with the military in 2012, she was fortunate to be hired for a leadership position at an organization, but most veterans cannot say the same. It was the constant influx of calls she received from other veterans looking for resources to help with employment and other aspects of assimilating back into post-service life that inspired her to create Pathfinder.vet. The site is a resource that compiles information on non-profits, government-sponsored organizations and educational organizations (with a focus on ones that provide resources for veterans) in one place. Like Yelp, it gathers ratings and feedback to help the organizations improve and the users find the best resources.
Another group is working on an app called TripSafe, which turns your phone into a trip wire for mobile personal security. Frank Barrow Reedy, who served in the U.S. Army from 2011 to 2014 and is now a student at NYU Wagner, brought his business background to the TripSafe team to help the creator build his project of more than two years into a business.
"I can take the idea and figure out how to monetize it," he said.
Last night, he was chatting with one of the mentors, Nicolas Vansnick, who graduated from NYU Polytechnic School of Engineering with a master's degree in 2013 and is now the founder and CEO of BotFactory.
Mr. Vansnick believes that mentors are truly the best tools and that what can be gained from relationships with them is beyond what one can learn just being in a classroom or on the job.
"I recently graduated, and when I started, It was the same thing. Having a mentor matters most," he said.