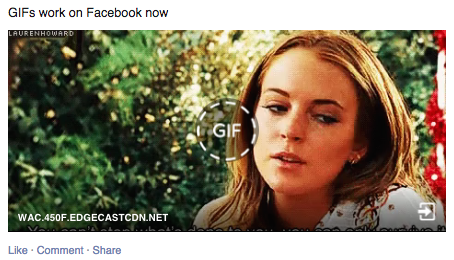 Your Facebook feed got a little better on Friday: last week the social media behemoth began supporting GIFS, a worthy (and, by some estimations, overdue) addition to its user's status updates. The news feed will now support animated GIFs, which could previously only be posted through workarounds.
Now, GIFs will autoplay online and in the Facebook app, with representatives saying that full functionality across mobile sites is to come. Posting a GIF maintains the simplicity of any unanimated status update on the site: users can paste a link to their gif of choice in the status bar and it will appear. The option to upload GIFs firsthand (as one could do with a photo) still isn't available.
Brand pages are exempt from this new update, however, meaning that the only profiles that will be able to use the the appropriate Kanye GIFs to share the news of Kim's second pregnancy will be personal accounts. "While Pages cannot currently post GIFs, we are exploring ways to enable this in the future," a Facebook rep told TechCrunch.
But the addition of GIFs has ramifications that go beyond the Nene Leaks eye roll users can now link to more aptly describe their morning commute. "The move represents a significant change in direction for Facebook, which has historically made a conscious decision to avoid supporting GIFs, claiming that doing so would make its News Feed 'too chaotic,'" wrote TechCrunch on Friday.
It's taken years for Facebook to refocus its emphasis from video to the meme-friendly GIFs, so this development is indicative of an interesting shift.
As anyone who scrolls through their Facebook news feed knows, real chaos is the never ending photo stream of your high school best friend's new baby. This long overdue GIF update is, as Gizmodo wrote, "Facebook finally giving users what they want."