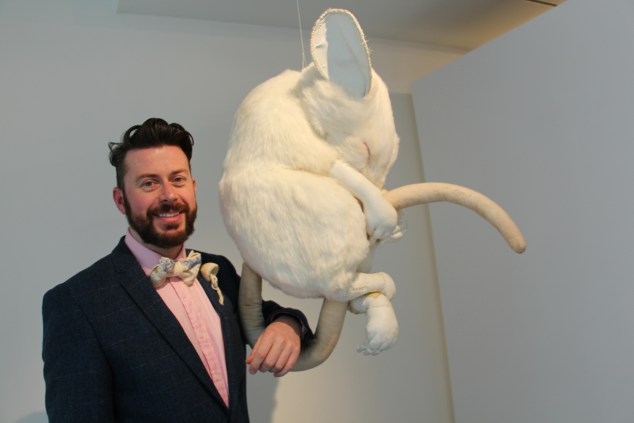 Mister Finch, who began his career as a jewelry designer, would like to avoid any fashion endorsements. He'd rather not tell you who made his suit. But the impeccably groomed British textile artist, hair mildly gleaming in overhead lighting at the Steven Kasher Gallery in Chelsea, sewed the bowtie and "fungus corsage" he wore to the opening of his show "Mister Finch's Handmade Museum" last week. There, he signed his book (Mister Finch: Living in a Fairytale World, Glitterati 2014) with mirror handwriting and posed with his fans among some 50 hand-sewn specimens, which included statuesque toadstools, a carpet-winged moth and a giant sleeping mouse suspended from the ceiling.
"I know, I know I should have a proper bow tie but I wanted to use the embroidery from this vintage tablecloth I've been saving for ages," he wrote on his Facebook page. That page has over 235k likes.
Mister Finch, who creates nature and folklore-inspired flora and fauna, indeed lives in a poetic, mysterious, magical fairytale world and if the crowded opening for the artist's first solo show in New York (there was a book launch with a few pieces of his work last year) is any testament, enchantment is catching on. Do we need it now more than ever?
"I don't believe it ever went away," said Mister Finch. Not surprising, Mister Finch's favorite Manhattan haunt is the Museum of Natural History. "I do hear this ideology as a trend but its not anything new. People have always looked for magic, gazed at the stars and made wishes. Yes, I think we need it more than ever…some of us need something else to hang on to…that can't be explained, that provokes wonder, that could possibly be real, could exist. The world is a fast, loud place, and having a belief in something wonderful can soften the edges."
There are no hard edges, literally, to most of his work—the softly sculpted toadstools are made from new and rescued cotton, velvets, bits of silk, and anything with a "fungal" texture, while other hand-sewn sculptures—his insects, spiders and birds—for example, are made of new and vintage fabric scraps, plastic, paper, wire, fake flower petals, clay, floral tape, and found objects. Although the idea of soft sculpture was explored in the late '50s and '60s by Claes Oldenburg, you won't find anything remotely everyday (or floppy or flaccid for that matter) in Mister Finch's eccentric, slightly melancholic and romantically divined universe.
While the show is being called a "slightly subversive wonderland where poetry awakens from decay," seeing Mister Finch, the curator of this hand-sewn cabinet of curiosities, in the midst of it, adds the element of glamour. Hollywood may have co-opted the word, but faeries were the original dazzlers. Defined in the eighteenth century as a sense of magical beauty and alluring charm, and popularized by the poet and novelist Sir Walter Scott, faeries are famous for "casting glamour."
Debonair Mister Finch—easily the Cary Grant of the enchantment realm—certainly casts the glamour, weaving magic and charm with his artistry. His toadstools have willowy, statuesque silhouettes and his birds, based on museum study skins, are stylish, svelte, and beautifully posed in threes, even as they lie lifeless. "When museums need to have bird specimens, they don't do a full taxidermy mount as it's too labor intensive," he explained. "So they are preserved on their backs all folded up." His "taxidermy" birds are vegan.
It's temping to consider that the most enchanting element of all is the artist himself. Even his fragrance has a bright aura of glamour—Sunflowers by Elizabeth Arden (Cary Grant wore Creed's Green Irish Tweed) which he candidly admitted. But he's not entirely a dandy. On his day off, before flying back to Leeds, Yorkshire where he likes to work late into the night with the sound of rain as a soundtrack while sewing spiders, he spent the day in Coney Island "for ghost trains and dreadful hot dogs." Shopping was not on the agenda. But visitors (all ages, and most quite hip) to the "handmade museum" are shopping.  Why does he think people are drawn to his work now in particular?
"Maybe my work reminds them of something magical," he mused, "or maybe it provokes them to wrestle with a fear."
Toadstools are a hot ticket and are so far, accessible to young collectors. A small, elegant, hand-sewn toadstool on a wooden stand, for example, costs much less than a Prada handbag. Best of all it never goes out of style and is in infinitely more enchanting. Mister Finch's Handmade Museum will be on view through July 31st, 2015.