At the very least, Bethesda Softworks lit a flame in gamers' hearts Wednesday morning when they announced the long-awaited fourth entry in their popular Fallout series. The announcement came complete with a trailer for us all to drool over.
[youtube https://www.youtube.com/watch?v=GE2BkLqMef4&w=560&h=315]
For those unfamiliar with the series, Fallout takes place in an alternate history where 1950s American culture persisted until 2077, when everybody got nuked. Players roam freely around a post-apocalyptic wasteland taking whatever jobs they come across, hoping to earn some spare bottle caps (the currency of the wasteland). These games are massive and their fanbase is insanely enthusiastic. 2008's Fallout 3 and its 2010 follow-up, Fallout: New Vegas have active online communities that are sharing tips, anecdotes and memes to this day.
So it's no surprise that the internet was on high alert even before the announcement, when Bethesda tweeted this:
and changed the Fallout website to a countdown timer, people started getting excited. Some may be a little too excited: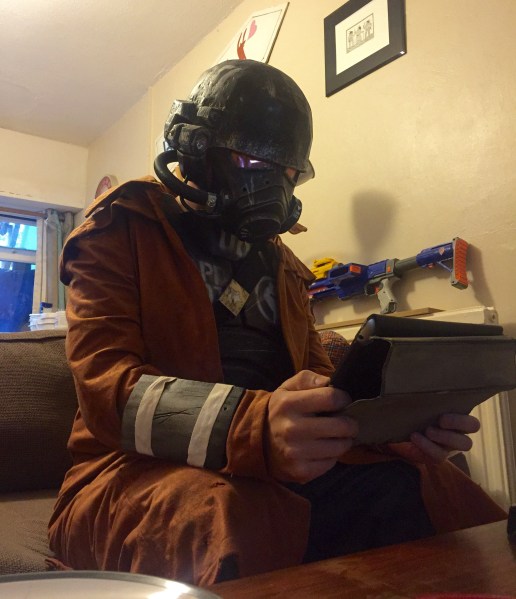 (Via Reddit/AndyValentine)
But hey, you have to respect that dedication.
Towards the end of the countdown, Bethesda's P.R. guy had some fun with anxious fans.
[protected-iframe id="532669721c366c6cc826800987e9c532-35584880-78363900″ info="hash" class="twitter-tweet"]
Don't you wish you could Rickroll your customers whenever you felt like it?
After all that buildup, once the trailer hit, the internet went insane. In fact, people shared exactly how they freaked out. There was a lot of this: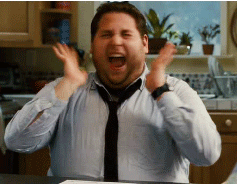 (via fuckingartandshit)
And this: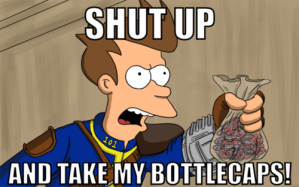 (via kalianos)
Because this announcement basically felt like this: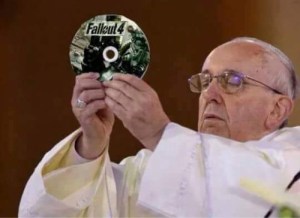 (via elmolio)
Then they started combing through the trailer and speculating about what the finished game would be like. Maybe the game would take us through the day the bombs fell. Hopefully that's the case, because I want to get to know this lady, who is already sick and tired of this apocalypse business.
(Via everythingfallout)
One of the more exciting things the trailer confirmed was that it takes place in Boston (Which survived the nucleah apahcalypse by bein' wicked smaht.) The locations shown off in the trailer seem to be pretty accurately recreated too:
Some people lamented it not taking place in their hometown.
Listen, as a former Seattleite, I hear you, but maybe if you'd given Marshawn Lynch the ball when you were at the ONE YARD LINE, the game would be in YOUR city. (It still hurts.)
Others wondered what the location would mean for the voice acting.
[protected-iframe id="2fb8d479b0b8da006c1b8de1cb71003d-35584880-78363900″ info="//platform.twitter.com/widgets.js" class="twitter-tweet"]
And Boston-based indie game developer Zoe Quinn really hopes the geography won't be too accurate.
[protected-iframe id="2d6d0b321412fc25b283e9d86a78bef4-35584880-78363900″ info="//platform.twitter.com/widgets.js" class="twitter-tweet"]
[protected-iframe id="a63dddc72d27ebec3fd9c461580a1c35-35584880-78363900″ info="//platform.twitter.com/widgets.js" class="twitter-tweet"]
[protected-iframe id="976c87de8a85f065907c3b52102ba812-35584880-78363900″ info="//platform.twitter.com/widgets.js" class="twitter-tweet"]
But of course, the thing most people are excited about is the dog. Previous Fallout games paired players with a canine companion, but because this trailer focuses so much on the dog, it's possible he/she could have an even greater role this time around. Besides, who doesn't want a furry friend to fight mutants with?
And of course, this had to happen: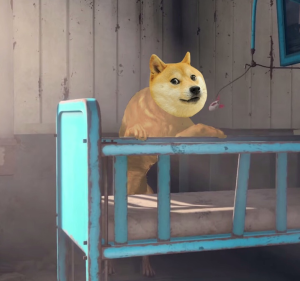 So apocalypse, much sad, such loyal, wow
Of course Daniel Switzer had to remind us what an increased focus on the dog probably means for the story.
[protected-iframe id="dd1c871681ab13694b018f3034c2b72c-35584880-78363900″ info="//platform.twitter.com/widgets.js" class="twitter-tweet"]
This game's gonna make me cry, isn't it?
Now, because the internet can't ever be completely positive there has been some complaining about the game's graphics. Now, if you watch that trailer, the game doesn't look bad. It has a more colorful style than previous entries in the series and a lot of characters and the cities look way more populated. It just doesn't look quite as sharp as some think a modern game should. Honestly, the complaints are nitpicky and meritless, especially considering the game isn't even out yet. Though I did find one that might have a point.
Come on, Bethesda. You can do better than that.